Our seventh episode's guest is Molood Ceccarelli. Molood is a remote work strategist and agile coach. Often referred to as the queen of remote work, she is the CEO and founder of Remote Forever, and the founder and host of Remote Forever Summit, the first and by far biggest online summit about distributed agile that attracts over 10k attendees from around the world. We talk about how technology has changed the concept of work, how to carve a space for productivity in Stockholm's cramped apartments, and the power that storytelling has in creating effective and memorable brands and presentations.
Host: Christian Lane
Co-host: Garrett Dutton (aka G. Love)
Guest: Molood Ceccarelli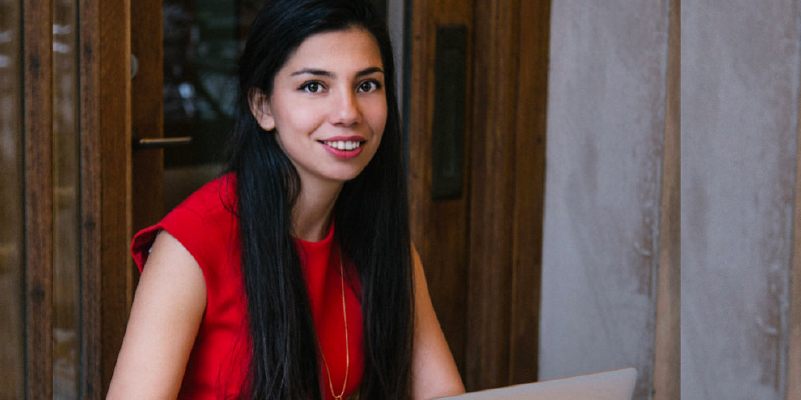 Molood has a background in computer security and software development and a passion for agile coaching and human psychology, not to forget her love of traveling and working remotely. She has even a few years of journalism experience under her belt from her teenage years. The combination of her background and interests have given her a unique advantage to be the effective agile coach for distributed companies that are on a journey to become agile.
She believes remote work is the future of work. As an agile coach, she is on a mission to help people in agile organizations to experience freedom and happiness in their work. In 2017, Molood founded and hosted Remote Forever Summit, an annual online summit about distributed agile that has over the years attracted over 10k attendees and over 20 speakers from all around the world. It has become an annual event ever since and continues to attract thousands of attendees every year. If you have not attended it before, make sure to join the next one. It's all online and it is free to attend.
Molood has been a key player in the scaling and agile journey of a few geographically distributed organizations across various industries such as Telecom, Gaming, Fin-Tech, Insurance and even BlockChain and AI.
Her newest book on how to be agile remotely was published in 2020. Some of her writing on the topics of agile have been featured on Forbes, Huffington Post and Inc.com as well as agile forums such as Scrum Alliance, Happy Melly and Shiftup.
EPISODE TRANSCRIPT
KEYWORDS
people, remote, home, conference, agile, building, company, studies, languages, thought, office, work, learning
SPEAKERS
Christian Lane, Molood Ceccarelli, Katie Thomas, Garrett Dutton
Katie Thomas
Welcome to the Digital Transformation(ists) podcast. On today's episode we have the incredible opportunity of connecting with Molood Ceccarelli, CEO and founder of Remote Forever Summit. Join us as Molood shares the story of how her passion for Agile and remote work began, Remote Forever Summit and what it looks like in the exceptional year that is 2020, the power of connection and storytelling, and what the future holds when it comes to distributed working. Today's episode is brought to you by Workato.
Christian Lane
Molood! Welcome to the podcast. So good to see you.
Molood Ceccarelli
Thanks.
Christian Lane
How are you?
Molood Ceccarelli
Thanks for having me. I'm well, how about you?
Christian Lane
Doing great. Thank you. It's a pleasure to introduce you to Garrett Dutton. The G. Love
Garrett Dutton
Hey Molood. Nice to meet you. Thanks for joining us today.
Molood Ceccarelli
Thank you for having me. It's nice to meet you too.
Christian Lane
Yes, it's a little later in the day in Stockholm. But thanks for hanging in late in the day. Lyssa Adkins connected us. And Lyssa Adkins is a lot of people knows the Agile coach of Agile coaches. It looks like y'all have been friends and know each other going back a while now. I think this connection itself is just kind of another great example of the digital transformation's ability to connect people. So I'm super grateful that she got us connected and that we're here chatting. You've been an advocate of remote work for a long time. And you've worked with distributed teams largely in the Agile space. You've also built an incredible career from developer to Scrum Master to Agile coach to COO to CEO and founder now of a business. Tell us more about your career and how you went through this journey from Agile to remote work?
Molood Ceccarelli
That's a good question. Here's my story. I was a computer security major. I was involved with everything computer science. But at the same time, I had graduated in my undergrad from a program called Information Technology Engineering, which was technically a mix of computer software engineering, plus industrial management. And turned out that I was pretty good at management topics, I was getting a plus in practically all the topics as a student, but not really that good in programming. And in my immature brain at the time I saw it for my master's degree, I need to go for something that I'm not good at. So let's go to the hardest toughest Computer Science program you can find. And that was computer security. That's very literally started. And obviously after studies, I got hired as a software developer and I was thrown into building software, testing software. And my first job was in Ericsson, in Sweden, which is a very well known company. I had a job I remember this I had a job offer from Google and another one from Ericsson and Google. One was in Switzerland, the Ericsson one was in Sweden, and I was doing my studies in Sweden. So I decided to stay in Sweden. Long story short, I was not a very good developer. However, I was very interested in the interpersonal relationships that developers had together. And that's what brought me to learning about Scrum, learning about Kanban. And later on, falling into this path of understanding what Agile was, and I fell in love with it. And it also helps me realize this particular hurdle that I shared with you that you kind of need to focus on your strengths rather than your weaknesses. Okay, I started working as a software developer moving from one company to the other. And interestingly enough, since you mentioned Lyssa, there was a time when I thought I need a proper education in Agile coaching. And I just googled what education existed in my city. And there was this education available by a person named Lyssa Adkins and another guy called Michael Spade. And I thought, I don't know who these people are. But training looks interesting. And I just signed up for it. And I remember that at a time my boss did not find funds. So I had to spend my own money to go to this training, and I went there and it was transformative. That's literally how my Agile coaching journey started.
Christian Lane
Very cool.
Molood Ceccarelli
And then we have a few years later, where I was having a personal retrospective on a Sunday evening in a cafe. And it hit me that all these years of working as a developer tester, Scrum Master product owner, Agile coach, I had never ever had a co-located team. And yet, the Agile Manifesto and all the Agile coaches that I was looking up to were saying that you need to be co located in order to be agile. That's literally My journey to Remote Forever started, I started challenging the idea of co-location, and that began with a conference. The conference, as you all know, today, as Remote Forever Summit,
Christian Lane
I was gonna ask about that you started that in 2017. First of its kind. Tell us more about it.
Molood Ceccarelli
So yeah, it's the continuation of the story. Good question asker in that sense. So I brought, I thought, I'm going to bring together some people who may support my idea of the fact that the world is now remote. And the Agile Manifesto when it was created, many companies did not have the possibility of collaborating remotely as we do today. And this was back in 2016, when I had this idea for the conference. So I thought, I'm going to invite a few of the thought leaders and maybe a couple of Agile Manifesto co-authors to see if they agree with the fact that the world has changed and that we as Agile community need to respond to it. Turned out there were people who supported my idea, in at that moment, like when I was building the idea for the conference, this was almost a year before the conference, the first conference took place in 2017. I thought, if I get about 200 people to sign up for this conference, I'm going to be super excited. And I'm going to call it a success. Wow, this was phenomenal for me, because it was a very big thing. I was not ready to receive 2700 signups
Garrett Dutton
Wow!
Molood Ceccarelli
for that conference. You can also imagine that as an agilist, and a very new entrepreneur, I had to combine my risk taking skills with my Agile skills and respond to this little change that was happening around me, which was the scope of my project was changing massively. But yeah, that's how the conference is started. And Remote Forever my business was literally, literally started right after the first conference where I saw that there was a need in the market that people needed education, people needed to really understand how to build Agile companies with remote teams. So today, I develop workshops and trainings, and I still have my conference, it has turned into an annual conferences happening also in 2020. So your listeners, if you guys are listening to this before November 11 2020. That is literally when the conference is starting. So you can just sign up for it and join it for free.
Garrett Dutton
That's amazing. So just a quick question. So was this your initial meeting with Lyssa and what was the other guy's name? Mark?
Molood Ceccarelli
Michael,
Garrett Dutton
Michael, was he another founder of Agile
Molood Ceccarelli
He's not a founder, but he is a significant person in the Agile world. He's created the integral Agile transformation model.
Garrett Dutton
Okay. Was that initial meeting remote? Or was that in person?
Molood Ceccarelli
That was an in person class. They were in Stockholm.
Garrett Dutton
Okay, cool. All right. And then, so you're just gearing up right now. And you're in massive crunch time to get ready for this year's summit? And thank you for taking a minute out of your busy schedule. What is the remote forever summit 2020 look like?
Molood Ceccarelli
That's an interesting question. Nobody has asked me that before. So, this year. 2020 has been a very strange year, there is no doubt. And I'm sure that many people listening to this podcast have gone to a lot of webinars, conferences online, many things that used to be in person suddenly became online and became accessible and available to us. Right. So one of the things that I thought was acknowledging this change, because in the past, my conference was maybe one of the only two online conferences that the Agile people would go to. And then you probably had to budget to go to a couple, maybe three in person conferences on the other side of the country or the world. But this year, you could be in Minnesota and attend the conference in South Africa. You could be in South Africa and attend a conference in Europe, there is no location anymore. And I thought this year people are so tired of going to webinars and conferences online. And I still wanted to bring my conference to life because it's become you know, this annual event and many people worry so I changed something in it. And here comes the change. Okay, this year. Instead of bringing experts who would tell you what to do and what not to do and give you their best tips and techniques. I decided to hire A story coach who trained all the speakers in storytelling. And the speakers have prepared inspirational stories to inspire people. And the sessions are much shorter, because who can sit and watch yet another one hour talk? Right? So those are the changes that I have made. So this series is going to be a lot of stories. And I hope that people who attend the conference are going to be inspired. We also have another theme that have been integrated into the plan. And that's connection. So in the past, we had, again, a lot of instructive sessions, for best how to guides and that kind of thing. This year is inspiration followed by open spaces every day where people can really share and connect and hold space for each other. Those are the main changes. Well,
Garrett Dutton
So you hired a storytelling coach?
Molood Ceccarelli
Yes.
Garrett Dutton
So he basically, for instance, met with Lyssa, and did you take a lesson and storytelling as well?
Molood Ceccarelli
Yeah, I attended that session.
Garrett Dutton
I think it's paying off!
Molood Ceccarelli
Yeah? To use past tense verbs, that was like one of the key takeaways that I had used past tense verbs so that your stories are believable, because many of you will say, this is happening right now. And they use present tense and that makes it less connectable.
Garrett Dutton
Oh, so you said this happened?
Christian Lane
Wow. Okay. So you've got a lot of great storytellers lined up for your event. Lyssa Adkins, obviously, we're all a big fan of hers. And for those of you listening, she's our episode two guests. By the way.
Molood Ceccarelli
You know, you should have her again, maybe,
Christian Lane
I hope, I hope she's an amazing human, for sure. And then another one of your guests slash storytellers is David Heinemeier Hansson, co-founder of Basecamp. That's really exciting. David is an early pioneer in tools that enable people to collaborate online technology. Furthermore, now, in today's era, where we're all of us knowledge workers are working remotely. He's a pioneer. Right? Tell us more about how you got to meet him, how you got to meet him, get him into the conference, and I imagine gonna tell a great story.
Molood Ceccarelli
It is a great story, David, he is also co author of the book, Remote. And another book called Rework. These two books have really been fundamental in the way that I have built my company, in terms of culture in terms of products and services, all of it. So David Hansson, or DHH, as it goes on Twitter, like that's his Twitter handle, right. It's been one of the biggest advocates of remote working, and many of my ideas are shaped by what I have learned through using the products that his company Basecamp has created; reading, like I was one of the early readers of that blog that was called signal versus noise. And not just a blog itself, but even just the idea of signal versus noise in today's world of getting bombarded with information that was just amazing. How I got to get David is an interesting thing too: David has been a dream speaker to have at the summit. And every year, I thought, can I approach him this year? Am I ready for it? And I dismissed it. I thought, No, I'm not ready yet. This year, I literally just used the email application that Basecamp has created called hey.com. I am a customer of the application. And it's really changed the way that I use email. I used my email address in that domain, sent an email to David and made it very easy. Yes. And I still didn't think that he would accept it. But then one day, I got an email that he said, let's do it. And that's how it happened.
Christian Lane
Oh, fantastic. Congrats. Very cool. So we're at Atlassian Solutions Partners. We do a lot of business in the Atlassian ecosystem. And as a result of that, I listened to the Atlassian earnings calls. And on this last earnings call, Scott Farquhar, one of the co founders and co CEOs talked about how the responsibility of the CEO and the CIO and their agendas are starting to converge a lot. And more and more we're finding that the HR agenda around culture and things like that is also being shifted more to like the CIO. And this concept of the old digital watercooler is a perhaps more prevalent as a concept amongst folks. And I think back when this is a story, I don't know the details of it, but it's a story that Yahoo lost its edge when they went to a remote work model because people weren't around each other around the proverbial water cooler. What are some things that you've learned that you could share with the audience today around like a digital watercooler? Like what is that equivalent? How do we how do we get the interaction
Molood Ceccarelli
I usually advocate against replicating the office, that my core message in most of my talks is do not replicate the office when you go remote! Because we really need to adopt a remote first mindset and look at communication and collaboration slightly differently. The most common question I get is how do I do this practice that we used to have in a co-located environment in my remote office? So my default answers to that as what was the purpose of that practice? So what was the purpose of the watercooler conversations that you had? How about you answer me that and I'll help you like, get clarity on that.
Christian Lane
Yeah, the idea is the watercooler is there to get water. That's its purpose. Right. But because people go to it, it is a place where people can exchange ideas or catch up on the fly. And don't wait for that meeting. Because Hey, it's on my mind, I see Jim or Sue at the watercooler, I just go ahead and start the conversation.
Molood Ceccarelli
The conversations that are sparked spontaneously can we call it serendipity? Perhaps... Spontaneity and serendipity are things that do not normally happen on their own in a remote setup. So what can we do to get that if that is the purpose to create serendipity to create that possibility? culture in a remote organization needs to be created intentionally.
Christian Lane
Perhaps,
Molood Ceccarelli
I remember back in 20, actually 2002 I was still a student. And I attempted to translate a book in entrepreneurship. And I remember this book never came out. By the way, I dropped out of that team of translators. But I remember that I was learning about culture in organizations. And there was a really beautiful sentence there that said, culture cannot be created, it can only be discovered and nurtured. And I think it is even more relevant today. Because suddenly we're remote, right, we had a culture in our co-located offices. Now that we're remote, how has our culture changed, if we don't discover that if you can't articulate that we can never nurture it or change it. At the same time, there's one of the speakers at my summit, Laïla von Alvensleben, she will be talking about how to create culture intentionally in a remote organization. And she has a really great story and examples to share. One of the things that I have learned from her is the fact that nowadays, it's even more important to have a person or a group of people whose sole role and responsibility in the company is to monitor how the culture is changing, and create that space to create it intentionally. Back to serendipity. As part of the job of these people, creating maybe this is a very simple example, for a small team. For your team, you can have a daily, weekly bi weekly placeholder in your calendars where you can show up or not. And talk about anything that you put on your mind. Yeah, one of my clients was calling get what's cooking, every Friday, they would meet and talk about what's cooking in the company, they talked about gossip that they had heard or whatever their reflection was about the changes. And anything really.
Garrett Dutton
Did people show up for that, like did everybody show up for that every time? Or did it become kind of a thing? Oh, well, Harry's not showing up for what's cooking, what's up with him.
Molood Ceccarelli
This particular thing was actually something that most people showed up. And I think that the role that leadership had played there was crucial, because the leader of that department who had initiated this, and this meeting this environment for people to vent and talk about anything was so amazing at starting and creating a safe space. So even he would share across if that he had heard and Have you guys heard about like, we may be acquiring this other company, and people were like, you haven't picked up on that. What's the deal? And it's like, well, I don't know much, you know? Interesting. Yeah, but creating a safe environment. That's the key.
Garrett Dutton
Wow. I'm looking at your background. And it looks great. It's virtual though, right? Is it?
Molood Ceccarelli
It is virtual.
Garrett Dutton
What is it?
Molood Ceccarelli
It's just a living room.
Christian Lane
It's just some pictures.
Molood Ceccarelli
Beautiful design and colors you know?
Garrett Dutton
Yes, I love it. So I guess where I'm going with this is, we're kind of talking about working remote and doing all this stuff online,I guess is a mega question. How is employee productivity and efficiency been affected? And then what about the relationship between remote work and routine? As you see it are there like some tips and tricks that you can share about your own process and routine and, and other people's. And that's why I've brought up the fact that to me, we just met, but you're really exuding a lot of energy like, not everybody. Can you help other people to be captivated in the setting? Right? Because, some people might really shine around the watercooler and really kind of drift off into the background on a zoom meeting.
Molood Ceccarelli
That's correct. That's very true. I start with your first question around productivity. There have been some surveys done this year, I don't trust the results of those because this year is so exceptional. They show that productivity is up. I still don't trust it. I mean, I do advocate for remote working. So I'm going to quote the numbers from a study that was done in 2013. That's a long time ago, remote work was not really a thing back then. But that particular study that was done by Forbes, and the majority of the participants were from Amex and Visa and MasterCard and fin tech companies. This survey was done for by 10,000 people, if I'm not mistaken, I should actually send you a link to that. So you can share it in the show notes. So that study showed that about 77% of people who said that they were more productive. Then when it came to connection, there were 42% of people who said that they felt that they were just as connected. And then it was 10%, who said that they felt more connected to their colleagues. So now looking at these numbers, 77%, higher productivity, how are we doing this year, the numbers this year are around 60 to 64%. In different studies, I said that I don't trust them. Because that this year, we are in the honeymoon phase of remote working. And just like every team that you assess the productivity of the happiness of in the beginning of the team formation, they think everything is amazing. These studies were done around April and June. We don't have data from September and November after people have been in their home for that long, right. I'll wait with that and see how productivity is impacted. From my own personal perspective, my productivity went low in the beginning of the pandemic and under working from home situations. And then I started finding my way around this, finding how I can connect, how I can actually keep track of my work, how I can do a lot of the things that I used to do outside of home in the past, in this horrible situation that we're living in, it has taken me a while and I think I'm able to articulate at least some of the things that I have tried that eventually succeeded. Well, number one, and my top one is creating boundaries. So I remember that in the past, even though I did not I did not work from home, I always went outside. I found my cafe of the day or my hotel lobby of the day, or maybe a co-working space after day. And that change of environments really affected my brain. My brain was ready for work. Nowadays. How long is that commute? From the bedroom to the kitchen table? .
Christian Lane
Yeah, measured in feet not miles.
Molood Ceccarelli
So my I actually, like I asked, you know, I kinda like ate my own dog food. So I asked you earlier, I said, What is the purpose of that practice? And that's the question I keep asking people when they say what tool should I use to do this? And now I asked, what was that boundary serving me for? What was the purpose of commuting? What was it behind it and I came up with it was a physical boundary. So now I have created a physical boundary in my workplace is separate from where I do other things at my home. I don't take my computer away, I don't work on my phone, I literally have this sacred space where I only work from. And that has really made me more productive. That's funny. That's my number one.
Garrett Dutton
That's quite the same thing with the room I'm sitting in. Right now. It's where I've done all my live streams and zoom meetings and guitar lessons and everything for the past six months. It's pretty cool.
Christian Lane
Well, you and you're lucky, right? There's a lot of there's a lot of folks. And we have folks in our team that are having a hard time finding that space, because they were accustomed to going to work. So they've had to get creative or in some cases, they're just not in the best place. to actually work if they don't have the opposite will have this room and space for themselves. It's something people do.
Molood Ceccarelli
I am one of those people. Okay, I'm literally one of those people I live in central Stockholm. So if you have ever been to Europe, in Nordic cities, you know that central Stockholm apartments, if you're not super rich, probably won't get that much space. I live in a pretty small place. My apartment has one bedroom and one living room. So where do you think like, I kind of like to corner those rooms over? No, that's not what I did. Yeah, at the beginning of the lockdown era, I realized for the first time that I did not have a desk, right? It just hits me, I never worked from home, I was a remote worker who always went out. So what did I do? I thought, okay, should I buy a desk because I don't really have a space for it. So I kind of borrowed the table that we had on the balcony, I cleaned it up and brought it in. And that became my workspace. Okay, for a while I even used my ironing table as a standing desk. So I could work from that. Creative, yeah, but what I have is a corner of the room that's dedicated to work, and nothing else. That's great.
Christian Lane
So up until October of 2019, we had a corporate, traditional office space. And we have these long running debates. People want to work from home and work remote, and we definitely we could accommodate, but also having that piece of real estate that costs real money, we're sometimes also reluctant to say, just alright, whatever, go do whatever you want to do. And to some extent, there was an argument also that face time was necessary and important. I think this still is. But you have to find room for that in a way of doing that. But we ended up getting out of that real estate that we were in. And there are a few kind of driving principles behind it. The most important one on top to us was that it also gives us a freedom to when you work remotely, it gives you that freedom to just Well, now that you're not committed to this particular desk, this particular place, you can go other places that you know, are exciting to you, or whatnot, or, you know, go work with family in some other city if you want to. And it's not a big deal. But another very important kind of critical factor for us or principles driving our decision was kind of an environmental side is that if we've got so many people driving to the office across town, we're getting a lot of CO2. What are your thoughts on? And maybe you've studied this as well, but like, what kind of impacts can we make positively by working remotely or working from home, as opposed to commuting to the office?
Molood Ceccarelli
Very good question. And an important one. You guys remember those videos and images that were shared around the internet? About how clean the environment was becoming? After lock down?
Christian Lane
You could see the Himalayas For the first time in so many years? Yeah...
Molood Ceccarelli
Yeah. And you had dolphins in Venice. And yeah, we really saw the impact that we had made on our environment, and how much of it changed. It is still true, we are reducing our carbon footprint: working from home is literally and very effectively impacting the betterment of our environment. There's also really interesting studies that were published in around 2016. And one of them said, then the number of buildings that we're going to need for the next 20 years is already created. It's already built, it's already here. And I don't know if they were predicting the pandemic, or if it was just like an actual structural study that was done. But it just reminded me like your question reminded me of that article that I had read back then. And I'm thinking if that's true, what are you gonna do with all those buildings? Oh, there's empty office buildings,
Garrett Dutton
You just read our mind! Because that was the next question. And the question was, do you have any ideas on how to sustainably repurpose the office to brick and mortar spaces, the building, the skyscrapers? What's going to happen? If we already had enough in 2016, and everyone's at home, and no one's sitting in your favorite hotel lobby and coffee shop? What's gonna happen now, with all that?
Molood Ceccarelli
Well, full disclosure, I am no sustainability engineer and know that there are better qualified people than me to answer this question, but I can share what I think about it. Have you ever been asked if money was no object? What would you do in the world? I've been asked this question and it was very hard to answer. But I think my ultimate goal in life is to feed the hungry and to provide homes for those that are homeless. And this question just brings me to that. I think that it's it's a huge opportunity for us to re purpose of these empty offices and with the economy that is going down right now, I'm expecting or it may be predicting that joblessness. But there'll be higher homelessness will be higher. And I think one of the greatest things that we can do as a large scale would be to repurpose them and turn them, potentially into low cost homes. And where I live in this side of the world, it's incredibly difficult to even rent a home. housing market in the Nordics is really difficult. In many major European cities, it's very difficult to find a place many, many young people, even young families are sharing a home. That's not really normal in the US or in Canada, you have a lot of space and your cities are a little widespread. Versus in Europe, it's been a challenge, housing has been a challenge. And the first thing that pops into my head is, let's just invest, pay some good engineers and change the infrastructure, maybe pick the buildings with good bones and turn them into low cost homes for young people, young families, and all these people who have potentially lost their jobs. The next thing that I have witnessed this year is what happened with hotels in countries and cities that were very hurriedly hit with COVID. And that was when hotels turned into temporary hospitals, right? So they immediately, very, very quickly, they equate themselves their rooms and they turn into hospitals. And this happened in Spain, this happened in Italy, this happened in China. So that's another thing that I can think of. But beyond that, I'm out. Do you have any ideas of what we could do with these empty offices?
Garrett Dutton
Those are two great ideas. I mean, it's gonna be such a tricky thing, because obviously, the people that own those mega buildings and all the money behind the companies that own those mega buildings, and what they're trying to get out of that huge investment to build such buildings. It'd be a really tough sell to say, oh, we're gonna turn your skyscraper into a low income housing, or free housing.
Molood Ceccarelli
Yeah.
Garrett Dutton
What's that?
Molood Ceccarelli
We need better governments.
Garrett Dutton
You'd have to have tremendous grants from the governments to make that thing happen. Obviously, that's because the government would have to buy the structures.
Christian Lane
But ultimately, these structures have to be utilized. And utility is a revenue. I mean, you have to lease it out to somebody. Yeah. So maybe there's some common ground that these big developers these big, you know, real estate owners have, but at least we're getting, we get some rents right?
Molood Ceccarelli
I don't remember which state in the USA was, but there was a few years ago, there was, there was a university building that was repurposed to become a very modern medical center. And they, they went with this bold idea of having a medical center that works very differently, comfort to the regular ones. So they had a concierge in the front desk. And the patients had literally zero wait time, there was no waiting room. And it was all happening because they repurposed it, and they had the infrastructure in place. They had enough bathrooms, enough washrooms, enough places to establish labs and all of that. And I think that's, that's another thing that we might need to think about, at least temporarily, until this pandemic is around.
Garrett Dutton
So let's get back to some more about remote work, your main focus, and so it kind of looking forward? What impact do you think remote work will have on the future of our society? And how do you see it evolving beyond 2021? What do you think about the future?
Molood Ceccarelli
Hmm, what do I think about the future? I think the future has already started showing his face to us. I think we're going to be more accepting that remote work is the reality. I started this recording this podcast by saying that I found it my business to show the Agile community that remote work was our reality that we needed to respond to. I think when I started, I had a small impact. And now everybody has seen it. Everybody knows that this is real. And I think it will only increase in that sense. Now what I see is not necessarily that we would all be working from this terrible situation of working from home, but that we would actually get to the essence of what remote working has been about and that is freedom. Yep. I think that remote work, in essence, is giving people the freedom to work and collaborate from wherever they are most productive. Oh, yeah, I can be your home. It can be your office,
Christian Lane
I can attest to that. I mean, in October, when we moved out of the real estate space, I personally felt this huge amount of freedom. In knowing that I can go anywhere in the world, as long as I have internet and power, I can be as productive as I was gone in a day, day in day out in that office. Yeah, it's been very, very liberating personally, and I think, Garrett, you commented on my wall, that I'm actually like, in a physical building, the last few podcasts we did, once I was out in just in the woods in Colorado. And once in this shed in Colorado. We'll just conduct businesses anywhere you are.
Molood Ceccarelli
Yeah, exactly. Another thing that I can predict is how our legal system and country policies are going to change to accommodate this way you're working. Right now, many companies still require people to have a work permit for that company, and that country to be able to recruit that person. But now with the with the move to a more global remote work, lifestyle, we need to change our country policies for recruitment for law, the laws that surrounds recruitment and employment, as well as the policies in the company, to now you can no longer say, hey, employee, here is your perk, you have free lunches on the ping pong table. You know, nobody buys. Adapt that, yeah, it's the quality of the work, but also like providing people, the equipment, the infrastructure, and all of that, like just thinking of security that companies need to invest in security has always been an afterthought in many companies, right? They had like one or two security engineers, who created the environment, and they just put firewalls around the internal system. And they made sure that if you were in the building, you had access to serve, if you were out the building, tough luck. Yeah, now we really need to invest in making it possible. So people can work from any device, any network anywhere in the world and still have that secure environment.
Christian Lane
Companies become cloud first is pushing the digital transformation. And I think there's been a lot of studies on diversity in the workplace, and how companies that are more diverse, do better. The fact that people can work anywhere in the world you can hire people from around the world now, I think means that you can get more diversity, you know, I can have someone from Italy, I can have someone from Stockholm, I can have someone from the US someone from Mexico, all on the same team. And therefore bringing in more diversity, more perspective on how things can be done. So I think it's exciting.
Molood Ceccarelli
It is exciting. It's also very challenging. Imagine that you guys are mostly in the US. Right? I live in Europe. So when I want to collaborate with people. Yeah, exactly. It's not just the time zones. It's also the language. And as you mentioned, it's also the culture. So another shift that I noticed, and I think that is necessary to happen is understanding how to build culture with multiple languages, multiple religions, multiple backgrounds and beliefs. And that's no easy job. Right? That's part of part of why I have created education to teach people what does inclusion truly mean in a remote first culture? How do you even consider that? In the past, you could say, okay, our office is on the floor. So if you're on a wheelchair, you're welcome. Now, it's not even a question to ask yourself, you can't even ask someone so are you in a wheelchair? Or can you walk because it's none of your business? Right? You need to focus on how to create that inclusive culture.
Christian Lane
Yeah, that's beautiful. Well, cool. You want to do the speed round? Do you wanna, you want to kick it off?
Garrett Dutton
Okay. We'd like to just kind of wrap up. What's been such a wonderful conversation with a little speed round of some light hearted questions. So here we go. Early bird or night owl?
Molood Ceccarelli
Early Bird.
Christian Lane
I'm going to screw this up. I'm just gonna say I don't speak Swedish. Kringle or Knäckebröd?
Molood Ceccarelli
Knäckebröd.
Garrett Dutton
Knäckebröd.
Christian Lane
What's Knäckebröd?
Molood Ceccarelli
It's a bread that you can break. It's like a biscuit but it's bread. Our bread
Garrett Dutton
What's Kringle?
Molood Ceccarelli
It's something I don't like.
Garrett Dutton
Okay, and visibility or flight?
Molood Ceccarelli
That's a tough one. I love them both. Let's go with flight.
Christian Lane
Paper book or ebook?
Molood Ceccarelli
Paper book.
Garrett Dutton
Abba or Lykke Li?
Molood Ceccarelli
Neither Can I go with neither?
Christian Lane
Burndown chart or burn up chart?
Molood Ceccarelli
Burn up chart.
Christian Lane
Okay.
Garrett Dutton
Lord of the Rings or Harry Potter?
Molood Ceccarelli
Lord of the Rings.
Garrett Dutton
All right. Magazines or newspaper?
Molood Ceccarelli
Oof, tough one. Newspaper. Okay. Just more often. .
Garrett Dutton
And then my last question Swedish Fish or gummy bears?
Molood Ceccarelli
Swedish Fish....
Garrett Dutton
Okay.
Christian Lane
I'm curious. Your last name is Ceccarelli Is that a proper pronunciation?
Molood Ceccarelli
Well, you can pronounce it correctly, or ceccarelli.
Christian Lane
How many languages do you speak?
Molood Ceccarelli
Fluently three, non fluent you five.
Christian Lane
All right. So fluently three English, Swedish...
Molood Ceccarelli
as English, Swedish and Farsi
Christian Lane
Farsi. Okay. And then the other two?
Molood Ceccarelli
French and Spanish.
Christian Lane
Wow. Very cool. Impressive. Very European. Here in the US we are lucky to have two languages we speak. I speak Spanish yeah.
Molood Ceccarelli
Yeah. Spanish is something I'm learning right now it's not very easy to pick up is it? Same as with French, I'm picking up these two languages at once. And if you think about it, Swedish is a Germanic language in terms of root, Farsi has nothing to do with any of these. And English is a Latin language. They're all so different. I think learning languages really changes the way you think.
Christian Lane
Absolutely.
Molood Ceccarelli
It really changes the neuroplasticity of your brain.
Garrett Dutton
How are you going about learning French and Spanish right now?
Molood Ceccarelli
So my family name that you asked, it's actually from my husband. I got married last year, even though I've known my husband for 12 years. So it's not really news. But I picked his family name. And he's French, but from the south of France, which is very close to Italy. So he's first name is very French. And his last name is very Italian.
Christian Lane
Okay.
Molood Ceccarelli
And Spanish is something I started learning a few years ago, but I kind of dropped it. I had a team that was part in Stockholm, part in Barcelona and part in London. And this company that I was a part of, they were provided free language courses. And they had the languages of countries where they had an office in which meant English, Swedish, and Spanish, and I spoke to of those, so I took Spanish...
Christian Lane
Good point, though, that language is very instrumental to how we think and what we can actually conceptualize in our minds. And the ability to speak more languages opens you up to more concepts, because there are words and other languages don't exist other languages and such a fascinating topic I think we could talk about for probably hours as well.
Molood Ceccarelli
Yeah, we could. There are innovations happening in that space that are making remote working more more, can you say easier, maybe there are live translation apps that you can maybe download on your computer, install it or zoom calls and other things too, to make it possible for people to communicate in their native tongue, and still be able to understand each other.
Christian Lane
Fascinating.
Garrett Dutton
Molood when we're having this conversation right now, it's incredibly enjoyable, and you have, you're glowing, and you have this amazing energy about you. And it's very captivating, which is often hard to achieve on a zoom meeting or other kind of, you know, remote connectivity. So how do you do it? How do you come across like this? Can you help us?
Molood Ceccarelli
Oh, can you help us? Number one, remember that the people that you're seeing on your screen are people, they are human beings, they're not moving pictures are just some not unknown person that you don't know. See people as humans. That's number one. Number two is relax. It's okay to show your home. I have a virtual background here. I can turn it off. And you can see that there's a white wall behind me. So the reason why I have a virtual background is literally to just make it a little more pleasant for the people that are seeing me. If you can share a little bit of yourself with people, show them your cat, your dog, your I don't know the object that you keep on your desk, make it easy for other people to see you as human. So number one is see others as human number two is make it easy for others to see you as human. And number three is invest in the equipment that you use. I told you that I didn't have a desk in my home, which means that I'm not really bound to my home. I have a very small portable microphone, and this small portable camera, and my laptop and very good headphones, I can travel with that anywhere I can move my workstation anywhere. But at some point, I made the choice to invest a little bit of money into getting high quality equipment that allows me to be able to connect and have this level of humanity in our connection. The other part of that is years and years and years of being socially awkward, and not really knowing how to connect with people. And then later on learning about emotions, and the fact that before arguing and addressing rational and logical thinking, we need to realize that human beings are emotional beings. Just accept that we all have emotions, you can be sad, I can be angry, and we can hold space for each other to just show that emotion and then be happy together. Okay,
Christian Lane
Awesome. Molood, tell us where can we find more information about you about your conference and the things that you're working on.
Molood Ceccarelli
You can find about my conference on this website that's remoteforeversummit.com and 2020. It's live from November 11 to 17th. If you're listening to this podcast episode, after that date, you can still go to that website and purchase a premium pass, which gives you access to all the recordings. Other places would be remoteforever.com. That's the website of my company where you can find all the information about the services that I provide, including courses, workshops, and whatnot, as well as take away my ebook that you can find that remoteforever.com/ebook. I'm making it available for free for everybody who is picking it up before the end of 2020. And after that, that's up to the publisher. And on social media, you can find me on Twitter @remoteforever. You can find me on LinkedIn by simply just looking up my name. And you can also find me on Instagram again, at remote forever.
Christian Lane
Well Molood has been a real pleasure. Thank you for joining us. Good to see you again.
Molood Ceccarelli
Thank you so much for having me.
Garrett Dutton
Yeah, thank you guys so much. Thank you so much.
Katie Thomas
Thanks for listening to the Digital Transformation(ists) Podcast, brought to you by Praecipio Consulting. Be sure to visit our webpage to check out our other episodes, access show notes and links and listen to some great bonus content. Like what you heard? Subscribe rate and leave us a review and tell a friend we love making new friends. I'm executive producer Katie Thomas. Victor Vargas is our engineer. Alejandro Caballero is our editor. Thanks for tuning in.