There are a multitude of technical optimizations you can implement to ensure your Atlassian tools are high-performing and provide maximum value. As a quick example, using your single sign-on (SSO) provider to log in to Atlassian products ensures a unified login experience and decreased time spent on user management. Learn more about SSO in our 5-part series. First, let's look at why organizational-level optimization is so important.
A core ITIL practice: Continual Improvement
ITIL 4 (IT Library Infrastructure) is a flexible framework for managing services. From IT to HR to facilities to customer-facing support, we're all providing service whether our customers are internal or external. We at Praecipio champion the ITIL framework throughout our customers' organizations because it focuses on business value and embraces digital transformation. When the practices of ITIL are consistently applied across an organization, we've seen incredibly positive impacts on key metrics like profit, resolution time, customer & employee satisfaction, and more.
ITIL management practices are broken up into three areas: General, Service, and Technical. Continual Improvement is one of the critical practices in the General category. In fact, the ITIL handbook calls it out as "one of the key components of the ITIL Service Value System, providing, along with the guiding principles, a solid platform for successful service management" (ITIL® Foundation: ITIL 4 Edition, 4.6.2).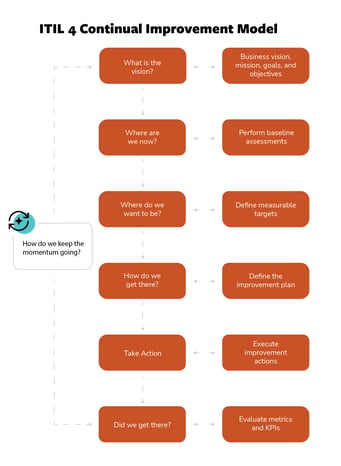 (Source)
We recommend you start with Continual Improvement to establish a baseline assessment and identify priorities. Establishing a regular review and improvement cycle per the Continual Improvement practice guidance allows your teams to progress and adapt iteratively. We must stress: it's a practice, not a one-time activity. The cycle should continue indefinitely.
Survey says...
In 2021, Praecipio conducted a State of Service Management Survey, which involved surveying respondents from various departments and who work with organizations of different sizes across various industries. You can watch our webinar and download the entire report filled with data-driven insights about how diverse teams – from Legal, HR, Marketing and beyond – are adopting Service Management principles to address business challenges and improve ways of working.
One of the takeaways from the survey was that the Continual Improvement practice is vastly underused.
Which Service Management processes and practices are being applied to departments outside of IT?
| | |
| --- | --- |
| Service Management Practice | Adoption Level |
| Incident Management | 78% |
| Knowledge Management | 69% |
| Asset Management | 60% |
| Service Catalog | 59% |
| Service Request Management | 59% |
| Problem Management | 52% |
| Continual Improvement | 48% |
48% adoption means half of the organizations aren't using Continual Improvement practices, despite its critical role in the ITIL framework.

Let's look at some easy ways Atlassian tools can help implement the critical Continual Improvement practice.
Confluence: your Continual Improvement home base
Make sure you have a place in Confluence for each team to gather and organize the outputs of the Continual Improvement practice in one place as they iterate through it over time:
Business vision, mission, goals, and objectives
Baseline assessments
Measurable targets
Improvement plans
Results to plan
As you roll out new processes or enhancements, leverage Jira tickets and/or Confluence pages for capturing user feedback. Remember, in Confluence you can quickly create Jira tickets by highlighting a sentence or two of feedback and clicking the Jira icon that appears.
The low adoption of Continual Improvement is often attributed to the practice getting "lost in the shuffle." It requires sustained commitment but the buy-in is often easier after participants and leadership see the systematic improvement it facilitates. To get started, schedule Continual Improvement activities and require they be maintained as a priority. If you have Confluence Team Calendars, schedule your team's recurring Continual Improvement activities so you stay on track.
When it comes to running Continual Improvement activities, Atlassian has created several great playbooks which include Confluence templates:
Health Monitor
Pre-mortem
4Ls Retrospective
Retrospective
Jira: reporting to guide Continual Improvement efforts
One of the primary drivers for using Jira to manage work is accurate, easy reporting on your process performance. How long is it taking to start working on issues and incidents? What percentage of requests are serviced within an appropriate time frame? How many requests are for contract review? How many incidents were caused by circumventing the change management process?
The answers are at your fingertips when you start using Jira. Based on our customer engagements, here are a few tips and reminders.
Check the metrics
This seems obvious but in the heat of battle, it can be easy to sideline performance monitoring. Routine is your friend here. How often are the right people putting eyes on actual performance? Build in metric review to your recurring team and leadership meetings. Incorporate the data as a starting point into your Continual Improvement activities (e.g. Health Monitors and Retros). It can also help to automate pushing metrics to interested parties via filter subscriptions.
If you need advanced metrics that are not possible with the built-in tools, get in touch. The upcoming Jira Data Lake allows you to access Jira data using your existing BI tools. There are also several fantastic Marketplace add-ons for providing advanced analytics.
Let's look at a few often-overlooked metrics.
Jira Service Management satisfaction scores
After issues are resolved, Jira Service Management can send the reporter a quick survey asking for a star rating and additional feedback.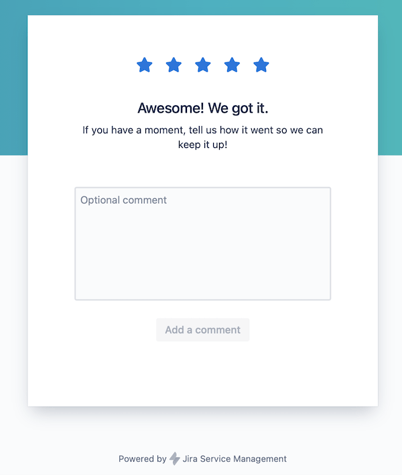 Again, don't forget to check these scores so you're not missing out on one of the most critical barometers of process and team performance: customer perception. The comments can be a rich source of discussion starters for your Continual Improvement reviews.
Service Level Agreements (SLAs)
Some teams negotiate with customers for specific response and resolution times. Others create internal goals. Whatever your team's situation, we recommend establishing realistic targets in order to maintain a continual focus on this critical behavior. Jira Service Management allows you to easily set and track performance to whatever SLAs you establish.
One of the benefits of SLA reporting in Jira Service Management is its visibility. Throughout the system at any time, you can see where every issue stands in relation to your service goals. Not only does this help prioritize issues in real-time, but it also gives support staff instant context into how the customer is experiencing the request interaction. Overall (aggregate) SLA reporting is also available for a high-level view.
MTTA, MTTR
These slightly intimidating acronyms are actually pretty simple calculations:
Mean Time To Acknowledge (MTTA): The clock starts when the request is submitted and stops when work on the issue starts. Note MTTA should be included in the MTTR calculation, explained next.
Mean Time To Resolve (MTTA): The clock starts when the request is submitted to Jira and stops when the team marks the request resolved (the timer restarts if the issue is reopened). This includes time to acknowledge and research the issue, coordinate with other teams/vendors, implement changes/fixes, etc. This is the critical metric for your customers, who are likely blocked until their request is resolved.
Like SLAs, these metrics give you a sense, in the aggregate, of process efficiency. It can lead to Continual Improvement investigations into why the numbers aren't on target. Maybe the backlog is too big (i.e. MTTA is a high percentage of MTTR) so tickets are waiting too long for an available team member to start working them. Perhaps MTTA is fine and the issue is a downstream process with another team that is blocking your team.
Continual Improvement continues
We've just scratched the surface of the ways you can use your Atlassian tools to drive your Continual Improvement practices and optimize your organization. Whether as a source of data-driven retros and regular health monitors or as the central hub for managing the assessments and plans generated from Continual Improvement activities, Atlassian tools will turbocharge your Agile work management journey.
Check out our article on which Atlassian tools are right for your business, and if you're not sure you're realizing the full benefits of your Atlassian suite, give us a shout to discuss what parts of Atlassian optimization you should start focusing on today!