Plus 3 Ways Agile Coaches Can Help Businesses Close Their Readiness Gaps
Almost every organization struggles to some degree with connecting strategy to execution–only 3% of companies say they have done it "very successfully."
Something gets lost in translation when the c-suite tries to communicate an organization's strategy to delivery teams, and then lost again when delivery teams try to communicate progress back up to the c-suite. In fact, in a survey by Harvard Business Review researchers found that only "55% of middle managers can name even one of their company's top five priorities."
The pain points exist in three main areas across a company's people, process, and technology: Lack of visibility, lack of coordination, and an inability to adapt.
To help improve all three of those pain points, many teams consider technology like Jira Align, which promises to "connect your business strategy to technical execution."
Jira Align is definitely not plug and play, and is not appropriate for every organization. So, how do you decide if your organization is ready for a platform like Jira Align? And how can you, as an agile coach or transformation office team member, begin to close the gaps in order to prepare the organization (and yourself) for this technology?
Let's find out by looking at eight ways to know if your organization is ready for Jira Align.
Success with Jira Align Requires Agile Leadership
Historically, (including in the most recent State of Agile Report and State of Agile Coaching Report), the main blocker for an agile organization is leadership. So it is no surprise that the first two indicators that a company is ready to adopt Jira Align are also leadership focused.
A C-Level

leadership team with a clear vision for an agile transformation

is by far the top indicator that a business is ready for Jira Align. Jira Align can't put an organization on a path of agile transformation, it can only illuminate the path that the business is already on.





Many organizations have an executive sponsor who believes in the agile transformation and offers support. To be ready for Jira Align,

your business needs an executive

champion

.





What's the difference between an executive champion and an executive sponsor? The executive champion takes an active leadership role in a Jira Align implementation and the concurrent agile transformation, and is positioned high enough in the organization to make decisions.
The leadership team is the first and most obvious place for you, as an agile coach or implementation lead, to begin to close the readiness gaps for your organization. Work with the c-suite to explain what agile is, how it affects their work, and their role in a successful agile transformation.
Ask leadership to appoint an executive champion, perhaps a Chief Transformation Officer, who has real authority, can dedicate time, and will build a team to support the change effort.

To help educate others about the need for Jira Align, work with a Jira Align partner to hold a workshop with the organization's leaders. In a few hours, a skilled Jira Align expert can demonstrate some of the most glaring problems separating strategy from execution, and talk through ways to close those gaps.
Often, seeing the scope of a problem first-hand–and how the platform can give visibility to that problem–gives leadership much more energy around investing in agile transformation with Jira Align as the technology platform solution.
Related Content: Think your org is ready for Jira Align? Take our Readiness Assessment.
Related: Join us for an Exclusive Interactive Jira Align Workshp at the SAFe Summit on Aug 17
Success with Jira Align Requires an Investment in Change
Forrester Consulting's Total Economic Impact study found that Jira Align has helped customers achieve up to 340% ROI, so it's clearly worth the investment. But beyond the tool-related investment costs, the organization has to be willing to invest in change, and to have the patience to go through the associated growing pains.
Indicators three through five, then, are all about an organization's commitment to change.
Investing in Jira Align is as much an investment in changing the mindset of the organization as it is an investment in technology. The

funding for training and coaching

(both for agile-at-scale frameworks like SAFe® and in Jira Align itself) should be on par with a transformation. Without training and coaching, businesses will not get the desired results from Jira Align.





The organization must be willing not only to fund the change, they have to also have

active change management

in place to embrace that change. Successfully implementing Jira Align requires significant shifts in organizational thinking and processes. This will result in significant discomfort across the organization as process changes and mindset shifts are in progress. Working through that discomfort is painful, but ultimately worth it.





Jira Align is designed to align teams throughout the organization. Doing this will likely require teams to change the way they work and the tools they use for that work to standardize data and reporting.

Complying with standards

will take not only strong change management, but also strong coaching on the why behind the changes.



Here's the second place where you, as an agile transformation coach, can help prepare the organization for what's coming. Start with why. Give teams a solid understanding of the problem, and of how pivoting to a standard tool or dataset, can yield benefits not just for the organization, but for the team.
The whitepaper The Connected Enterprise: Close the Gap Between Strategy and Execution presents some valuable statistics and a model case study to help showcase how much more an organization benefits when its teams know they are building the right things, at the right time, for the right people.
Hold informational sessions such as lunch-and-learn programs around how much more autonomy and creativity teams will have when leadership can see in real time how the work they are doing is related to the strategy. Explore a quick demo of Jira Align's "why" button, which when properly configured provides all of the context behind each feature, epic, and theme from inside Jira Software, including the business case behind an item's priority.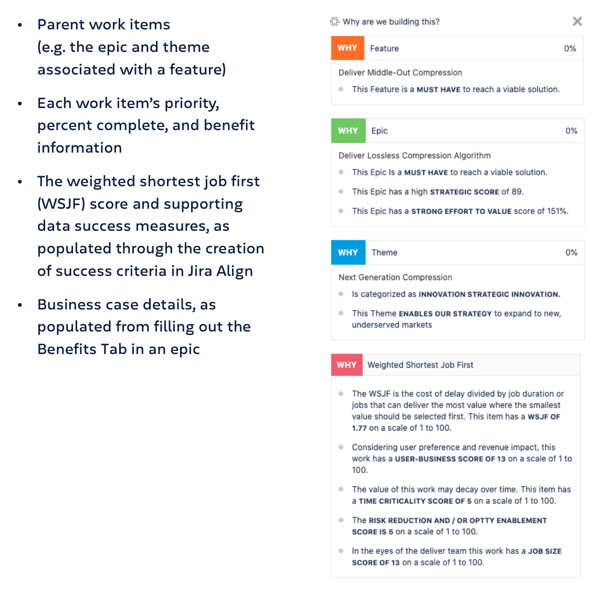 Source: https://www.atlassian.com/blog/jira-align/ask-why-to-unlock-organizational-change
If it does not already exist, create a transformation office. Once formed, the transformation teams can begin meeting monthly or quarterly to gauge progress, remove impediments, formalize processes.

Scaling is another coaching opportunity. Introduce teams to agile at scale within their current context. Discuss how small but impactful changes at the team level can help create standardized metrics that add visibility not only to the c-suite but between teams as well. This automated visibility can eventually expose and decrease dependencies between teams, meaning less time spent in meetings and more time spent creating and delivering value.
Other agile coaching opportunities may include: formalized ways to prioritize programs to achieve strategic goals (e.g., WSJF) and/or lean portfolio management.
Success with Jira Align Requires Realistic Expectations
Before going all in with Jira Align, it's important to set realistic expectations not only about what the platform does and does not do, but about how long it will take, and how much technical expertise will be required to realize all of its benefits. That brings us to the last three indicators that an organization is ready for Jira Align:
To be successful with Jira Align, the organization and its leadership first must understand that Jira Align is

not

a reporting system.

Jira Align is a living system.

It is an enterprise agile transformation platform designed to enable collaboration at all levels, every single day. Sure, it has a powerful reporting component. But the greatest value enabling mindset transformation and value delivery are in the live views.





Implementing Jira Align takes time.

An initial pilot at the program (team of teams) level can be implemented within 3 months for a single program. A full implementation modeling the firm from Enterprise/Strategy to Team levels will take at least 12 months.





Internalizing the related mindset, processes, and practices will take as long as a typical successful agile-at-scale transformation:18 - 36 months.





Last but not least, the organization will need to bring in

training and technical expertise.

For Jira Align to work as intended, it must interface smoothly with team-level tools. That's why it's critical for the organization to have competent Jira or Azure DevOps (ADO) admins or reliable, dedicated

Modern Service Management

that can perform that function. In addition, organizations will need dedicated technical expertise to support the configuration and integration into the existing technical ecosystem.
Here's the third and final place where agile transformation coaches can really dig in and use Jira Align for their own benefit as well as the organization's benefit. Learn Jira Align well enough to use its built-in feedback loops to coach teams, measure the organization's agile transformation progress, and report on return on investment.
You've likely had to learn tools before to support and help teams: from Trello to Miro to Jira Software. Jira Align is no different. What is different, though, is how you can use the live views and reporting metrics inside Jira Align to measure your own success in enabling the organizational transformation.
You can learn about features such as framework maps that let you map framework implementation activity to the Jira Align implementation, resulting in a visual map of the organization's progress. Check out a process step Kanban board for all the teams' work items, from stories to features to epics to themes. View and review the Work Tree using multiple filters such as the Strategy View, Top-Down View from Portfolio, or Bottom-Up from Story.
Already, 14% of respondents in the 2022 State of Agile Report report using Jira Align. As that number increases, coaches will need to quickly interpret teams' progress and areas for improvement as easily as they do today, but within Jira Align. Knowing Jira Align provides a competitive advantage within the industry.
Get Ready for Jira Align
As more and more organizations begin to apply agility outside of just software teams, the need for technology like Jira Align is only going to increase. About half of State of Agile survey respondents say they apply agile practices to the entire application delivery lifecycle. And two-thirds are using Atlassian's Jira to manage their agile projects already.
Jira Align helps to solve so many problems organizations face at scale, including real-time visibility, aligning every team to strategy, and optimizing for customer value. And, it claims to be the only platform that lets organizations implement and extend any framework at scale, including hybrid and custom frameworks.
It won't be long before your organization is asking to implement Jira Align. Start getting them–and you–ready today.