Previously, we looked at why digital asset management is important for your organization. Today, we're exploring Atlassian's solution for tracking your organization's valuable assets digitally: Insight. Remember, we are defining assets as anything that helps you get work done: lab equipment, computer hardware, cloud infrastructure, mobile devices, software/SaaS licenses, tools, work stations, furniture, etc.
In our industry, digital asset management is usually thought of as a component of "service management." Service management was traditionally considered an IT function (often manifested in the form of an IT help desk). In recent years, however, we have been implementing these practices across the organization—from legal to human resources to finance—because they dramatically increase the speed and quality of how work flows.
This expansion of service management practices beyond the IT organization means more teams are taking advantage of Atlassian's asset management tool, Insight. The impact of this trend is often quite remarkable as processes are formalized, streamlined, and consistently monitored. Teams using Insight get additional process benefits. Unlike inflexible, legacy Configuration Management Databases (CMDBs), Insight uses an open data structure which allows your teams to manage any resource important to their service requests. Including assets in your service management practices is a big step forward.
Think about how work gets done in any part of your organization: your process workflows. It typically starts with the (internal or external) customer submitting a service request, like a new employee onboarding, a facility request, a contract review, etc... The request is picked up from the queue by an agent who will take actions to move the work forward to resolution. Many actions may be needed along the way: obtaining additional information, forwarding to another team, making a configuration change, creating an account, procuring a requested item, repair equipment, provide updates back to the requester, etc. These actions are all turbo-charged and made easier through Jira's functionality and built-in fields. But is there something missing? Yes, assets! Almost every request involves procuring, repairing, replacing, upgrading, decommissioning, or dealing with assets in some way. A Jira issue, by default, doesn't include fields to track data related to assets.
We could employ custom fields to create a drop-down list of assets, but we quickly run into limits with this approach. As discussed in the former post, assets usually have many attributes, such as serial numbers, vendor/service contacts, documentation, relationships to other assets, etc... There's no way to stuff all of this information into a custom field. Using multiple custom fields is cumbersome for agents and for reporting/tracking due to data entry accuracy issues. In addition, we can't establish relationships between assets represented in custom fields; these are important for being able to see all assets located in a certain location or seeing what other assets will be impacted by removing or changing an asset, for example. We need an integrated solution that's tailored to managing our assets within Jira tickets.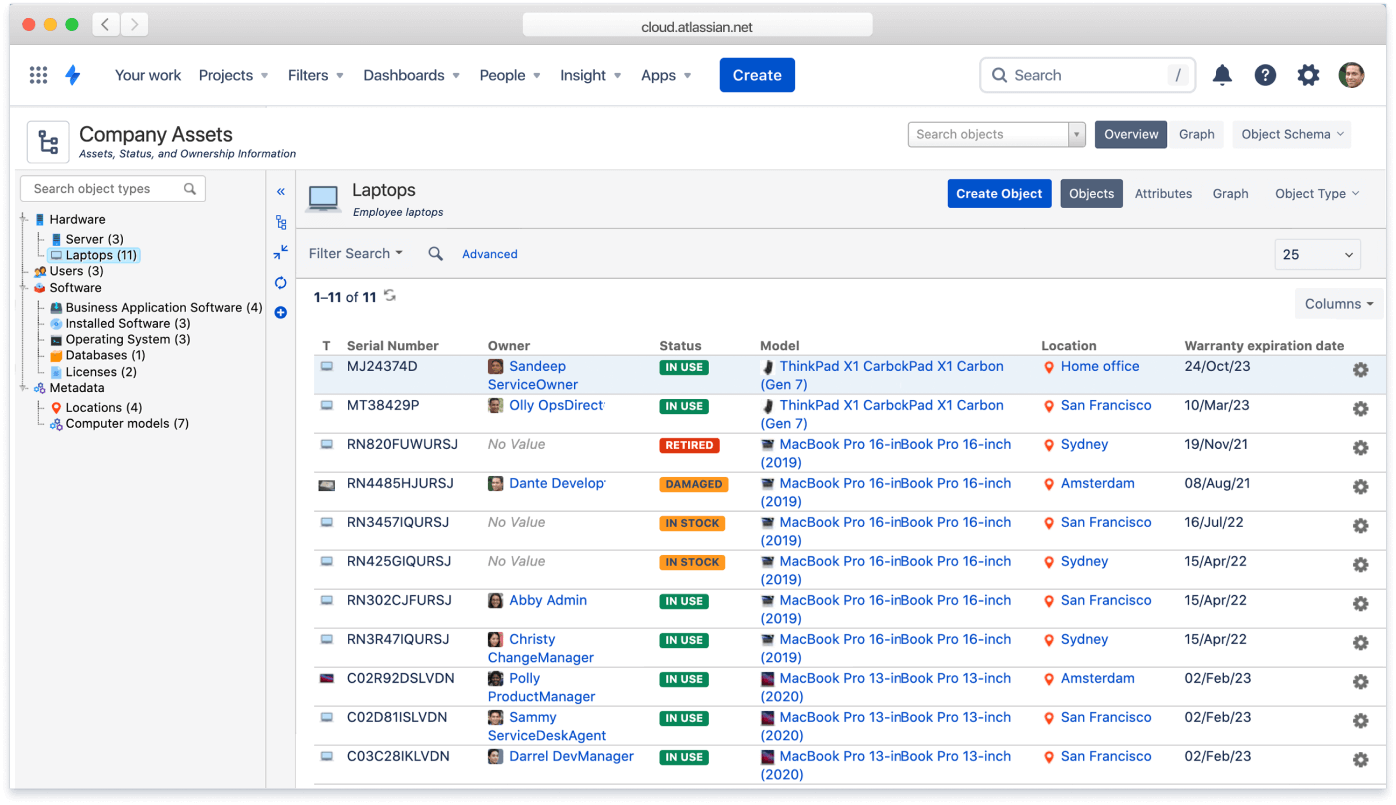 Insight's basic functionality allows customers and agents to link an issue to a complete, dynamic asset record. This is incredibly powerful by itself, but that's not all: with asset management handled by Insight, we can do so much more to help work flow smoothly as part of digital transformation initiatives. Insight can automate ticket assignment based on any asset attribute, like location, model, or vendor. This prevents front-line support from spending time reassigning tickets to the appropriate queue and removes that wait from the request's resolution time. Alerts to stakeholders can be sent automatically. Should safety and engineering teams be alerted when tickets involving security systems, networking hardware or other critical infrastructure are opened? Automated discovery can be a crucial feature for audit/compliance and having an accurate picture of what assets are being used to in your business. We are amazed at the flexibility of Insight to help customers manage all of their needs around assets.
Are your assets managing you instead of the other way around? If so, get in touch, and let's apply the power of Insight to your business.