When your organization makes an agile transformation investment, you must measure and understand the impact of the transformation. In fact, if we don't "Measure What Matters," how can we gauge whether it's time to pivot or persevere? Or address areas for improvement? Or understand if the strategic direction we think we're headed down is actually the right one?
Measuring the Impact of an Agile Transformation
When implementing an Enterprise Agility transformation framework such as SAFe, it's important that we understand what the potential impacts are to determine, "Was it worth it?" After all, we know that change is hard. It can be excruciating. And it's exhausting. So after all that, are we actually making an impact?
SAFe lists clear measurable impacts in four key areas: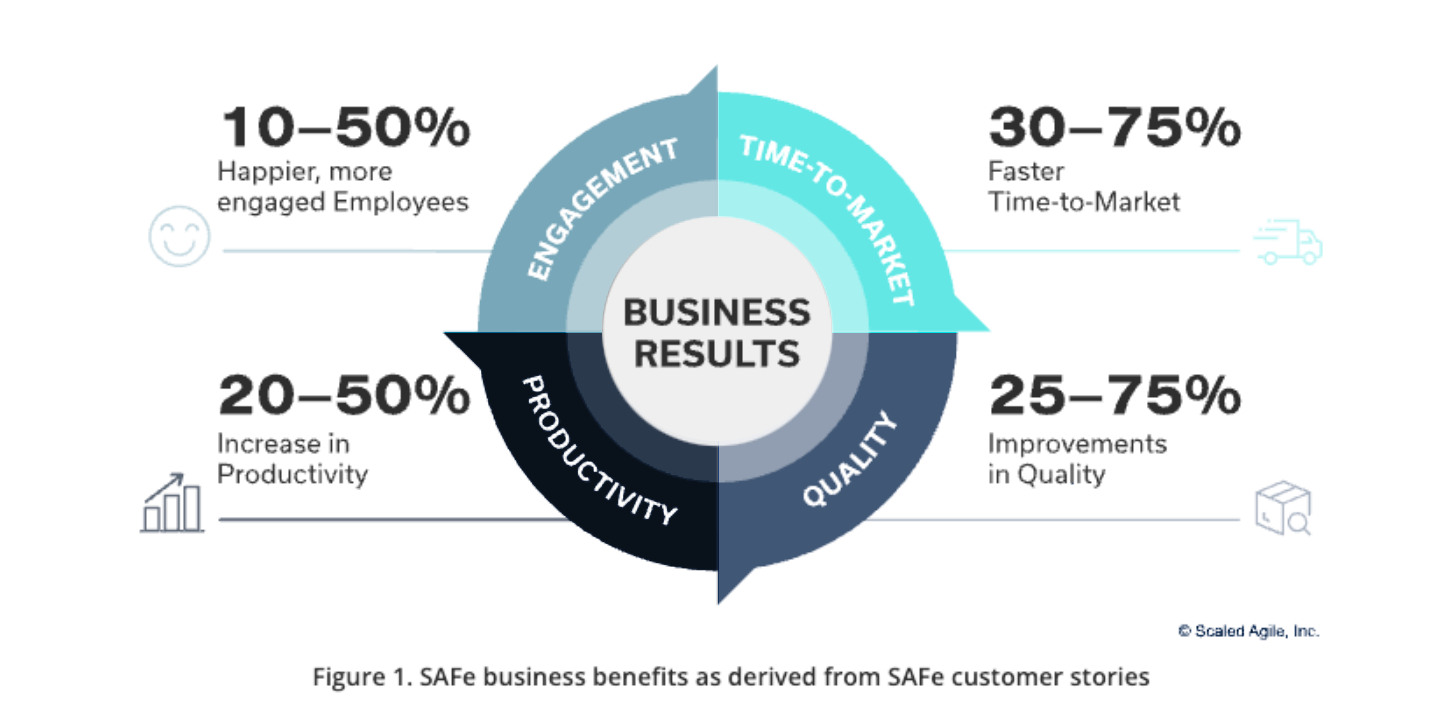 Measuring the impact of the SAFe (or any Agile-at-Scale) framework implementation is only one aspect of a successful Enterprise Agility transformation. What about measuring the impact of a technology platform change as well? Shouldn't we also be measuring the impact of our Jira Align implementation?
Understanding the Impacts of SAFe
The Forrester Total Economic Impact Study for Jira Align states that a Jira Align implementation can result in a 340% ROI. But as we know, there are other measurements besides ROI. There's a reason why, in SAFe, the first measurement of business benefit is "Happier, more engaged employees". At Praecipio, Enterprise Agility means People, Process, and Technology in support of Strategy and Purpose. We can't run organizations without people, we need processes to define our taxonomy, and technology helps us manage whether we're focused on the right strategy to fulfill our purpose. So how successful is your Jira Align implementation?
At Praecipio, we've developed and deployed a survey for our clients making the transition to Jira Align. We benchmark how Jira Align facilitates people and process in support of strategy and purpose. We see a major impact, specifically in the categories of Strategy and Technology, between Day 1 and Day 90 — up to 20-25% improvement when surveying our SME groups. If you're not seeing a similar impact with your Jira Align implementation, maybe it's time for a Jira Align Rescue.
Praecipio's Approach to Measuring Impact of Jira Align
If you didn't conduct an initial survey, it doesn't mean we can't start now. There are several competency assessments from SAFe. I would suggest the Business Agility Assessment as it's the "overall framework" and it's a free download.
A smaller version of Praecipio's Jira Align Readiness Assessment is available on our website. You can also use it to determine whether or not you're ready to have a conversation about how Jira Align can impact your organization. It will also give your organization confidence in Praecipio's expertise when it comes to benchmarking your Enterprise Agility impacts.
Ready to have a conversation about how Praecipio can help you maximize your impact and ROI with Enterprise Agility? Contact us today!