So, your organization is investing in an Enterprise Service Management (ESM) strategy. It's a great move! But could it be doing more? Well, if your organization is doing what most organizations do, the short answer is a resounding "yes." Now, you might think that the opportunity here is the wider use of IT Service Management (ITSM) capabilities across your organization – in other business functions – which will, of course, be beneficial when executed well. But instead, I'm referring to the wider use of available ITSM best practices. Especially since the new version of the ITIL ITSM best practice guidance – ITIL 4 – introduced so much new Service Management guidance.
Looking at Service Management adoption levels
The world of ITSM doesn't see as much statistical data as it used to, unfortunately. This is also true for Enterprise Service Management, where any adoption-level statistics usually refer to how many organizations are "doing" ESM.
This, however, is a difficult percentage to pin down because of the likelihood that apples are being compared to oranges rather than other apples. For example, the corporate ITSM tool might be used by another part of the organization to fulfill a need, but there's no Enterprise Service Management strategy. Or where there is a strategy being executed, it might be for half a dozen other business functions, but it could also just be for just one. It's very similar to where an organization can quite rightly say that it has adopted ITIL when it's simply using a small part of just one of the 34 management practices in ITIL 4.
What's more interesting and relevant for this blog post is the relative level of ITSM/ITIL process adoption as part of enterprise service management strategies, i.e. the ITSM capabilities that are more likely to be shared and perhaps adapted for other business functions such as human resources (HR), finance, legal, facilities, security, procurement, and customer services/support.
The adoption levels of Service Management processes by other business functions
During Praecipio's recently published State of Service Management survey, we saw fairly broad adoption of some Service Management practices outside of IT. In fact, more than half of respondents told us that the top six practices were implemented in their organizations. That's a great improvement from previous surveys on this topic, but it shows there's still plenty of room to apply the power of the other Service Management practices.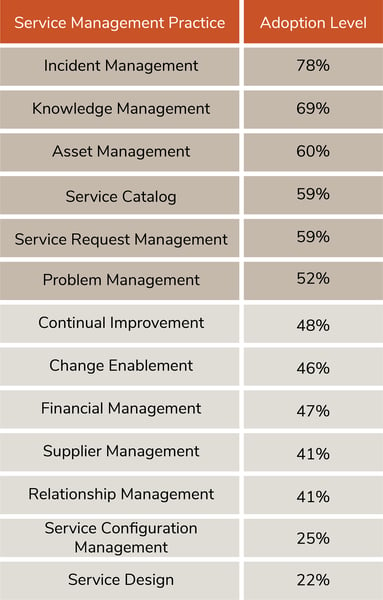 For a detailed look into Service Management adoption across a wide variety of organizations, check out our webinar on the 2021 State of Service Management Report.
Of course, the above percentages are also influenced by the relative adoption levels of each ITSM capability by IT organizations themselves. For example, if only 60-70% of IT organizations claim to employ problem management best practices, then it's highly unlikely that the third of organizations that don't use it would try to share the capability with other business functions.
The key focus is that Enterprise Service Management strategies or approaches are sharing ITSM capabilities that can be considered the domain of the IT Service Desk, such as the ability to deal with requests for help, information, service, and change, all while enabling capabilities such as knowledge management, self-service, and workflow automation/platform-based capabilities.
Hence, while we talk of Enterprise Service Management as the sharing of ITSM capabilities with other business functions, it's only a small subset of ITSM capabilities that are commonly shared. And organizations and their various business functions could further benefit from the greater adoption of other ITSM capabilities.
Taking enterprise service management beyond the service desk
There were many opportunities to extend the use of ITSM, or ITIL best practice in particular, with ITIL v3/2011. The introduction of ITIL 4 not only increased the guidance content from 26 processes to 34 management practices, it also:
Presented the guidance from a Service Management, rather than an ITSM, perspective such that it's more easily understandable and accessible outside of IT

Built the guidance around the concept of the co-creation of value through Service Management
The latter of these in particular is something that should now be included in the extension of Service Management capabilities – including the use of ITSM tools – to other business functions. The obvious caveat is that it's highly unlikely to happen without IT itself transitioning from ITIL v3/2011 to ITIL 4 first.
This future transition offers up a suitable decision point for the ongoing focus of an organization's Enterprise Service Management investments: if the IT Service Desk capabilities are changed in light of the new ITIL 4 guidance, then the same would also benefit the other business functions that currently operate their variants of the original ITSM capabilities. It's also a great opportunity to understand which other ITSM capabilities – both old and new – would additionally benefit the operations and outcomes of these business functions.
Examples of enterprise service management beyond the service desk
Even before the release of ITIL 4, some existing ITSM/ITIL capabilities were readily suited for and would have benefited other business functions. Problem management is a good example, with Customer Service/Support departments and Facilities teams able to employ similar problem management capabilities to IT – across people, processes, and technology – to identify and remove the root causes of regularly seen/reported issues.
Another good example is Continual Service Improvement (CSI) – which is now simply "continual improvement" in ITIL 4. After all, every part of your organization would likely benefit from having a formalized approach to the improvement of operations, services, experiences, and outcomes.
With the broader scope of ITIL 4, there are many additional practices that can be shared with other business functions to drive improved operations and outcomes, such as organizational change management, risk management, service design, strategy management, and workforce and talent management.
So, your organization's Enterprise Service Management strategy could encompass far more than the IT service desk elements of ITSM – where the benefits outweigh the costs.
Hopefully, this article has you thinking about your organization's current Enterprise Service Management successes and the potential for even more going forward. If you would like to find out more about the opportunities to improve the operations and outcomes across your entire organization - or if you need to get started with Enterprise Service Management - get in touch with us at Praecipio.