Customer Satisfaction, or CSAT, is a customer experience metric measuring satisfaction with a product, service or support interaction. The metric is captured through a short simple survey to enable the customer to provide their feedback.
CSAT in Jira Service
Management
Did you know that your customer feedback is collected by default within Jira Service Management Projects? This means that when an issue is resolved, the customer receives an email requesting their feedback through a simple question such as "How satisfied were you with our service?". That simple question is editable, and can be defined by your project admin.
Remember, if you're utilizing next-gen projects, site administrator access is required to edit your CSAT survey question
There's a handy Satisfaction report built into Jira Service Management, visible to project administrators and agents. This report displays average customer satisfaction scores, as well as individual scores and comments for the team. You can toggle the report anywhere from the past 48 hours, all the way up to the past year by month!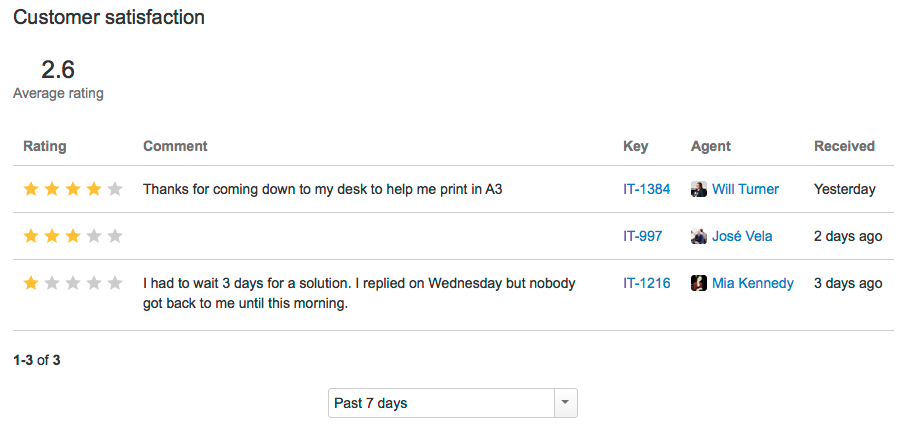 It's also possible to configure your own custom report to track satisfaction trends. For example, you may want to see satisfaction by assignee, satisfaction by service request, or even a trend graph to track satisfaction changes over time.
The Pros of CSAT
CSAT, a very popular methodology, offers a quick and easy way to entice customers to give feedback. This then provides a clear metric for you to understand customer expectations, and work to exceed them. With CSAT enabled, your customers will receive a survey every time their request is resolved. This enables you to track customer satisfaction at different stages of their journey with your team, making bottlenecks and areas for improvement clear, with very little effort on your part.
CSAT also offers a fast way to compare yourself to your peers. According to the American Customer Satisfaction Index (ACSI), the average CSAT score across the nation is 76.5% - that's just over 3/4 of your customers reporting a satisfying experience. This figure differs by industry - you may not be too surprised to hear that, in 2019, Internet Service Providers and Subscription Television Services reported low CSAT benchmarks of 62%, while Breweries reported a much more favorable CSAT benchmark of 85%. But remember, while it is useful to be able to compare yourself to your competition, the true value from CSAT comes when you analyze and utilize feedback to drive continuous improvement and better your own customer experience.
Considerations of CSAT
While CSAT is a useful metric to track, there are a few considerations to take into account. The customer who takes the time to fill out their satisfaction is likely one who is happy with the service they received. Customers who are unhappy, or just moderately satisfied, are less likely to complete the survey, which can skew the data. CSAT has also been found to be a poor measure of loyalty - although poor CSAT scores can predict attrition, a high CSAT score has not been found to be a reliable predictor of repeat business. Cultural differences should also be taken into account - different standards and expectations will affect the score that customers are driven to pick, which, in part, can make it difficult to understand true customer satisfaction.
So, CSAT isn't a unicorn which can address all customer concerns with support. However, it does offer a valuable insight; one which should be paired with other tools to track and measure customer satisfaction. At Praecipio, we can help you make the most out of the benefits of collecting CSAT in Jira Service Management, and use those results along with other anecdotal evidence such as customer comments, number of tickets raised, cadence call discussions, and repeat business, to drive change, improve your customer offerings, and ultimately, reap the rewards!