In their 2022 report, Gartner named Atlassian's ITSM platform, Jira Service Management (or JSM), a leader in their Magic Quadrant for ITSM. Gartner releases its influential reports each year using qualitative data to evaluate various tools and systems and help business leaders make the right decisions when they invest in platforms.
Jira Service Management is the fastest-growing ITSM product for the second year in a row, with over 45,000 customers leveraging the platform to power their organizations' internal and external service delivery. The reason for such tremendous growth in customers comes down to Atlassian's substantial investments in the ITSM space – especially their recent acquisitions of tools like Insight, OpsGenie, ProForma, and Halp – making JSM a central hub for requests, incident reports, configuration, and asset management.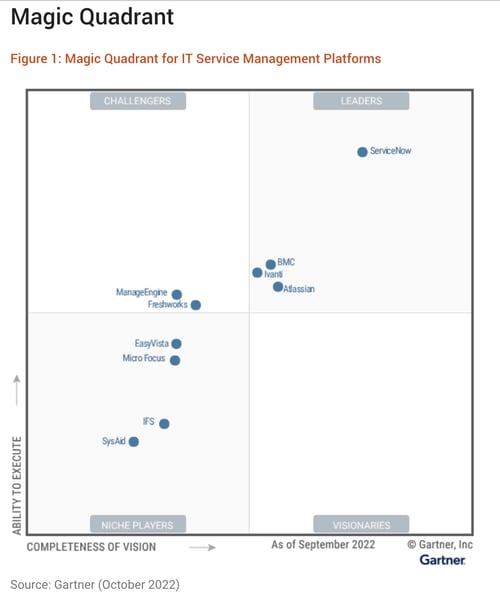 Gartner praises Jira Service Management and Atlassian for their commitment to continued enhancements and expansion of platform capabilities, as well as their dedication to research and development to continuously improve their platforms and better support customer needs.
What does this mean for you?
In today's fast-paced business world, teams everywhere are experiencing growing pains due to disparate tools and delayed decision-making. Jira Service Management was designed to help organizations of all sizes across all industries deliver value fast, make work visible, and connect technical and operations teams.
From the world's largest Beverage and Brewing Corporation to a local Public Utilities Company, Praecipio has helped organizations improve collaboration and cultivate a customer-centric mindset among service teams with JSM. As an Atlassian Platinum Solution provider, we can help you get the most out of Jira Service Management by customizing and integrating JSM tools with your existing software and processes. We'll help you keep your business moving forward and allow you to focus on the work that matters most.
Ready to learn more about JSM? Explore our ebook, Unlocking Enterprise Service Management with the Atlassian Platform or reach out for a technical assessment.