Moving IT infrastructure to the cloud is more than just a growing trend among organizations; it's a requirement if you want to stay competitive in today's fast-moving marketplace. Reduced overhead costs, greater agility, scalability, and the increased need for remote work capabilities are a few of the motivating factors for companies migrating to the cloud.
For those in the Atlassian ecosystem, time is of the essence when it comes to migrating to Cloud. You've probably gotten the memo about Atlassian ending support of their Server products, so if you've been putting off migrating from on-prem to Cloud or Data Center, it's officially crunch time. If your organization can't live without its Atlassian tools, you have less than a year to migrate your instance before it goes unsupported.
Infographic: What Happens After Atlassian Server EOL
In this article, we break down what the end of Atlassian Server means for your business and how to plan for what comes next.
What Atlassian Server EOL Means for Your Business

If you're one of the businesses still using Atlassian Server products, Atlassian and their Marketplace vendors will no longer offer technical support for any issues, security updates, or bug fixes after February 15, 2024.
To break it down for you, here's what Atlassian on-premise Server end of support means for your business:
Regular security updates that protect your instance from threats and vulnerabilities will no longer happen.
Your users and data are at risk of being exposed to harmful viruses, spyware, and malicious attacks.
Say goodbye to meeting compliance requirements and industry regulations.
The good news is that must-have features like HIPAA, BYOK, and FedRAMP compliance will be available in Cloud before Jira Software end-of-life and Confluence Server end-of-life.
The Cost of Not Migrating to Atlassian Cloud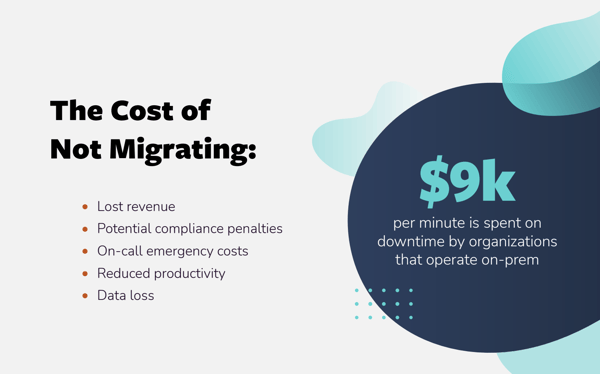 One of the biggest factors holding companies back from migrating to the cloud is cost. While transitioning to the cloud is definitely an investment, staying on-prem could cost your organization even more in the long term.
As businesses continue to grow and expand, the need for efficient and flexible IT infrastructure has become increasingly important. Companies that fail to migrate to the cloud will continue spending a significant amount of money on maintaining their IT infrastructure.
In fact, organizations that operate on-prem spend an average of $9,000 per minute on downtime. Maintaining servers in addition to downtime from unplanned incidents come with hidden costs in the form of lost revenue, reduced productivity, and compliance penalties, just to name a few. When compared with the cost of a year-long cloud subscription, system downtime can cost three times as much.
Downtime only scratches the surface when it comes to server-related costs. When you factor in what you spend on maintaining servers and performing security updates, in addition to operational and physical costs like license renewals, real estate, and electricity, it all adds up to become a bottomless pit.
Save Big With Atlassian Cloud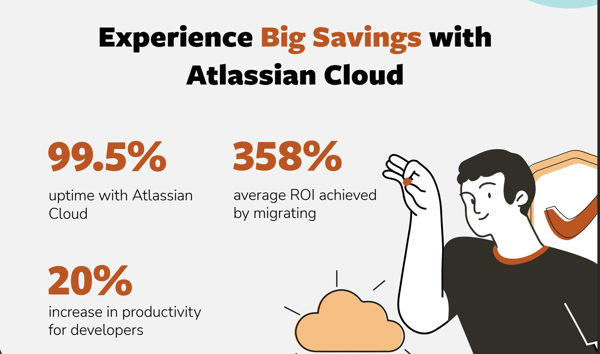 Even outside of the Atlassian ecosystem, organizations are seeing a return on investment with the cloud. Nearly 80% of IT professionals said they had saved money, seen more team productivity, and experienced better security since moving to the cloud.
By leveraging Atlassian Cloud, businesses can reduce total cost of ownership, strengthen security, increase output, and eliminate downtime and maintenance costs. In addition to experiencing 99.90% uptime, organizations no longer have to worry about purchasing and maintaining physical hardware or software licenses as everything is managed directly by Atlassian.
The upfront costs of migrating to Atlassian Cloud may seem daunting, but the payoff is more than worth it. According to Forrester's Report "Total Economic Impact of Cloud Migrations", organizations that migrated to Atlassian Cloud realized a 358% return on investment.
Another way that Atlassian Cloud delivers more value is by allowing teams to execute on the work that drives their business forward. For example, developers experienced a 20% increase in productivity using features in Atlassian Cloud. Instead of wasting time on repetitive tasks, they were able to collaborate better and focus on developing better products.
The same Forrester report found that other IT team members were able to save time with Atlassian Cloud. By offloading maintenance and security to Atlassian, IT teams reallocated 50% of their time towards more important work, which resulted in improved customer satisfaction.
If you're still not convinced by Cloud or are confused about what the investment looks like for your business, use this cloud savings calculator to break down how much you would spend on operational and maintenance costs with the Server and estimate how it compares to the costs of an Atlassian Cloud migration.
This article also provides guidance on calculating your Cloud ROI, determining your Total Cost of Ownership, and understanding the costs associated with Server. We also recommend reading our case study that explores how Castlight Health drastically reduced the total cost of ownership, eliminated downtime, and bolstered security since migrating to Atlassian Cloud.
Preparing Your Organization for What's Next
With the clock ticking toward Jira Server end-of-life, here are some steps you can follow to prepare your organization and make the migration process as smooth as possible:
Activate your free cloud migration trial - This is the best way to evaluate Cloud, explore features, and assess your migration requirements.
Choose your migration plan - On average, cloud migrations take up to nine months. With Server support ending in less than a year, you need to start putting a migration plan into motion ASAP.
Migrate before Server support ends - Don't put your users, data, or business at risk by having your instance go unsupported.
Get Started With Your Migration
The best way to ensure that you successfully migrate in time is to work with an Atlassian Solution Partner and have them guide you through the process. As a Platinum Solution Partner specializing in Atlassian Cloud, Praecipio holds a 100% migration success rate and has proven success supporting enterprise-level use cases across the Atlassian Cloud Platform.
We have helped organizations big and small successfully migrate their instance from Server to Cloud, including leading biotech company Ginkgo Bioworks. After migrating to Cloud with the support of Praecipio, the leading biotech company is expected to triple its output and cut its costs in half with more time and resources available to focus on the work that matters most.
We've also got you covered with helpful resources to guide you through planning your migration. In this ebook, we walk you through the exact steps you need to follow to transition to the cloud and prepare you for what to expect before migrating. During a recent webinar, our team discusses the top issues we've seen when migrating our clients from Server to Cloud and answers the most common questions about Atlassian Cloud.
If you are currently figuring out what's next for your business, Praecipio is here to help. Contact our team of migration experts to analyze your situation and establish a plan for accelerating your journey to Atlassian Cloud.