Team '22 has wrapped and what an exciting week it was. The event served as an impactful place for innovators and problem-solvers to come together and interact with attendees and Atlassian customers. We're feeling so inspired to be at Atlassian's flagship conference helping teams focus on what matters most and discovering the power of their Atlassian investment.
Our theme revolved around amplifying what's possible for teams everywhere. As a platinum sponsor this year, we participated in events like a Lunch 'n Learn Session on Work Management presented by Larry Brock, a Theater Session on Jira Align presented by Amanda Babb, an on-demand Breakout Session on Atlassian Cloud by Suze Treacy, and an on-demand Demo Session on Jira Service Management by Brian Nye.
Praecipio also delivered several training sessions, which allowed their students to utilize best practices and build on their existing skill sets. The team-led trainings included:
Jira Align Program Essentials delivered by Jack Harding and Brian Nye

Atlassian DevOps Essentials delivered by Luis Machado and Christopher Pepe

Planning with Advanced Roadmaps delivered by Amanda Babb, Ian VanHover and Dean Rizzuto

Bitbucket Pipelines Configuration delivered by Shannon Fabert and Jim Easterly

Managing Boards in Jira delivered by Shannon Fabert and Larry Brock
We heard motivating stories from speakers and listened to informative presentations about new Atlassian updates. Attendees were inspired to work differently, together. Some highlights of the keynotes include Jay Shetty's, "How connected thinkers will build the future", "Work differently, together: A new vision for Work Management" by Joff Redfern and Erika Trautman and "In conversation with Bob Iger", an inspirational talk with the Former CEO and Chairman of The Walt Disney Company Bob Iger and Scott Farquhar, the Co-Founder and Co-CEO of Atlassian.
Being able to connect in-person after two years felt like an extended Atlassian family reunion. The continued growth in Atlassian and Marketplace products will provide lots of great tactical and strategic features. Team '22 really renewed my excitement about our ability to help customers maximize the value of their Atlassian investment.

Joseph Lane, COO
Thank you to everyone who stopped by to say 'Howdy!' and to those who attended any of our talks. Keep scrolling to read about our recap of the ultimate teamwork experience.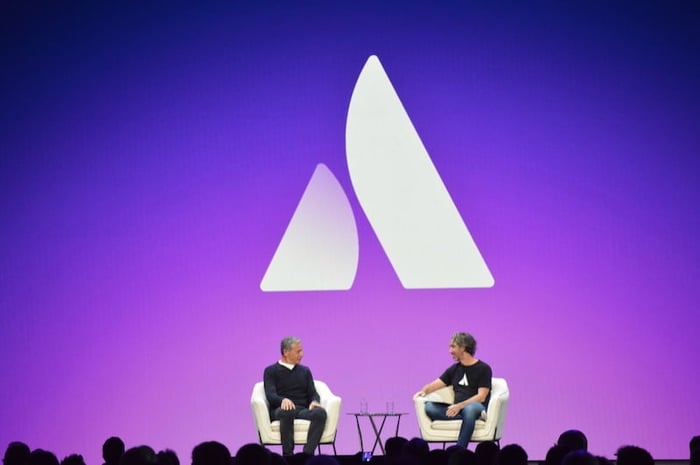 We learned a lot during the Atlassian Team '22 Keynote Address. Atlassian continues to transform how teams collaborate and drive cultural change through ITSM, DevOps & Agile, and Work Management.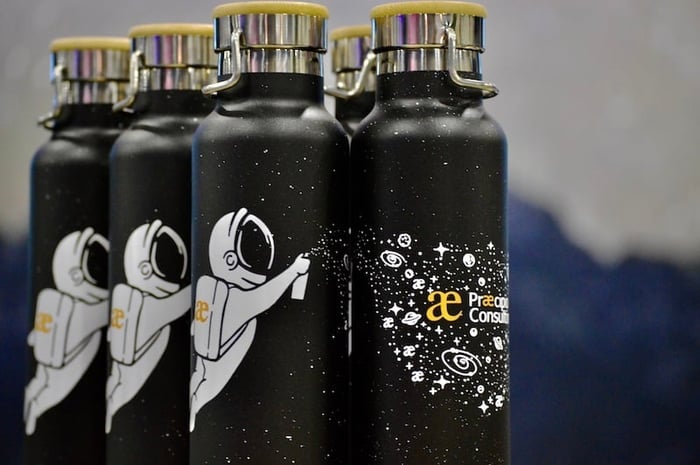 Praecipio had some of the coolest swag. Pictured above are the water bottles we handed out.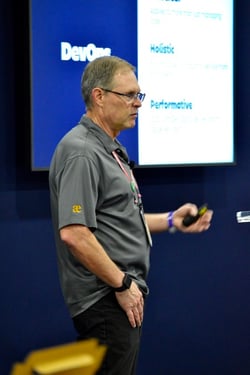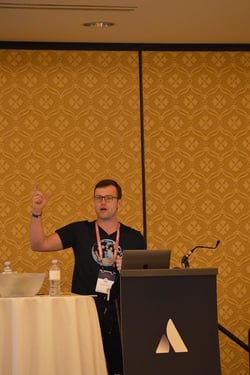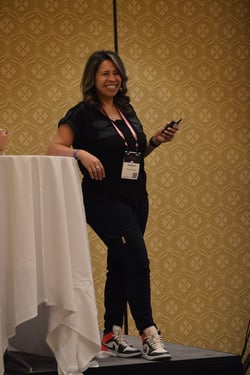 Left: "Streamlining the DevOps Lifecycle with Jira Service Management" with Larry Brock
Center: "Jira Align Program Essentials" with Jack Harding
Right: "Bitbucket Pipelines Configuration" with Shannon Fabert
Amplify What's Possible for Teams Everywhere
We loved seeing old friends, making new ones, and connecting over all things Atlassian last week. Let us know if you have any follow-up questions about Team '22 and how we can amplify what's possible for your business teams.