No matter the size of your organization or your industry, the end game of any company is to deliver the highest quality product to customers at the greatest market value, with the lowest cost of production. This school of thought drives the Agile methodology of software development, pushing for faster delivery of better products with the least amount of risk, and has fueled the scalable Agile solution for enterprise-level organizations: Scaled Agile Framework (or SAFe®). Operating under the principles of Agile development, SAFe® aligns the development and initiatives of all levels of the enterprise company- from agile teams to executives- for accelerated value delivery at a reduced risk. Leveraging short feedback cycles organized into sprints and release trains, the cost of deployment decreases as deliverables have clearer direction and requirements to ensure a better fit for purpose.
How does Atlassian support SAFe®?
The Atlassian product suite was created (and is continually innovated) to support best practices in the Software Development Lifecycle. To that end, the use of products like Jira Agile, Confluence and Jira Portfolio integrate to bring maximum traceability to every release, enabling teams to hit their deadline and their budget with the highest quality product. With Atlassian, you unlock the power of SAFe, leveraging Jira Agile, Confluence and Jira Portfolio to achieve the following objectives (and much more):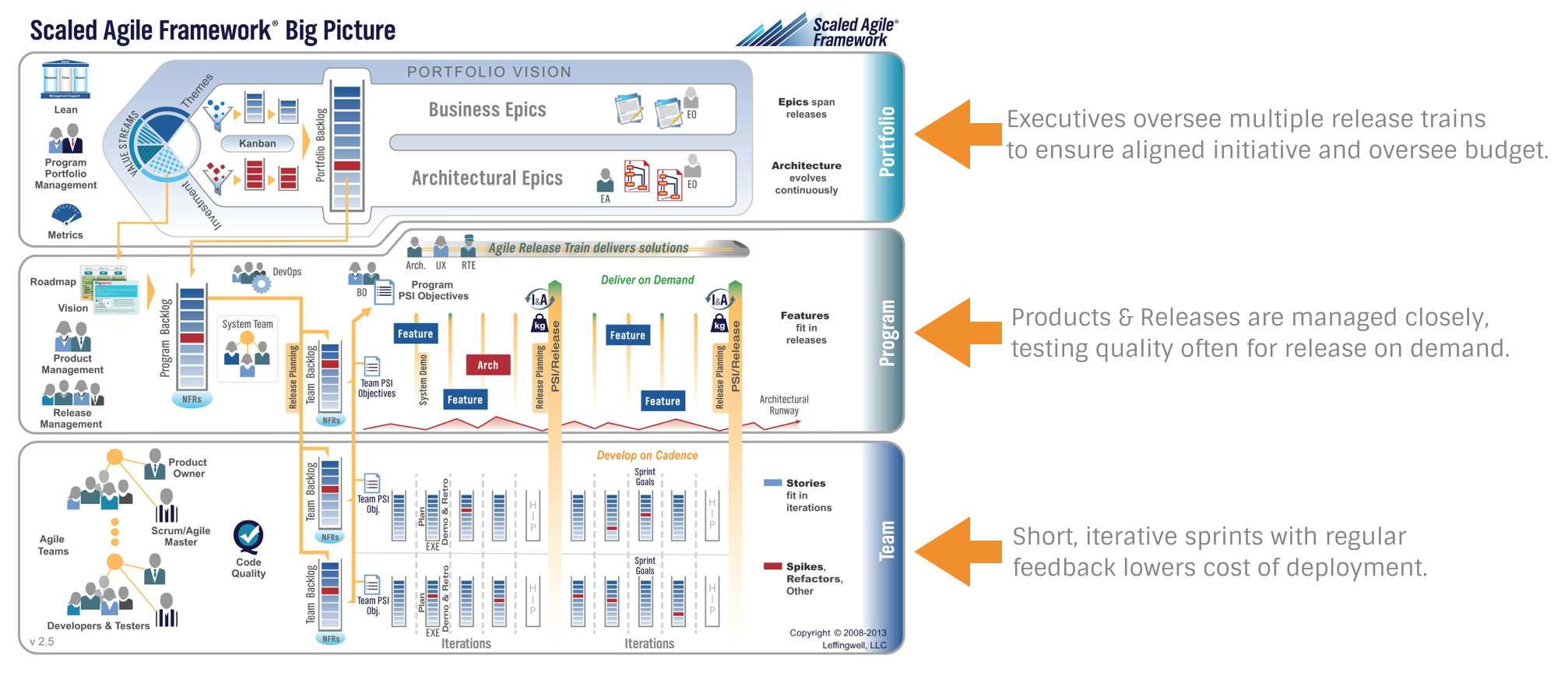 What are the core values of SAFe®?

Want to learn more about SAFe®?
Ready to learn more about how Scaled Agile brings best practices and delivers the greatest results to your enterprise organization? As an Atlassian Platinum Solution Partner, Praecipio is here to help!
First, check out our webinar, Proving Value: How Business Leaders Use Jira Align to Connect Strategy and Execution presented by Senior Solutions Architect, Certified Scrum Master, and SAFe® Program Consultant Amanda Babb to get a more complete introduction to implementing Agile practices at the enterprise level.
Next, contact us to see how our Consulting Services can help you meet your goals.