Custom fields can be an over-looked configuration point in Jira, and it's easy to see why: they're easy to create, modify, and make available for your users. Although Jira ships with several system fields, it's inevitable that teams using Jira will reach a point where they require additional fields to input specific information into their issues. But in order to maintain Jira's performance as well as instance hygiene, it's important that Administrators take great care when it comes to custom field creation. That's why today we're sharing with you a few custom field insights we've gleaned over the years. Read on to learn three things no one tells you about custom fields.
1. Technically, there is no limit to the number of custom fields you can have. BUT...
Custom fields do impact system performance in Jira. Below are some recent results breaking down each configuration item's impact on Jira. Here, we can see that custom fields have an impact on the speed of running a large instance. Your teams may feel this impact in the load time of issue screens. As an admin, one indication can be having a long page of custom fields to scroll through. Additionally, this is often accompanied by longer than usual load time for the custom field Administration page.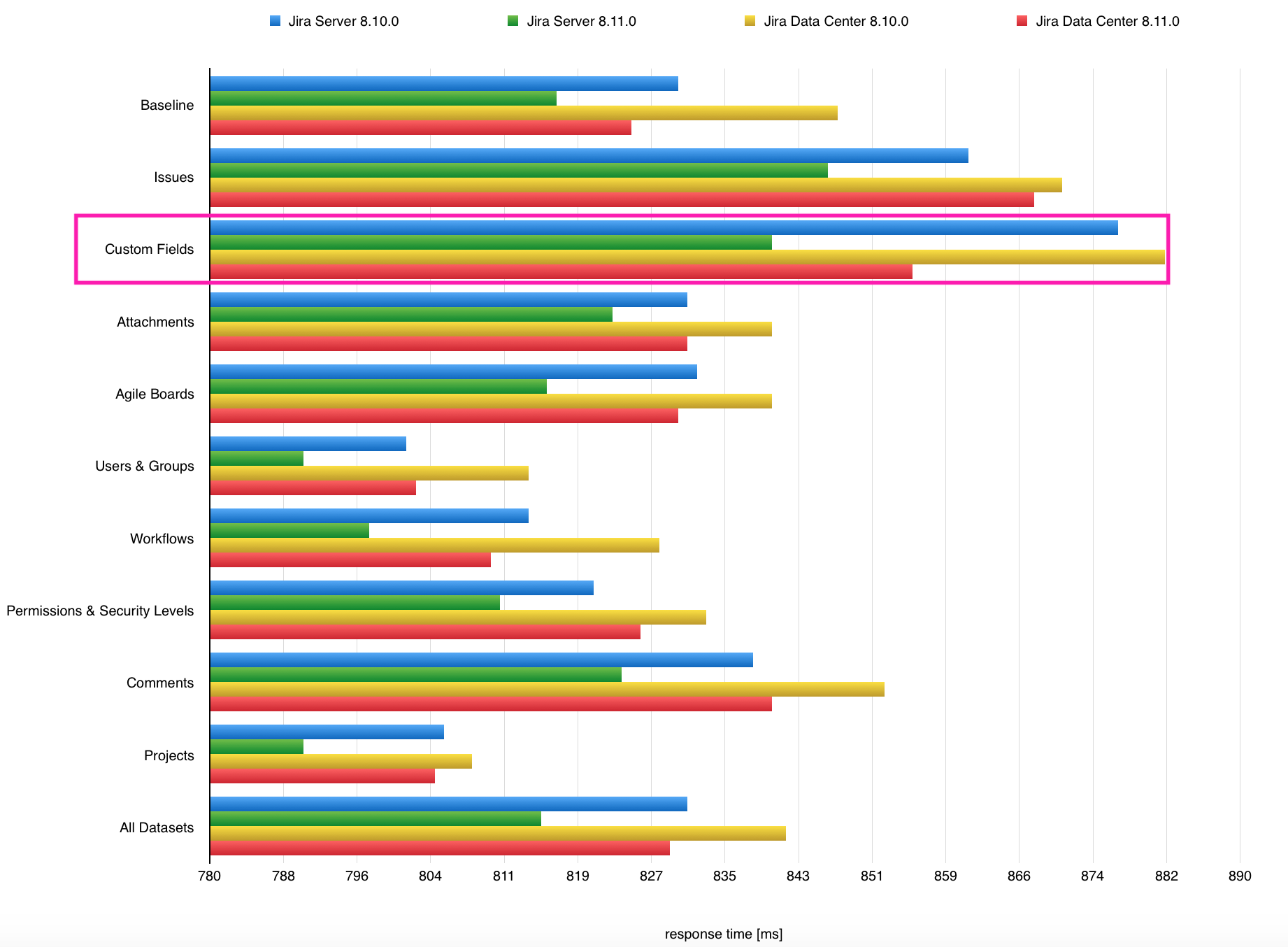 To combat this, Jira Administrators should partner with the requestor and other impacted users to determine some guidelines for creating custom fields. For instance, requiring the requestor to submit an example of how they plan to report on the custom field or having the Administrator ensure the custom field can be used in the majority of projects (>=80%). Execution is crucial here: once the guidelines are aligned with management and stakeholders, it's crucial they are followed to prevent your custom field list from unnecessarily growing.
2. There are native alternatives to custom fields.
There are a few usual suspects to look for when reviewing custom fields. Duplicate custom fields ("Additional Comments" as a supplement to the "Comments" system field), variations of custom fields ("Vendor" vs "Vendors"), and department specific custom fields ("Company ABC" vs "Vendor") are a few custom fields that can needlessly drive up your custom field count. To prevent this from happening, Admins can offer their business partners alternative suggestions to creating a custom field by looking at the following:
Utilize an existing custom field that may be more general, but is fit for the purpose to get the most out of what is already in place.

Rather than implementing a custom field, Labels or Components can be used to help organize issues and categorize them for future reporting.
Apply a custom field context to help maximize the potential for picker, select, checkbox, and radio button custom field types. Adding field context enables Administrators to pair different custom field select options or their default values to specific projects or issue types within the same project.
3. You can proactively manage custom fields.
Rather than waiting for custom fields to pile on and create a lag on the instance speed time, proactively scheduling time to scrub your instance for stale custom fields will help Administrators keep on top of their custom field list. This can be a visual check to understand what fields aren't associated to a screen- those are good candidates for removal- or if there are similarly named fields- those can be good candidates for consolidation. More information from Atlassian on how to identify and clean up these fields can be found here.
Ultimately, a well-maintained Jira instance includes a good understanding of custom fields and their overall impact on the system. As your instance grows overtime, the guidelines around custom field development will become all the more important. Bringing these tips to life will help your instance run at top speeds for your users.
Need help making the best out of your Jira instance? Our experts know Jira inside-out: contact us and we'll get in touch!