Thanksgiving is right around the corner, we can't help but think about our favorite things this time of year. We have opportunities to see family, friends and relatives, enjoy good food, and talk about everything that happened throughout the year. It is great to catch up and visit about what's happened, and what's going to happen. It's a time when families and friends reflect, collaborate, and even begin planning for the next year (because all families get along perfectly, right?).
What if you had a holiday table year-round for your organization?
If a project is delayed, or a change needs to be made, wouldn't it be nice to update the entire plan and everyone on the team at once?
Atlassian's Portfolio for Jira is the solution.
The core of Jira Software is a workflow engine. It allows you to track issues and tasks in a predefined, customizable workflow. Now, take this awesome workflow capability, and lay a forecasting and visualization tool on top of it - that's Portfolio for Jira. Atlassian's Portfolio for Jira is the road mapping and visibility tool used to forecast and track long-term plans, increasing visibility and business alignment. Portfolio provides a living, breathing plan for teams and leadership to stay up-to-date on existing plans, all while forecasting new long-term plans.
The best part? It's not just for software teams.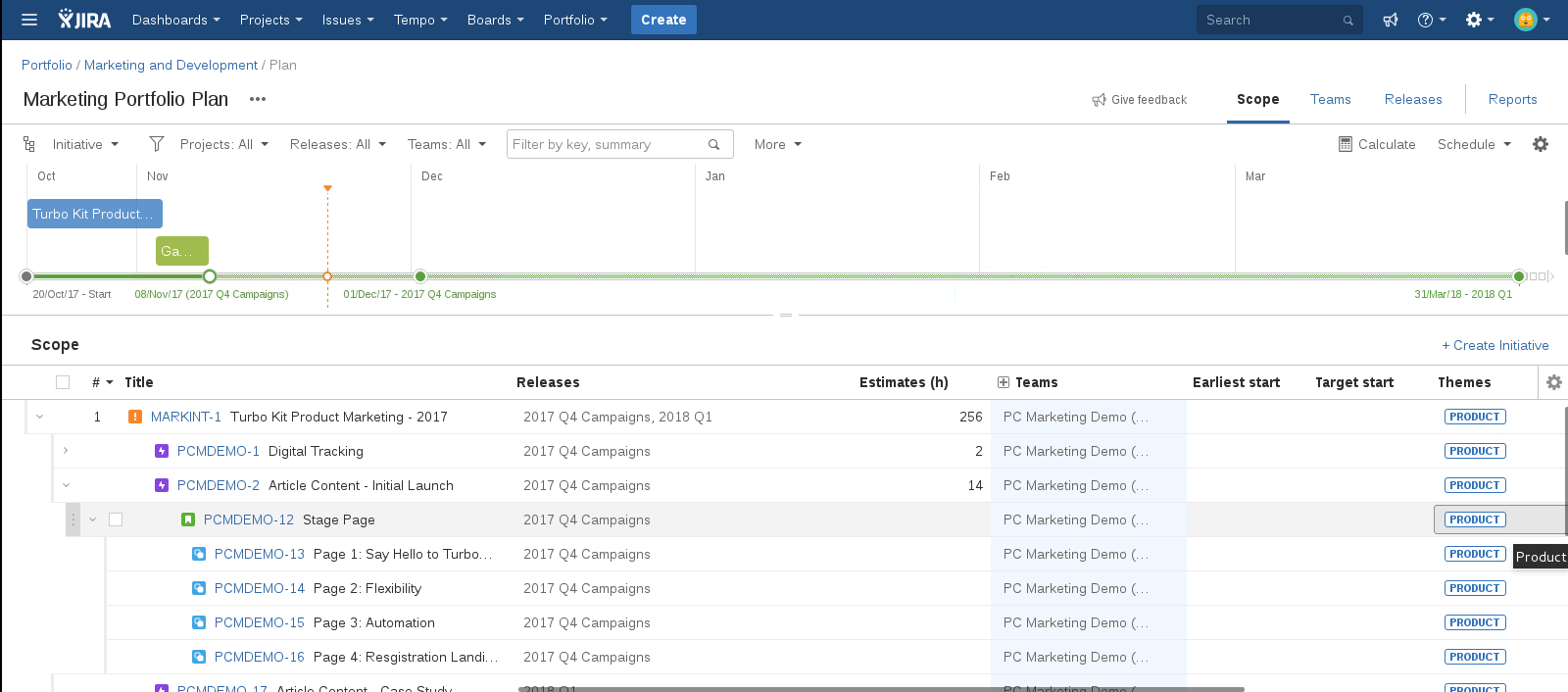 Portfolio for Jira organized existing marketing tasks (entered as issues) into releases and themes, giving our entire team the visibility we needed to stay on track.
Teams that can benefit from Jira Software:
Human Resources
Operations
Marketing
Procurement
Legal
Sales
And more
Because we track just about everything we do - including marketing activities - in Jira, the marketing team at Praecipio Consulting was able to use Portfolio for campaign planning and execution. As a test case, we launched a product marketing campaign for our newest add-on in the Atlassian Marketplace, Turbo Kit for Jira. Portfolio for Jira helped our team plan, forecast, manage, analyze, track and report on our campaign efforts.
Change happens – all the time. Portfolio can help you, your team, and leadership stay well-informed on project and planning statuses, and it can also help you see the big picture and track business goals (not just your team or department!). It is the ultimate visibility tool.
We'll dig into this a little more in our upcoming webinar Portfolio for Jira: Best Practices. Be sure to grab a seat at our table to learn more!
Learn more about Portfolio for Jira in the Atlassian marketplace.