Make a list of all the things you'd like to see in new and existing Atlassian products. Dream big. Get thoughts from other Atlassian users. Then- build, test, deliver and repeat. No, this isn't the Atlassian version of Willy Wonka's Chocolate Factory.
It's the future of Atlassian- and your mind will be blown!
Atlassian co-founders Scott Farquhar and Mike Cannon-Brookes kicked off Summit 2014 in San Jose, CA with an Opening Keynote that not only inspired the audience, but moved them to on-going applause as one-by-one new products and features were announced. For those of us streaming the presentation remotely, HipChat rooms all over the world were surely abuzz with excited talk about the new offerings, all of which were on our personal wish lists!
Without further adieu, we present six more reasons that Atlassian is the shiz:
6. The Atlassian Family is growing!


Atlassian is expanding- and we don't just mean their product line.
They've welcomed 9,000 new users (Many of whom we've introduced to Atlassian!), added over 300 new Atlassian team members, spent 1,600 hours giving back to non-profits and, most notably, opened a new office in Austin, Texas (but we're biased).
It's a good thing Atlassian added to their ranks, because they are going to be very busy with the next 5 announcements!
5. HipChat comes to iOS8!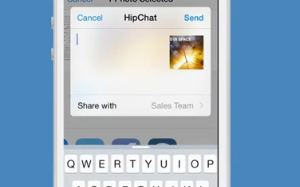 All the Apple users of HipChat had their (mindblown) when Atlassian announced the new HipChat app for iOS8.
The re-designed app allows you to view HipChat in your lock screen and go straight to notifications in an easy-to-use pull down screen for reading and replying.
Just when we thought we couldn't love HipChat any more than we already did!
4. Holy Confluence 5.7, Batman!

Wouldn't it be nice to simultaneously work on a single, shared document in Confluence and offer in-line comments to collaborators on pages and attachments?
Atlassian thought so too- that's why they included these real-time, collaboration-enhancing features to their already robust CMS.
The fastest way to get your non-technical team members to love Atlassian? Introduce them to Confluence 5.7.
3. Unlimited Customer Usage of Jira Service Desk!

Since making its debut at Summit 2013, Jira Service Desk has quickly become one of Atlassian's hottest, most used products. Thousands of teams received thousands of requests through Jira Service Desk- and now, all those customers are FREE.
With new, agent-based pricing, you get Jira Service Desk 2.0 for your team to serve as many customers as you can. Just one price, no matter the size of your client base!
2. Stash in the Enterprise!

Stash is the latest Atlassian product, after Jira and Confluence, to join the Data Center offering- and it's set to be the biggest Data Center release yet!
The first high-availability Git repository, Stash Data Center is a dream for teams running mission-critical processes with no room for downtime and a great need for scalability.
1. Introducing Jira Portfolio!

On the last day of Summit, attendees packed into Demo Alley to get a glimpse of the newest addition to the Atlassian product line: Jira Portfolio.
The world's largest companies leverage Jira for this purpose- and Atlassian is providing even more planning, reporting and traceability than ever before!
Improved strategizing, change response and growth planning? We're signing up right now!
Where are you going with Atlassian?
Judging by the non-stop excitement and discuss by our team, nobody is more enthusiastic about the future of Atlassian than Praecipio Consulting!
Our passion is improving your processes- making them better, faster and stronger so you can achieve best practices for your best product- and those are the tools Atlassian builds.
No matter if you're a new user, a small start-up or an industry giant- wherever you want to go with Atlassian...