Did you actually think Atlassian was gonna slow down just because it's a new year? After an exciting first 6 months in 2011, the Team Calendars development team continues it's blazing pace in 2012.
Ryan Anderson reported last week that Atlassian's happy to announce that our next major release - Team Calendars 1.8 - is available for download now!
Connect Team Calendars with Google Calendar
At this point in human existence, managing your schedule is nearly impossible. Once upon a time, one's agenda only consisted of finding shelter, food, and a mate. Today, however, we need a miracle to keep track of the endless meetings, appointments, and dinner dates. Our increasingly busy schedules deny us the clarity needed to successfully plan and organize our time.
Luckily, the latest release of Team Calendars delivers the vision required to confidently schedule events for your team through Google Calendar integration; satisfying 18 of your votes!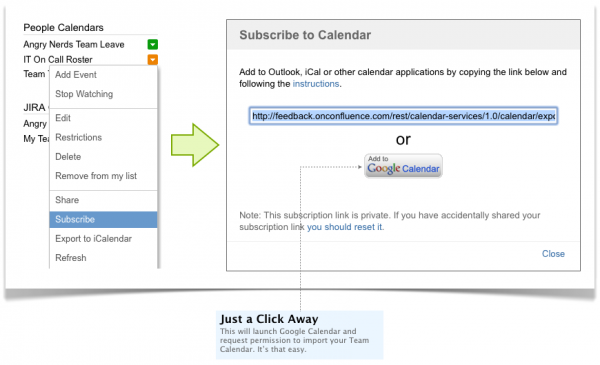 Consolidate Your Team and Personal Calendars
This release allows you to consolidate your Team Calendars and your personal calendar. With an already strapped personal calendar loaded with the day's responsibilities, the idea of tracking the schedule of your coworkers is as farfetched as an airborne pig. But subscribing to your People and Events Calendars affords a new lens to your personal planning.
You might be planning a team lunch the week the majority of your team is on leave – viewing your People Calendars alongside your personal schedule keeps you from scheduling a meeting no one can attend in the first place.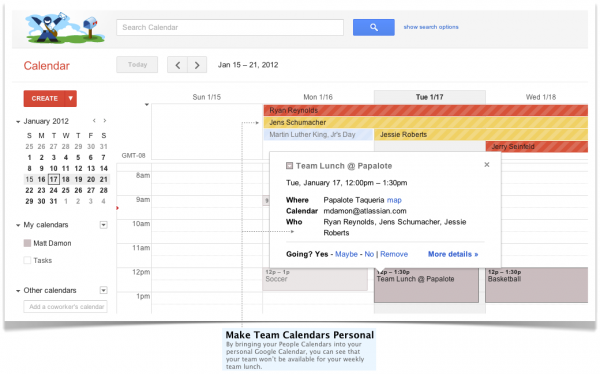 It's also helpful to know who's going to be in the office the day of. If you're like me, I always check my personal agenda before I leave my house in the morning to see what kind of day I have on my plate. I'm much more prepared for the day if I know which of my closest teammates aren't going to be in the office that day – avoiding any 'Oh $&*#' moments – as I'm not surprised by an absence.
Using Outlook?
Great! You can subscribe to your People and Event Calendars from Outlook too. Bring in the new year by consolidating your team and personal calendars and happily plan and schedule your time with all the information.
So many features, so little time
Be careful not to blink, you might miss the next Team Calendars release (especially if you're aJira user). And if you did blink, here's a quick review of what Atlassian's been up to over the last few months:
Have Confluence and Team Calendars?
Awesome. Have a look at the release notes or download it now!
Have Confluence, but not Team Calendars?
Team Calendars averages 65 downloads a day and has reached 2,802 teams - like Facebook, Skype, Workday, and HTC. Using Team Calendars helps teams to schedule their leave, track their Jira projects, and plan events. Learn more now!
New to Confluence and Team Calendars?
Learn more about Confluence and Team Calendars now.