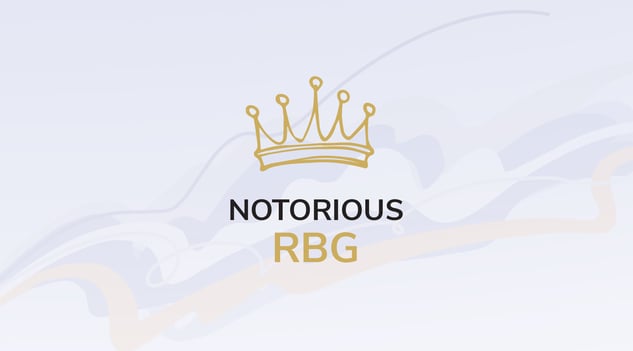 The employees of Praecipio Consulting were devastated by the news of the passing of Supreme Court Justice Ruth Bader Ginsburg (RBG). To me, and to so many of us here, she was a role model and a major inspiration. I felt a deep and profound loss upon hearing the news.
Many people don't know this about me, but the first time I remember somebody asking me what I wanted to be when I grew up, I said a Supreme Court Justice. I was only in 1st grade. While I don't remember anybody telling me that was a silly dream, I do remember people saying, "you should be xx instead." It almost always had nothing to do with being smart – it just wasn't what little girls grew up to do. Sandra Day O'Connor was nominated to the court as its first female justice when I was three years old. She was the only woman to serve until RBG was nominated when I was 15. There have been 113 Supreme Court Justices in the history of the United States, yet only four have been women. In 2015, RBG was asked when will there be enough women on the bench, and she said, "When there are nine."
Regardless of one's political position, RBG's presence on the Supreme Court left an undeniable legacy for women and men across the world. In her memory, we encourage you to read through her 'dissents' during her time on the Supreme Court. While these are highly technical writings, her ability to intellectually challenge the majority voice using the written word absolutely astounds me, making them very worth the read. You don't have to look very far into any of these documents to pick up on the level of intentionality and acuteness she brought to the highest court in the land.
Image Source: Librado Romero for The New York Times
Many different organizations have pulled together lists of her achievements as well, from co-founding the ACLU Women's Rights Project to winning cases before the Supreme Court, long before becoming a Justice.
There are several ways to reflect upon and honor her legacy:
Learn more about what she fought for
Many resources are readily available to learn about RBG and her legacy – here are a few you can start with!
Donate to organizations with the same values as RBG
Reach out to your senators and reps directly
Forget not that democracy is by and for the people. As constituents, there are several ways that we can provide feedback to our senators and representatives.
If you have feedback, here are some options for contacting your senators and representatives:
It is worth noting that if you want to reach somebody who is not your senator or representative, you will likely not get a response back, as they are not obligated to respond if they don't represent you. If looking to put pressure on or to support these people, signing petitions can be a great way to show support through sheer volume.
Reading this post is only one small thing we can do to remember the legacy that Ruth Bader Ginsburg left. So while you're learning more about her life, don't forget that you too can be Notorious like RBG.
*At the time of publishing, the Center for Reproductive Rights is currently matching donations in Justice Ginsburg's name.