In our eighth episode we are hyped to host Kelvin Yap, Senior Product Marketing Manager and DevOps for Atlassian. We'll hear about his experience working at Atlassian for most of the last decade and the digital transformations he's witnessed while there, how cloud is quickly becoming the new normal, how DevOps is going mainstream driving change and innovation with intention, and the importance of wellness, routine, and connection in 2021, and beyond. Oh, and beautiful, lovely bikes, and where to ride them.
Host: Christian Lane
Co-host: Garrett Dutton (aka G. Love)
Guest: Kelvin Yap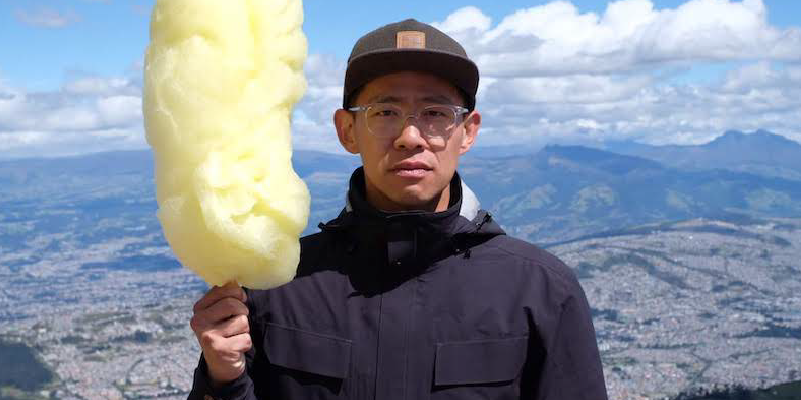 Kelvin Yap has spent almost 10 years at Atlassian, a journey that has taken him from technical presales, starting Atlassian's first internal sales team, and helping build their Data Center offering. Trading the beaches of Sydney for the fog of San Francisco, when he's not on his bike or advocating the adoption of the metric system, Kelvin spends his time as a Senior Product Marketing Manager for Atlassian's software development tools.
EPISODE TRANSCRIPT
SUMMARY KEYWORDS
atlassian, devops, kelvin, people, digital transformation, customers, companies, teams, cloud, technology, products, built, feel, support, work, bike, lean, building, big
SPEAKERS
Kelvin Yap, Christian Lane, Katie Thomas, Garrett Dutton
Katie Thomas
Welcome to the Digital Transformation(ists) Podcast. On today's episode, we're joined by the legendary Kelvin Yap, Senior Product Marketing Manager at Atlassian. We'll hear about his experience working at Atlassian for almost the last decade, and the digital transformations he's witnessed while there; the future of work in uncertain times, a big bright, bold cloud future, DevOps going mainstream, driving change and innovation with intention, and the importance of wellness, routine, and connection in 2020, and beyond.
Christian Lane
Kelvin Good morning. Welcome to the podcast.
Kelvin Yap
Gooday, guys. Thanks for having me!
Christian Lane
Awesome. It's a pleasure to introduce you to G. Love.
Garrett Dutton
Hey, Kelvin, thanks for joining us, man.
Kelvin Yap
Pleasure is all mine, big fan for back in the day, way back when maybe I'm showing my age.
Christian Lane
A little bit. The 90s was a while back. When G. Love got his commercial start. But you're still cranking out great music. And it's so amazing to watch your career this whole time. And Kelvin, speaking of great careers, man, you spent the better part of your career with one of the most innovative technology companies out there, company Atlassian, that's helping you start building tools for people to build tools. But more and more like the de facto products for anybody that works on a team that wants to get things done.
Kelvin Yap
You know, I think that the folks in the office, or at least my team would say I'm a dinosaur at this point. I've been around too long, know too much.
Christian Lane
You're working a decade, right? In Atlassian?
Kelvin Yap
Yeah, it's coming up to about nine and change at this point. So yeah, hitting, I think I'll hit 10 years, like middle of next year.
Christian Lane
What's crazy, thinking back on our relationship Atlassian, we've been partners since 2008. And I started going to the Atlassian offices on a very consistent routine, at least, every six weeks or so, going back to I guess was probably 2009 2010. And you've always been one of those welcoming faces and people I look forward to catching up with and talking to so thanks for always being such a nice friendly guy to me and our team. And, it's always great seeing you and working with you. So Kelvin, you know, the theme of the podcast is digital transformation. And a lot of what we talk about is just not not just digital or technology for the sake of technology. But how do you see technologies helping connect us and are helping? Just how's it helping us connect?
Kelvin Yap
Yeah, if anything, it's brought a lot of technology to the fore and maybe into more of the public eye away from just in Silicon Valley, or technology circles. So, you know, I think it's really interesting that zoom is just in everyone's common vernacular. I'm sure G. Love, for the kinds of things that you have done in the past, making that switch to virtual live performance online is one great example there about how people are leaning into technology and using it in ways to really connect with other people. With the kind of travel bans, and just the quarantine and all that kind of craziness. I've had to lean in more on FaceTime and just video conferencing technology as a whole to keep in touch with friends and family back home in Australia. So if anything, I think the technology has always been there and it is bringing us together. And you are going to start to see more advancements in that space as time goes on.
Christian Lane
Yeah, to that end, can you imagine living through this pandemic, without the internet without this technology?
Kelvin Yap
You couldn't, you honestly couldn't? Yes. And it's going to be a like for like replacement for actual human interactions and physical kind of interactions. They're like catching up for coffee or beer or something. But it's the best that we can kind of do. And I feel like being able to lean into this kind of technology has been a saving grace for me at least over the last six to nine months.
Garrett Dutton
Oh, for sure. And next year, we'll reconvene but we'll all be all of our holograms will be sitting around everybody's respective coffee table, and we actually will be drinking our coffee or beer. Virtually, but it's all holograms.
Christian Lane
The hologram clink when you do the cheers. Yeah. So you know Atlassian plays a significant role in the success of companies. The success of companies is now more and more geared towards how well they deliver value with technology and in the software and the things that they're building. And obviously, this podcast is all about the digital transformation. And Atlassian's got a big piece in that. Talk to us more about the products that you've been working with within Atlassian and how those tools are helping and advancing your team's ability to transform in a digital way.
Kelvin Yap
So I think we have a range of products in our suite, over the last little while, I've been focused more on the developer side of things: our developer tools, like Bitbucket, Jira Software, all the way through to tools like sourcetree, and kind of everything in between. And so our real main focus has always traditionally been on trying to get teams to work better together, it's a pretty cliche thing to say. But really just making it as easy as possible to understand what's going on in that context, without having to jump through too many hoops to kind of get there. And it's just really trying to speed up and make that process more efficient. Because ultimately, that's what one of our customers wants to do. In order to serve their customers they want to deliver products as fast as they can, without bugs, without shipping things that could be fatal to a company, or at least the faith in the brand or the product. And so we just try and connect all the dots as well as possible for them to get stuff done.
Christian Lane
Yeah, G, Atlassian is so committed to teams that their stock ticker is TEAM. Okay, how cool is that? Right?
Garrett Dutton
Should I be buying that stock right now?
Christian Lane
Most definitely.
Kelvin Yap
I'm not allowed to say anything.
Christian Lane
Yeah, Kelvin can't say that. But it's Yes. And to that end, and we as a business year over year have just continued to invest in Atlassian,, it's the core of our business as well. And we've doubled down on Atlassian really going back since 2007. And we've built a business around these technologies. And of course, the frameworks that help developers and other people and companies be so successful. So definitely a great investment. Not to mention, the leadership at Atlassian, the founder, Scott and Mike, visionaries, have done just an amazing job building such an amazing company, it's helped so many companies across the world. So, the switch to working from home or working remotely, has been difficult for a lot of people. But at the same time, it's been made easy by the Atlassian tools. It seems to me that, what doesn't seem to me, I know, the Atlassian tools have been critical to our success long term as a business and the success of our customers that are distributed. Atlassian's gone to a work from home model. How's your transition going through all that?
Kelvin Yap
Yeah, look, I'll be lying if I said it was easy, and I think it's not even just working remotely and adjusting to that and how you work with your teams there. It's, the leadership said from the get go, that you're not just working from home, you're working from home during an incredibly uncertain time. And it's not like, I can get a break from my office here. And, my makeshift office here by going to the coffee shop for a day, or sitting at the park and kind of just chilling out with my laptop, like, it's just fundamentally things very different. If you have kids and family, you have to deal with that as well. And so the transition has been tough, but I feel like and probably one of the reasons why I'm still at Atlassian is they've just done a really good job of helping and guiding us but giving us a little bit of freedom and autonomy to figure out what works best for us. Because every situation is different. And working from home and that switch, the one thing that did give us in times of uncertainty is the certainty that we are going to pivot to a more remote first working culture. And that we can expect to work from home for the foreseeable future in any way that we kind of see fit, and they're trying to figure out the nuts and bolts of that. But just knowing that hey, there's not so much there's an end in sight. But this is kind of the norm to which the adjust has made the transition and made working for him a little easier for me.
Garrett Dutton
It reminds me of a phrase that keeps coming up, which is screen envy. Kelvin, I've heard that you a lot of people are envious of your new monitor.
Kelvin Yap
It's a very big monitor. And you can see the setup here as well. And it's one of those things where folks when I jump on a zoom call and I haven't met them before they haven't seen my setup. I like to do podcasts. I'm like, No, this is retail therapy, like I probably have been part of. And I think for me, it was really the transition there I had to think for myself, what's gonna make me the most comfortable at Sure. And I changed our internet because we had upwards of four people working all hours of the day. You know, a couple of my co-workers. My actual housemates are co workers and they work Sydney hours and so there's always someone working from eight till seven. And so it's just trying to find and figure out what actually worked and I just realized that I needed a setup that just instantly made me feel comfortable. And I never had to get frustrated about it. You know, I get anxious about things, I buy things. And this is why I have a big screen and the setup I have today.
Garrett Dutton
No, I love it. I mean, we were talking about it yesterday on another episode just about. It's so important right now just to invest in your home rig, you know? So I did the same thing right at the beginning of the pandemic, just kind of, you know, I'm not a tech guy, but just got a rig right away. And, hey, now I'm doing a podcast. So it came in handy. But um, Kelvin, so Microsoft just announced last month, right, that they're going to work from home forever approach along with Atlassian. And right, Facebook and Twitter also said they're not going back. You know, do you feel like this is becoming a huge trend? Is it already?
Kelvin Yap
At least in the Bay Area, or at least Silicon Valley, I think it definitely is. Folks in the tech industry generally have a more progressive approach to working culture and ways of working. I would imagine that would trickle down through to other industries and just other companies as a whole. But again, like every company, every situation, you could even argue every occupation is going to be different. And so it's really just trying to find what works best for folks. And talking about digital transformation is like, this is the true test for companies to see just how far down that path they are to do the digital transformation. And some folks are able to do it. We're in the business of building software to help teams collaborate, and we better be able to kind of cover that. But then there are other folks, the other folks and other companies who aren't quite there yet, and they're trying to figure things out. So I think this is a trend that you will start to see over the coming months, probably years. But it's gonna take some time.
Christian Lane
Well, to your point, you said Atlassian builds software for teams. And you should be able to do this because of your own software. And I think that's one of the amazing things that I've always loved about Atlassian. And the fact that you're building software for teams is that you dog food, you drink your own champagne, and you are the first to ever test and actually use what you're about to release. And as such, because you are the users as well, you've built amazing products that you know with confidence are going to solve the needs of other other folks. And you've built all this flexibility into it into the tool so that folks can can configure them and adapt them to work the way that fits them best.
Kelvin Yap
Yeah, that's right. And I would say that, again, like we don't have it perfect. Like if anything, we are comfortable with experimentation and with failure. And just doing that in the open, especially in time when we announced that we were going to kind of full time remote, eventually, leadership were pretty upfront. And they said, we're just beginning this journey, and we're bringing you on board, because it's important for you to know that we don't have all the answers. And we're gonna have to lean on you as Atlassians to kind of help us along the way to tell us what we need and kind of what's working and what's not. And I think that's kind of important for this process, especially as companies are starting to figure out whether a remote first philosophy works for them. It is kind of embracing the fact that it's never perfect, there are always going to be kind of speed bumps or hurdles along the way. And you just kind of have to kind of lean into it to really get to the conclusion that you want to kind of make everybody happy.
Christian Lane
Yeah. Let's talk a little bit about cloud, Atlassian made this big announcement. And for those of you that don't know, Atlassian got several deployment models, effectively. Cloud Server and data center; Server and Data Center being deployments behind the firewall, and server's a perpetual license. And server is effectively over the next three, four years sunsetting the support for it because it's perpetual. A lot of companies look to their technology vendors, if you will, to provide leadership. And I think that's effectively what Atlassian did. Atlassian said, you know what cloud is the future, let's make the move. What are y'all hearing from folks so far? And we've got customers that are reaching out with questions. But I'm curious to hear from you. Yeah. Kelvin, what are you hearing specifically, especially maybe around the dev tool side as well?
Kelvin Yap
Yeah, I think ultimately, it's been positive. Right. I think the announcement was about change and changes are always kind of hard for people to kind of grasp with to begin with, but the more customers we've spoken to, you know, just the data points that we have internally that up to 90% of new customers are on the cloud, choosing our cloud platform already. It kind of just made a lot of sense for us to kind of say, actions speak louder than words, we've talked about this cloud first mindset and philosophy for a number of years now. And this was the opportunity to kind of just accelerate that process a lot specific to dev tools, I think that we are kind of a lot of folks looking to switch to the cloud as well. There are obviously industries and obviously, specific verticals, that posting your source source code in the cloud is a little scary right now. But that's why we still have the data center deployment for behind the firewall work. And you know, there is a period of sunsetting for folks on server to move from their server platform to data center, or to the cloud for the next three years, or we keep hoping we're giving folks a lot of runway, and all that kind of stuff.
Christian Lane
You've been so intentional about it first that last and said we can't just preach it, we have to do it, and you move yourselves to cloud. And that was a big undertaking. But through that you learned a lot. And through that you also built great materials and communications and thought leadership and, I think also helped set the stage for having a very intentional conversation about it. And in providing that guidance and direction: y'alls planning that went into this announcement was phenomenal. Getting to see what I get to see, you did a phenomenal job. And you've been very intentional and generous with the timeframe. Because again, I think you're looking at 75% of customers moving to cloud, that's a lot of organizations.
Kelvin Yap
And ultimately, we need to be ready when our customers are ready. Like we'd be doing our customers a disservice if we decide to make that move, or with our customers, we need to be there and ready when the time comes. And so it came as a little bit of a shock to some because they're very much still in that mindset. And that philosophy, which is which is fine. I think we all acknowledge that, that time, that will change. But ultimately, we had to make the move now so that in three years time when everyone else wasn't ready to make the move that we were there, and we had the product that would meet their needs.
Garrett Dutton
Hey, Kelvin, can you kind of give a layman's explanation of DevOps?
Kelvin Yap
Depends on who you asked really, I think,
Christian Lane
in 30 seconds or less? No, I'm just kidding.
Kelvin Yap
Geez! But essentially, DevOps is developer and operations, right, I think, traditionally, you have seen a separation of tasks and responsibilities when it comes to not just building software, but supporting software. And so this whole DevOps movement has kind of come about from, like agile methodologies, it's all about getting stuff done and out to customers, smaller chunks of work, more iteration, so that, ultimately, when I'm building a product, our customer is going to see the benefits of that faster, right. And way back when, you could say that customers or companies were building products or software, they will take a release once a year or twice a year. But with the cloud, it's really easy for folks now to release many times a day. And so where DevOps has come in is kind of like that. That next evolution, I would say of Agile is how do you bring the the two kind of areas or disciplines that are required to ensure that not only are you delivering value to your customers, but you're supporting it in a way to ensure that that value is always there and their performance, or I guess their experiences integrated as a result. And so within that, you then start to have challenges from a cultural perspective, how to bring all these disparate teams together to keep the ball on the same page to make sure that Garrett is building this, that Christian is going to deploy and Kelvin needs to support like, How do I know what is going on and what has happened so that in the unfortunate event, something goes wrong. It's really easy for me to kind of support that as well. And so it's just building that trust in those lines of accountability across the world.
Christian Lane
So one of the Atlassian values is don't F the customer. So hey, don't F the customer, like don't bring value in and then have a disruptive service because you're moving in an automated way. You're not supporting each other. But I think it extends back to like, don't F your neighbor, right? Let's not like Garrett, the developer, F the guy is going to deploy it, and then F Kelvin is going to support it, run it. Right. So yeah, it's a big cultural thing. I think it's undergoing. How far along do you think we are in this DevOps adoption process? Do you have any idea of that?
Kelvin Yap
There are still people adopting agile. Yeah, I mean, we are, I would say it's becoming more mainstream and more folks want to do it. I think the really interesting thing right now in the market is the interpretations of what DevOps is at the moment, in my opinion seem to be a little bit different.
Christian Lane
Yeah, you get people with it with a DevOps title, because they have a CICD capability. Exactly. That's one aspect of so many that is DevOps. Right? Yeah. Let me ask you this, then if we look at the technology adoption curve, for just a reference, are we on that we're on this other side of the chasm are we on? it's not going anywhere, right?
Kelvin Yap
It's not going anywhere, it's definitely gonna be there, I would still say, still young, still young. So definitely still young. And here's the thing, like, it gets to the point where even at that stage now, where folks to your point the whack on a DevOps to their job title, and they're like, we do DevOps! There are folks who are like, we bought a DevOps tool, therefore, we do DevOps, right? You kind of hit the nail on the head there, when you said, it's a cultural thing to, like processes need to change the culture around how you build and support products needs to change as well. And that's not something that I get an invoice for, or take a credit card and just pay for it. Now, in your DevOps, like, I feel like it is becoming more mainstream, and people see the benefits and the value of it, not quite there yet, in terms of how that actually makes tangible sensitive to how they do their work.
Christian Lane
Well I kind of like in the adoption of a methodology or a framework, to a lot of experience, I have an ITIL based framework, the database framework, ITSM. You also have to recognize that there are aspects of some framework that are gonna have the diminishing returns, right, or we're gonna have to recognize that there are certain things about the industry that you're in the line of work that you're in that implementing, or going down the path of, perhaps microservices isn't the first thing you do. You got to think about the order of operations. So you're getting kind of knocked down by the 80-20 rule, focus on the 20 things that are causing 80% of your challenges are slowing you down, knock those things out, you relieve a lot of stress, to keep moving down the path.
Kelvin Yap
Yeah, I'm gonna say in that sense. That's why I'm kind of excited about this whole concept of digital transformation as well, where it's really an opportunity for folks who want to embark on this journey to sit down and kind of break down, not just what they are doing and how they do it today, but what's their end goal? And what is what is it that they're trying to achieve and kind of deconstructing it and reconstructing it as a result, and when you are adopting frameworks or methodologies, whether it's agile or DevOps, it requires a fairly extensive effort and time to actually do correctly. And that's why I was like, yeah, which was still it's mainstream DevOps, but it's still in its infancy, because I think people are still just trying to figure that out along the way. .
Garrett Dutton
So it's good that I got my DevOps tattoo ahead of time, the trends catching
Christian Lane
Dang, G! You're ahead of schedule. Good job.
Garrett Dutton
Can you tell us about the Sydney office that's being built of the timber and steel?
Kelvin Yap
Yeah, it's still being constructed. It looks beautiful. Even in these uncertain times about are we going to go back, go back to work or what not? So I think I don't know a lot of the nitty gritty details of it. But when it was announced internally, I think my first reaction was, this is like the physical embodiment of what Atlassian strives to be, and our philosophy on how we approach building products, but just our view of the world is like " Be the change, right?" Be the change, like made out of wood. And I was like, that's kind of cool. I don't know the science behind having a wooden structure as large as that. But, you know, the,
Christian Lane
Don't worry about that, the engineers took a good hard look at it.
Kelvin Yap
Yeah, yeah. No work in flames around the building you guys and gals will be fine. I think it's just magnificent. I don't know how long it's going to take to build and what the makeup of those floors are going to be. Because obviously, you know, that's, again, goes to speak about how Atlassian approaches things. It's a very open process. They're like, we're still figuring things out along the way, we want to let you know that this is obviously this massive structure, we're gonna build in the middle of Sydney. We're gonna take you on this journey internally to kind of give you some insight into how we're thinking about the future of work, not just for Atlassian, but for everybody else as well.
Christian Lane
Well, I think I think so many of us have values around sustainability, and responsibility, I think that's something that ties us to Atlassian as well. So the fact that Mike and Scott care about these things, I think a lot of us have that in common and it also gets part of the attraction to Atlassian. So remember, back when we first got the Atlassian ecosystem, the idea that there's Atlassian fanboys and fangirls it was bizarre. Hey, G. like they got a cult like following, Atlassian. It's really strange for a company to have that kind of attraction, right, that kind of energy and it's been while we've been so fascinated, and I love that the partners have lasted for so long. So yeah, kudos to you for being such a big part of that. I mean, 10 years. Geez,
Kelvin Yap
I've just been along for the ride. That's all.
Christian Lane
Yeah, right. Come on. You're a huge contributor man.
Garrett Dutton
Is 10 years like, is that a long time to maintain a position and a tech based job?
Kelvin Yap
Absolutely. I feel like you generally would say, at least here in the Bay Area. Two to three years is a pretty long tenure for someone in a tech company. And so I think it goes to show maybe not so much laziness on my part, but how much I've loved working at Atlassian. And, to your point, Christian, like the way in which Atlassian conducts itself, knowing what goes on behind the scenes, it's all very genuine, and it's just something that I personally have been able to relate to. So you might say that, you know, it's got a cultish following with its its customers, and it's like, I actually love working for Atlassian because of the way we conduct ourselves, and sure, that the things that we do care about,
Christian Lane
You've been contributors to so many people's success, so many careers beyond Atlassians. So many careers are being built on this technology. And you know, it's not to say that other people haven't built on other technologies, right? Like, we've all built careers on Oracle, and Microsoft and things like that. But I think that the amount of innovation that we've seen over the past, I guess, we'll shoot, we're getting close to about a 20 year run with Atlassian. In the next few years. The innovation, the freedom to do things the way you think is best, but still tapping into these amazing frameworks. It's just amazing.
Kelvin Yap
Yeah, and I would say it attracts a certain type of person to either work for Atlassian, or to work with Atlassian, and one of the joys for me over the last nine and change has been meeting folks at Praecipio and yourself. Where it's like, yeah, you're just good people. And it's great to kind of have worked for a company that attracts that type of organization and that type of personal people who, who want to work with us, because they too, are also kind of, they love what we're doing as well. So I think that that Atlassian's success, obviously, is there for all to see. But I do feel like from a cultural standpoint, and from a people standpoint, like that's kind of been the foundation for the company's success.
Garrett Dutton
That's an interesting point, like, attracting the best clients that you can, right. I mean, that's, that's a huge part of just any business, if you can elevate the people that are, you know, coming in my case and coming to my shows or, or buying a Atlassian product. Yeah, it's all about your client, your client base, right. That's what defines your success.
Christian Lane
Yeah, don't F the customer, right?
Garrett Dutton
You mean, don't sleep with the customer?
Christian Lane
Don't F them over Exactly. Probably a good idea not to okay, but who knows? I mean, I'm sure there's some relationships built.
Garrett Dutton
So you're in Santa Cruz, right, Kelvin?
Kelvin Yap
I mean, San Francisco.
Christian Lane
Santa Cruz, my second favorite place in the world by the way.
Garrett Dutton
Yeah, I love Santa Cruz. It's one of my favorite places in the world to go surfing. I'm not a surfer. I'm not supposed to disclose any location. But I do love that place called three mile. Did you ever go bike past that?
Kelvin Yap
No, I did not. It was actually my first time believe it or not being in San Francisco for like, seven years. It was my first time there. But I fell in love with it.
Christian Lane
It's such a great bike city, though. Like, you just all over town. So many bike lanes are so fun.
Garrett Dutton
Yeah, we know you're a huge road biker. Right? And, when you're not in front of your amazing monitor, and beautiful Sure microphone there. You know, what's your workout and wellness routine? And how does digital technology, if so, become a part of that?
Kelvin Yap
Yeah, um, it, it's been, it's been a journey for me, I would say over the last few months, I've been an avid bike rider for, you know, mainly the last 10 years, in particular. And I would probably say that I've had to lean into exercise and just mental health and wellness, meditating and yoga and stuff like that way more over the last little while because of just, you know, kind of what I was saying before all that uncertainty. And so, one of the joys I was gonna say about working remotely is I don't have a commute time and those little breaks in between meetings. I can actually do things like work out or go for a walk and stuff which has been fantastic: writing a ton at the moment, I just got a new bike a labor of love over the last few years, Christian follows me on social media he's probably sick of my posts about it,
Christian Lane
Keep it coming in, keep it coming!
Kelvin Yap
It's like I've had a child, that's how many photos Instagram Stories are out there. And I think how technology has kind of played a part in that. I'm kind of a bit of a data nerd when it comes to my fitness. And so there are certain apps, whether it's Strava or, you know, dabbled with a product all those little things that just give you a better understanding about the impacts your activities or lack thereof have on your mental and physical being the next morning have been really cool for me to kind of track and I've also been kind of coming back from a few pretty serious just niggly injuries over the last few years and kind of being able to track my actual fitness on a graph to kind of see how motivating Yeah, definitely motivating and to be able to see that physically or on a chart I should say, just has been really good for me to kind of focus in on and to kind of distract myself of everything else going on in the world right now.
Garrett Dutton
That's cool. What were the injuries on like you, you have crashes?
Kelvin Yap
Crashes and just overzealous when I was a kid playing lots of sports like rugby and classic Australian Sports like rugby and some soccer as well. And I've had my 3 knee reconstructions, I've had just ongoing ankle and particularly low back pain. And it's just really been given this last six months is giving me the opportunity to kind of spend more time recovering and and rehabbing to really just go back to normal.
Christian Lane
Yes, what part's yoga playing on your, your PT, your physical therapy?
Kelvin Yap
Um, you know, I would say I can touch my toes now without bending my knees. So that's always a plus. I would definitely say that. Yeah, it's just been such a good stretch. And again, I'm showing my age by saying this bit, all those creaks, all those little pains you get when you when you roll out of bed in the morning. Sure, jumping into yoga straightaway is a really great way for me and I'm actually starting to see that positively impact my bike riding my actual physical exercise.
Christian Lane
This is the thing: biking shortens some of your muscles in a way that can be detrimental long term. And I think that's the great thing about yoga is that it allows you to stretch those back out and counter the effects of the road bike because you're hunching over and you know, putting most of the rest of your legs. Exactly right.
Kelvin Yap
And yeah, I was just gonna say that from the mental aspect. It's been 30-45 minutes to do a yoga class. To get to tune after a little bit, which is great.
Garrett Dutton
You mentioned meditation. What kind of meditation? What's your practice with that? I
Kelvin Yap
I just use the apps. I use headspace...
Garrett Dutton
I use it too!
Kelvin Yap
I'm hoping you guys are getting paid for all of this!
Garrett Dutton
I'm telling you that changed my life though that headspace app that's
Christian Lane
I wonder how many new features is headspace dropping in because they're an agile DevOps practice? Like, what things are popping up for you and your headspace app? They're like, Oh, they're releasing pretty often!
Garrett Dutton
They have like LeBron James, they have like the NBA.
Christian Lane
So I mean, it's a big issue to bring in. Yeah, licensing and those kinds of things.
Garrett Dutton
Yeah, they do like daily meditation. I basically do the same ones all the time, like creativity and happiness.
Kelvin Yap
Yeah, I feel like over the last few months, I've definitely also honed in on what is going on in the world right now. And it's really just about relieving stress and, and just kind of tuning out and all that kind of stuff. So they've definitely been able to kind of move fast, I should say, to kind of meet the demands of what is going on in the world at the moment.
Christian Lane
Well, you know, to that end, like we, if you go back 10, 15, 20 years, when we built systems, they were built to support and I'm changing the topic here. They were built to support like the sales team or the HR team: people within the organization. Once we started opening up with the internet and opening up our systems externally and asserting going for, you know, market share outside of traditional channels, we became an always-on kind of just an always-on mindset. And the digital transformation is enabling that and then the requirements now, because now we're spoiled, right? We want our package delivered. G. some headphones last night got em' today. I'm kidding, G! You know, we want everything Faster, faster, faster. And that's that's the speed we're trying to keep up with. And obviously, digital transformation is behind that things like DevOps are behind that. When do we spin out of control here? Like when is the top just gonna fly off its axis?
Kelvin Yap
in terms of the ability to deliver or just to consume?
Christian Lane
All of it, man, but yeah, consume. Like, it's just so much right?
Garrett Dutton
I asked my wife that because it seems like there's like five packages showing up every day. What are you possibly ordering? What do you do?
Kelvin Yap
I mean, for me, it's always been like, the retail therapy aspect has been fantastic for that I just like, Oh, this is gonna make me feel better, I'm gonna buy it. My girlfriend's like, you have three of these already. It's like, buying makes me feel better.
Christian Lane
You know, we have an economy to resuscitate here. Right?
Kelvin Yap
Exactly. Right here, propping up. I actually think that on the flip side, just in terms of consumption, I feel like it is kind of spiraling out of control, like using social media as a great example of that, like, information comes at you thick and fast. And it's so hard to kind of keep up and I do feel like it's having a negative impact on people's view of the world, but also just your mental health, as well. And just having that to to point out that 24 /7 constant access to information isn't a great thing. And I think something needs to kind of happen to curtail that, but it's definitely an election year as well, it's kind of just hit this, we hit overdrive to certain degree.
Christian Lane
Back in the maybe 80s, 90s, when we were kind of thinking ahead to the future, the 2020, kind of as a as a marker because of the movie, and what will the future be like, you know, there was a lot of talk in conversation about our freedoms in this country, would then translate to like information as an exploit, and very largely, we're being influenced by external factors in our politics, and our political decisions are being influenced externally. So we are finding ourselves in that place, where all this social media, all this content, it's so much to parse so much to interpret that, then we're vulnerable, right?
Kelvin Yap
I agree. And I was talking to some friends over the weekend. And they brought up a really good point that, and this is specific to digital transformation too, that your traditional news outlets are reliant on ad placements in the actual physical newspaper, as an example, to make money. In this time, where everyone consumes your information online, they've had to find ways to kind of make up for that revenue. And you have to pay and subscribe to actually read that content. And that in itself, like gating information, has meant that people are going elsewhere for information who may not be as reputable...
Garrett Dutton
That's so true. Like, it's so annoying, like when you click on a New York Times, like on your Apple news, or whatever. And then I think you can read a certain amount of New York Times articles for free and then the next one, you click on, oh, you need a subscription to read this and like and then just like Kelvin said, Oh, well, I'm not gonna, I'm gonna be doing that right now. What else is free? Like,
Christian Lane
you think of the Clockwork Orange kind of example? Where eyes are open, and just constant feed of stuff.
Garrett Dutton
Oh, right. Right.
Christian Lane
And you gotta think if you did that, over the course of some number of days, at some point, you don't know what is up, what's down, what's right. It's just, you've been taken over effectively, right? That's what we've been fearing the, you know, the sci fi folks back in the 80s 90s. Like, yeah, this is on its way here. We have like these devices in front of us all the time. And we're just,
Kelvin Yap
like, always connected. Yeah. It's so hard to disconnect...
Garrett Dutton
It's interesting. I've had a real kind of juxtaposition personally in my life during this time, because, you know, my wife, she's buying a lot of stuff online, but I'm not buying anything. And I rarely like to leave the property. We've got chickens. We got goats. I'm here on Cape Cod in Massachusetts. Like this morning. I just got, you know, I've been 15 minutes. I filled a pack full of oysters off the beach. I've gone kind of like a total like living off. I got the garden. Grow my own pot. Like I'm totally like, living off the land, but then I'm coming in interacting, you know, in a digital age. So it's the best sort of juxtaposition right now.
Kelvin Yap
Yeah, very jealous. Actually.
Garrett Dutton
I'm trying not to buy anything. These days. It's just trying to kind of, you know, not be reliant on using a credit card.
Christian Lane
For different reasons it's good.
Garrett Dutton
But then when I do get to get into a store oh my god forget about
Christian Lane
Pent up demand! Pent up G. Love demand! Well to that end right? G, G's gone country, his album gone country, when did you release that?
Garrett Dutton
Like a bootleg in the 90's
Christian Lane
Yeah, I guess it was but like yeah, a lot of people in San Francisco are making the realization that they don't have to be in the city paying expensive rents and all these kinds of things and they can go to the country and work because we were getting some pretty decent internet out in the country. Any of your friends leaving Kelvin? Or have you been considering these things at all?
Kelvin Yap
Short term considering moving to somewhere bigger so I'm in the Mission District here in San Francisco and it's close to the nightlife and there's lots of cool bars and restaurants to go to.
Garrett Dutton
Mission Chinese?
Kelvin Yap
I LOVE Mission Chinese so that's just my jam. But yeah, they are for us thinking about what this work situation is going to be like, Garrett kind of just just explained what he does on a daily basis. And I want that and so we are looking to kind of move to somewhere bigger with a yard. We have a small little patio here but just to give us a little bit of space, a little bit of outdoor space just to kind of relax because otherwise we're just stuck indoors the whole time. But we are definitely seeing a shift. I feel like folks fundamentally changing or at least reprioritizing what they want from a heart and they want more space. They want a yard they don't need the city because I think there's a certain amount of anxiety associated with being in a city right now in close proximity a lot of folks at least in San Francisco and starting to see some some movement from my friends I think for me with with the ability for me to work anywhere. TBD. I'm hoping that the internet in Hawaii gets better sometime soon. But yeah, a long time. A lot of options are open. We'll probably explore in the not too distant future.
Garrett Dutton
So okay, so Kelvin, we have a little fun thing we like to end up the podcast with thank you so much for being with us today. So we're gonna just jump right into our speed round here. And here we go. Specialized or Bianchi.
Kelvin Yap
Specialized.
Christian Lane
I'm surprised you didn't say neither. No, you got that? 22 bikes.
Kelvin Yap
I know. You know, I could go outside of those two options. Otherwise,
Garrett Dutton
you can! There's no rules.
Kelvin Yap
I'd say of those two specializes because it's California Brand. There you go.
Christian Lane
Cool. Eggs or pancakes?
Kelvin Yap
Eggs.
Garrett Dutton
Phone or computer
Kelvin Yap
Phone.
Christian Lane
Rainbow or This ain't living.
Kelvin Yap
Love jack Johnson, Rainbow.
Garrett Dutton
Laptop or notebook?
Kelvin Yap
iPad.
Christian Lane
Yeah. Okay. Santa Cruz of San Francisco.
Kelvin Yap
Santa Cruz.
Christian Lane
What's it it's a newfound love? Hmm.
Kelvin Yap
do you know what it was? If I could close my eyes, it felt like I was back in Sydney and all the beaches. Yeah.
Christian Lane
Rocket or arugula.
Kelvin Yap
Arugula.
Garrett Dutton
Here's one I got another one. Got a freestyle one. Bugs or lobsters?
Kelvin Yap
Oh, a good Moreton Bay bug!
Christian Lane
Here's one from home: Kings Cross or Bondi Beach.
Kelvin Yap
Wow, I think I think Kings Cross is a ghost town these days. So I'd have to say Bondi Beach. But there's too many tourists there. A little further south. Yeah. Tamarama if I could choose, Tamarama Beach.
Garrett Dutton
Oh, yeah. Okay, and then the last one, John Butler or Xavier Rudd.
Kelvin Yap
Wow, that's a hard one. I would lean John Butler just because I grew up. I grew up with his music. And I don't know I was reading somewhere the other day that the music that you listened to in your teens is the most important.
Garrett Dutton
Yeah. Well, they're both great. So
Christian Lane
Did you get to tour with these guys?
Garrett Dutton
Oh, yeah. Yes, these are. These are amazing. Hey, Kelvin, can you just quickly let us know how people can get in touch with you and find out More about what you're doing.
Kelvin Yap
You can follow me on Twitter, Kelvin Yap nice and easy. And you kind of find me writing blogs and content on the Atlassian blogs. And you can always shoot me an email, if you have any questions about anything at kelvin@atlassian.com as well.
Christian Lane
And Kelvin. What about Instagram?
Kelvin Yap
If you want to see too many pictures of bikes, Kelvin yap, again, nice and easy.
Christian Lane
Well, if you can, I know most things are top secret. What can you share with us on what you're working on Atlassian.
Kelvin Yap
I'm, at the moment, pretty focused on DevOps actually. And so one of the things that we are working on at the moment is just trying to make the connection of our tools like integrations between our tools better, but more importantly, also for third parties, because I feel like we are open, we have an open tool chain philosophy. And so what we're trying to do is, we know again, kind of the theme of the conversation so far, that everyone does things in different ways. And we kind of want to support that as much as possible. And so we have a kind of DevOps solution that kind of connects and binds our products together, that we're kind of working on at the moment. And obviously some other things as well in DevOps space that you'll hear about sooner rather than later.
Christian Lane
Yeah. Phenomenal. Well, thanks so much. Cool.
Kelvin Yap
Thank you.
Christian Lane
This has been a blast, man. So good to see you. Brother.
Kelvin Yap
You'll have to come out. You have to take your little adventure wagon to come out to California. I'll meet you in Santa Cruz.
Christian Lane
Well, yeah, we so we've got, um, start shaped plans for Santa Cruz in February. Yeah. Awesome, man.
Garrett Dutton
Great. Thanks so much, Kelvin. That was awesome. Nice to meet ya.
Kelvin Yap
Great to meet you, too, G. Love!
Katie Thomas
Thanks for listening to The Digital Transformation(ists) Podcast, brought to you by Praecipio Consulting. Be sure to visit our webpage to check out our other episodes, access show notes and links and listen to some great bonus content. Like what you heard? Subscribe, rate and leave us a review! And tell a friend we love making new friends. I'm executive producer Katie Thomas. Victor Vargas is our engineer. Alejandro Caballero is our editor. Thanks for tuning in.