Humans have been coming up with new ways to organize their information for years. The need to find the information you need quickly has perpetuated for centuries. When information began to be digitized, that need transitioned into the digital world – and soon we found ourselves with a pile of virtual files wondering how to manage them responsibly.
Since the 1990s, the most common way to sort through this file pile – or at least the best way to arrange them coherently – was to put the files into a "folder tree." Folder trees are complex hierarchies of file folders that, if you mapped them out on a whiteboard, would look like your typical Christmas tree – with the high-level folders at the top, slowing segmenting downward to reveal subfolders, and the subfolders of those subfolders, and the subfolder's subfolder's subfolder. Say that three times fast.
The problem with folder trees is that as a company grows, their folder tree can easily turn into folder sprawl. As the tree grows, files can be buried deeper and deeper – meaning the search for a particular file takes longer in most cases – not to mention the time it takes to save a new file in the right location. And the more time it takes to find something, the more company time is wasted. That's inefficient.
"But what about the Search function?" you say. "Can't you just search for the file?" Youcan, actually. But in order to find the correct file, you need to know all or part of the file name – which you can't guarantee. In order for Search to be affective, you'd need to be able to search for the things about the file you DO know – like, for instance, when it was written, who wrote it, what it was for, etc.
That being said, a better way to organize information is to forget the folder tree altogether – or at least in theory. It sounds crazy, but if done right, it can make your information architecture far more efficient than you think.
The better way involves assigning relevant attributes to every file in your system – where each file has a set of attributes that describe it, telling us what it is, what type of file it is, when it was last modified, and who modified it. Consider a hypothetical worker's compensation form, for example, stored in a content management system. If I didn't know what the worker's comp form was called, but knew it had to do with insurance, I could type "insurance" as a search query – and if "insurance" was a keyword or attribute of the form, presto. I've got it.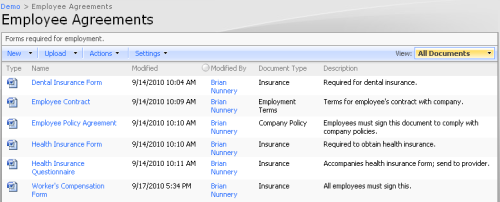 Document Library in SharePoint
Attributes should be unique to every folder, library, or department, users associate with documents differently depending on what they are. For example, this HR request list in Microsoft SharePoint looks a lot different from the Employee Agreements document library. For one, it stores requests – not actual documents. It's meant to track requests made to Human Resources, so each request's attributes tell who requested it, what type of thing was requested, some details, and its approval status.
By assigning attributes to every file in your system, you're guaranteeing faster search times and implementing a more intelligent information architecture for your organization – avoiding the messy, high-maintenance folder sprawl we mentioned earlier. By making the search process more efficient and repeatable, you're making your company more profitable long-term.
Good technology, good process, good profit. To more learn about that or tell us how YOU organize your stuff, visit our blog.