About Dashboards and Gadgets
The Jira Dashboards is the first screen you see when you log in to Jira. It can be configured to display many different types of information, depending on your areas of interest.
If you are anywhere else in Jira, you can access your Jira Dashboards view by clicking the 'Dashboards' link in the top left corner of the Jira interface.
The information boxes on the dashboard are called Gadgets: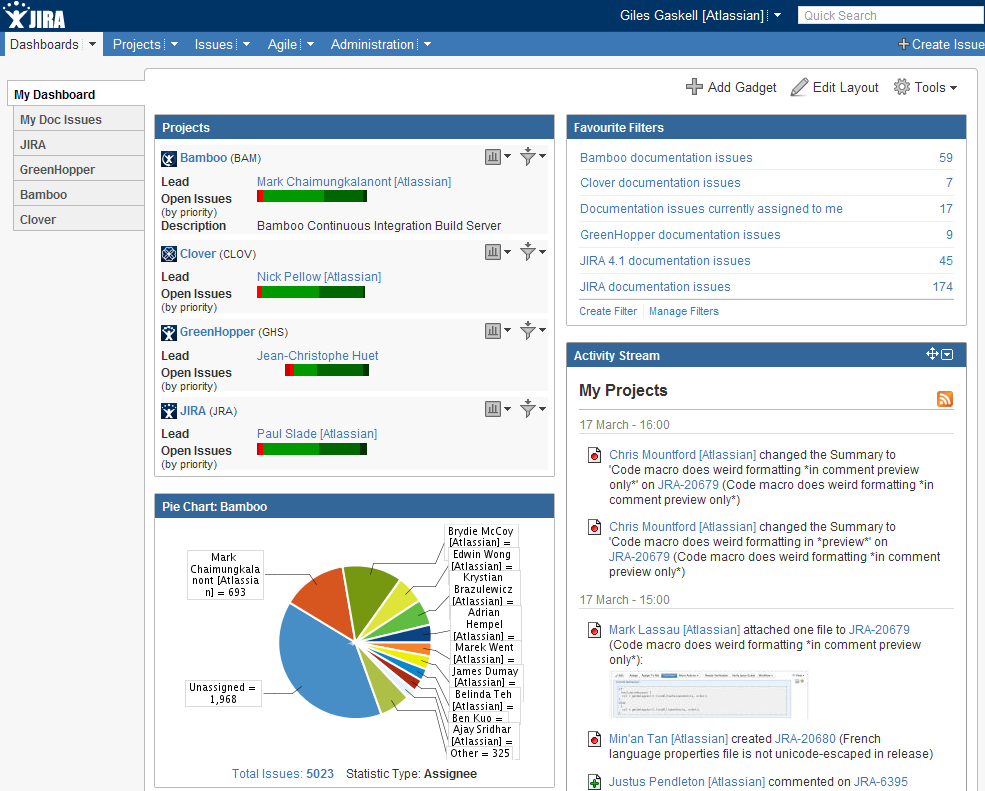 You can easily customise your dashboard by choosing a different layout, adding more gadgets, dragging the gadgets into different positions, and changing the look of individual gadgets.
You can also create more pages for your dashboard, share your pages with other people and choose your favorites pages, as described in Managing Multiple Dashboard Pages. Each page can be configured independently, as per the instructions below.
* This gadget will only be available if it has been installed by your Jira administrator.
Creating a Dashboard
The dashboard that you see when you first start using Jira is a "default" dashboard that has been configured by your Jira administrator. You cannot edit the default dashboard; but you can easily create your own dashboard, which you can then customize as you wish.
To create your own dashboard:
At the top right of the Dashboard, click the 'Tools' menu.
Select either 'Create Dashboard' to create a blank dashboard, or 'Copy Dashboard' to create a copy of the dashboard you are currently viewing.
You can now customize your dashboard as follows:
Choosing a Dashboard Layout
To choose a different layout for your dashboard page (e.g. three columns instead of two):
At the top right of the Dashboard, click the 'Edit Layout' link. A selection of layouts will be displayed:

Click your preferred layout.
Adding a Gadget
At the top right of the Dashboard, click the 'Add Gadget' link.
A selection of gadgets will be displayed:

Select a category on the left to restrict the list of gadgets on the right to that category.
Click the 'Add it now' button beneath your chosen gadget.
Click the 'Finished' button to return to your Dashboard.
If the gadget you have selected requires configuration, you will be presented with the gadget's configuration page. Configure appropriately and click 'Save'.
Moving a Gadget
To move a gadget to a different position on your dashboard:
Click the gadget and drag it into its new position.
Removing a Gadget
To remove a gadget from your dashboard:
Hold your mouse over the top right corner of the gadget, until a down-arrow appears.
Click the down-arrow to display the following menu:

Click 'Delete'.
Need some more help navigating Jira Dashboards? Learn more about Jira here, or contact our team of experts and we'll answer any questions you may have.