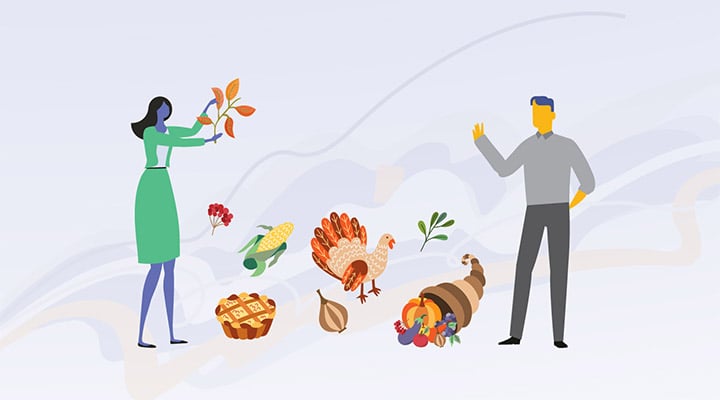 Now that we're rapidly coming up on the end of 2020, I'm taking time to pause my life and find things to be thankful for. Under normal circumstances, this exercise can be a great way to wrap up the year; after this year, though, let's just say that I had a harder time than normal pulling together a list. The truth is that despite it being a tough year, I do have a lot to be thankful for – I've made it through this year with a job and a home, something that many people are not experiencing this year.
As we enter the holiday season, the messaging that we see is increasingly commercial: Black Friday edges earlier into Thanksgiving, Small Business Saturday tries to pull focus locally, and Cyber Monday pretends like we're not online shopping for the first two, making it a trifecta of commercialism.

Giving Tuesday is an annual celebration on the Tuesday following Thanksgiving that encourages individuals and organizations across the country to do good. What better way to wrap up three of the highest spending days of the year by looking at how we can support others?
What we're doing
Here at Praecipio Consulting, we've stepped back and taken stock as well. Supporting our communities has always been a core value here, and we've been a member of Pledge 1% for years. We are proud to spend our time and money with organizations like the Flatwater Foundation, TreeFolks, and Bamberger Ranch. This year, we felt like we had to do more. At the beginning of June, the company began matching employee donations and doubling VTO toward relevant organizations.
This #GivingTuesday, we'll be taking it a step further and doubling employee donation matching for donations made on Tuesday, December 1st, as part of our continued dedication to supporting our communities.
How you can get involved
That's what we're doing, but what about you?
There are a lot of ways to get involved, even in the middle of a pandemic. Check out local resources to find organizations that are accepting donations or for volunteer opportunities (if you're comfortable!). Events like gift drives and meal delivery are also great ways to contribute while still staying safe. Don't forget to look at local mutual aid funds for opportunities for even bigger impacts in your communities.