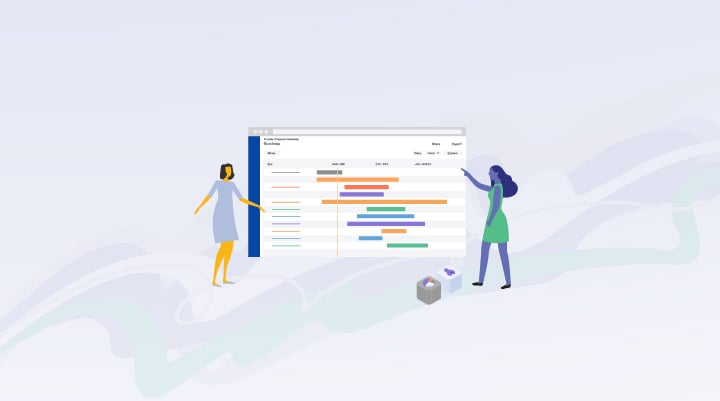 As an Agile evangelist and a Digital Transformation-ist, I am asked this question from time to time. My first thought is, "Of course you're Agile...you just don't know it yet," but before I can actually answer that question, I have to understand the process. Every organization and agency in the world takes something, does something with it, and produces an end result. It's the process that is key for you and your organization to understand before implementing the Atlassian tools and specifically, Advanced Roadmaps for Jira (formerly known as Portfolio for Jira).
At Praecipio Consulting, we call ourselves a bunch of process nerds that just happen to use the Atlassian tools to facilitate work. Think about making a pot of coffee: there are specific steps you have to take in a specific order to be successful. Starting the coffee pot before adding water and coffee doesn't work. Adding water and starting the coffee pot (without coffee) doesn't work either. There's a specific process that you need to follow to produce a pot of coffee.
When it comes to work, what's the first step? How does the organization take in work? For those running traditional models, you may know this as Requirements. We have an idea that we'd like to propose, gather the requirements, and define the project scope. We then move to Design: expected function and architecture, and then to Implementation: actually putting the requirements into place in a product. In each of those phases, Advanced Roadmaps for Jira can help!
What is Advanced Roadmaps for Jira?
Advanced Roadmaps for Jira is a planning and roadmapping tool from Atlassian. It was first released in 2015 and has since developed into a powerful visualization tool for small-to-medium-sized organizations. With Atlassian's dedication to maintaining framework flexibility, it has evolved to become the tool of choice for many organizations, regardless of their self-proclamation. By supporting three estimation statistics (Days, Hours, and Story Points), Advanced Roadmaps for Jira can provide you with the best chance of success for understanding cross-team and organizational dependencies and answering the most important question, "When will this be done?" Purpose-built for Jira Software, Advanced Roadmaps for Jira supports mixed methodologies as well as framework-specific organizations. Add in the concept of multi-layer hierarchies, and you've got yourself a Work Breakdown Structure (WBS) as well as the ability to automatically schedule timelines based on Team capacity or velocity.
Advanced Roadmaps for Jira adheres to the concept of the Iron Triangle. What is the scope? What is the timeline? Who are the resources (people) involved? Based on the estimated scope of work, the timeline in which I need to get it done by, and the people I have to do it with, will it be available on time? Simply choose the estimation statistic to calculate a schedule and you're off! Well, almost...
Scope: Where is the work being tracked in Jira?
When creating a Plan in Advanced Roadmaps for Jira, the first thing to understand is the source. After establishing your hierarchy, determine where these Jira Issues exist. Where is work being performed in Jira? Is it in a specific Jira Project? Or perhaps a Kanban board for process visualization? Or across multiple projects? These are the sources for creating a Plan. You can use Jira Projects, Boards, or Filters as the source for a Plan. You can also use any combination thereof. However, aim for simplicity: use a Jira Project or a Board when you are able to instead of a complicated Filter as a source.
We recommend using Filters as a source only when you need to manage stage-gates in your process. Using the example above, If the Statuses in your Jira Workflow are Requirements, Design, and Implementation, consider creating a filter that excludes Requirements. Just because it's a good idea, doesn't mean we will pursue it past the Requirements stage. In a Plan, we only want to see those things that made it through the stage-gate into Design. It's in the Design stage we will determine if or when we can get it done based on the timeline and people before moving into Implementation. We are not ready to Plan an effort until we've passed Requirements.
Resources (Teams and Team Members): Who is doing the work in Jira?
While it's a bit chicken-egg, determining who is doing the work is critical to determining scope. In a Plan, we connect Teams and Team Members to the Sources in the Plan. This eliminates the need for clicking or typing or trying to assign a piece of work to the correct Team in a Plan. By connecting these, Advanced Roadmaps for Jira will determine the scope for the Teams and Team Members based on the source of the Plan. You also have the ability to tie multiple Teams to a single source. As an example, if you have two Teams managing their work in a single Jira Project, you can use the Project as a source for both Teams. By adding Team Members to the Teams, you can guarantee assigned work will be directed to the correct Team. However, unassigned work will be divvied up based on the next Team Member's availability. We recommend creating a single source per Team if both Teams cannot be assigned each others' work.
Moreover, by adding Team Members to your Teams, you can determine the hourly capacity of each member. We see this most frequently used when specific job functions are split across Teams (e.g. QA or Design). By default, Advanced Roadmaps for Jira calculates 100% capacity at 40 hours per Team Member. If you need to split capacity across Teams, simply adjust the Team Member's capacity to 20 hours (50%) on one Team and 20 hours (50%) on the other Team. By using the Auto Schedule function in a Plan, you can then recalculate the timeline based on the change in capacity.
Time: When will it be done?
This is where the power of Advanced Roadmaps for Jira truly shines. By using Releases (aka Versions), the Plan can calculate your probability of completing the effort on time. The Plan can also calculate when an effort will be complete based on Scope and Teams. For example, if I estimate my effort will take 4000 hours and the Team has a capacity of 200 hours, it will take 20 weeks to complete the effort. If my Release finish date is in 10 weeks, I will be off track by 10 weeks. The Plan will highlight this in red.
Don't think of Releases as traditional "software releases". Instead, these are milestone dates for a specific Jira Project or across multiple Jira Projects. They can be calendar quarters, fiscal quarters, or even a specific date-driven event. By designating the Finish Date of a Release, you are determining the amount of time the organization has to complete a specific (or the entire) scope of work.
Dependencies and Scenarios
Critical Path is a common concept in a traditional WBS. These larger milestone issues drive the entire schedule. If one moves, the rest move as well. In Advanced Roadmaps for Jira, we can manage this via Dependencies. By linking issues together, the Plan will schedule work using a finish-to-start dependency. Issue 1 must be complete before Issue 2 can start. Moreover, since items at the lower levels of the WBS drive the size and duration of the critical path, you can visualize a schedule slip based on the progress of the lower levels.
Not sure you're ready to commit to a specific Plan? When trying to understand the "What if?" in each Plan, you can enable Scenarios. The Initial Scenario (default name) is used to understand current state: what the are Teams currently working on, the progress, schedule, and release dates. Creating additional Scenarios allows you to Plan for best-case or worst-case scenarios. What happens if I add capacity to the current scope of work? Will I be more likely to hit my Release (aka milestone) dates? By adding a Team to a Scenario (thus increasing capacity), you can Auto Schedule just that Scenario to determine if there is any impact to the overall schedule and any milestone dates. If you like what you see, you can update Jira Software from that specific Scenario and any other Scenarios will update based on the underlying Jira data.
Want to know more?
As an Atlassian Platinum Enterprise Solution Partner, Praecipio Consulting can help you determine the best way to leverage Advanced Roadmaps for Jira to support your intake, planning, and execution processes so that your organization can become more Agile. We have extensive experience in the entire Atlassian product suite and implementing Agile frameworks that provide a great foundation for your organization or agency.