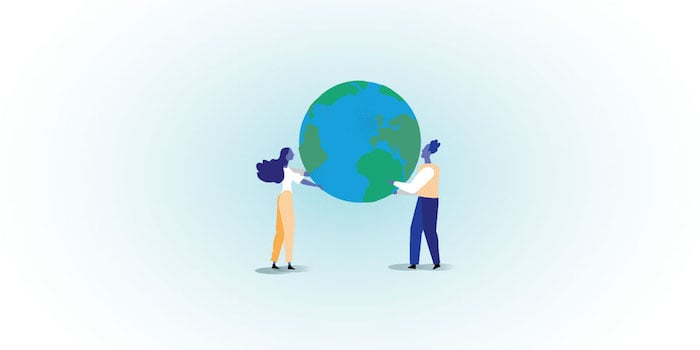 Next April will mark the 50th anniversary of Earth Day, but we just couldn't wait six more months to share our company's exciting news—starting November 1, 2019, Praecipio Consulting's Work from Home policy is changing. Beginning October 14, "Work From Work" is optional with the exception of two important days of the month. In addition, our workspace is transforming into a much smaller, more intentional workspace emphasizing climate responsibility and a more fulfilling and sustainable workstyle. The company will facilitate, enable and encourage more meaningful interactions; going for quality over quantity of face time; reducing the cost to the environment and cost of our team members' time and money. These are major changes due to our choice to operate in a way that supports our Global Climate Crisis Response Plan - all in an effort to reduce our company's overall carbon footprint. Our Global Climate Crisis Response Plan was shared internally at Praecipio Consulting at the end of October and will be shared more widely shortly thereafter.
Benefits of Teleworking
According to Global Workplace Analytics, 50 percent of the American workforce currently holds telecommute-compatible jobs. If those people worked from home half the time, it would reduce greenhouse gas emissions by 54 million metric tons annually, the equivalent of taking almost 10 million cars off the road. It would also reduce annual oil consumption by 640 million barrels. According to the U.S. Energy Information Administration, the U.S. uses approximately 19 million barrels of oil every day. If people worked from home part-time, 1.75 million of those barrels--almost 10 percent--could be eliminated. In addition to reducing oil consumption, other benefits teleworking can gift to the environment are the reduction of air pollution and water pollution (from chemicals spilled into our waterways, rivers, and other water sources).
Our Global Climate Response Plan
As a business and as citizens, we recommitted to our responsibility to not just hear these facts, but to quickly pivot into action and lean-in as much as possible in consensus with the scientific community. While the positive impacts our exclusive teleworking policy will have on the environment are a step in the right direction, and a major part of our Global Climate Crisis Response Plan, we will do more to fulfill our responsibility to our community through exemplary leadership. These facts are all that all of us need to know to "do good."
Praecipio Consulting has been a member of the Pledge 1% initiative since 2015, and we take our philanthropic commitments seriously. We will continue to make contributions and donations with a tighter focus towards reforestation and restoration of grasslands to sequester more co2 going forward.
Earth Day and the millions of conversations that are on-going about environmental challenges we face, serve as constant reminders of the things we are currently doing and how much more we can do to benefit the future generations that will inhabit the Earth. As members of communities, businesses are in a unique position to help their individual employees make larger, more significant positive impacts.
Commitment to Make an Impact
Teleworking, a smaller office, reduction of corporate travel, encouraging and incentivizing personal impacts, and continued contributions in spirit of Pledge 1% are all commitments Praecipio Consulting is making as part of our Global Climate Crisis Response Plan. It's our sincerest desire and passion to lead the way and reduce our company's (and our employees') carbon footprint to zero. Join us. At this very moment, what steps will you take to ensure Earth can sustain humanity?