GET THE RESULTS YOU EXPECT
Start Reaping the Benefits of Your Agile Transformation
Nearly every business today is trying to become more agile, yet many still struggle to achieve the expected outcomes of enterprise agility.
Achieving the benefits of agile at scale requires wholesale change across the organization.

Change like that doesn't come easy. But it's completely possible with enterprise agile transformation consulting that takes a multi-dimensional approach to implementation and improvements.
CONNECTING STRATEGY TO EXECUTION
Praecipio Delivers Across All Dimensions of Agility
Praecipio has the expertise and the scale to help you achieve every dimension of enterprise agility, from strategy to the people, process, and technology necessary to execute that strategy.

We work with you and your transformation office to weave a steel thread through every dimension of your agile organization.
PROVEN. TRUSTED. BEST IN CLASS.
Praecipio's Connected Services Enable Business Agility
Praecipio offers a cohesive and customized set of services focused on execution and results.

Agile at Scale Advisory Services
We help you evaluate your strategy from an ability-to-implement perspective, taking into account your desired platform and tool stack.

Agile Coaching for the Transformation Office
Connect theory to practice. Add leadership education, growth mindset techniques, and agile technology to your coaching toolbox.

Enterprise Agility Technology Consulting
Align integrated processes with your chosen technology, from Jira Align and Rally to Business Intelligence tools.

Jira Align Onboarding
Unlock the full potential of Jira Align for your organization. We'll get you up and running smoothly, efficiently, and effectively.
Connect Strategy to Execution with Jira Align
Atlassian's Jira Align technology helps businesses connect their processes and people to their strategy. Add Jira Align to your agile transformation efforts and start seeing what teams are delivering, and how it connects to organizational goals, in near real-time. You'll get:

Near-real-time visibility from aggregated team data


Alignment to strategy at the team level


Insight into how funding ties to delivered value



Say goodbye to hours spent on spreadsheets and ad hoc reporting. Jira Align is the collaborative solution that gives you the visibility you need to improve coordination and increase your team's ability to deliver the right thing to the right people at the right time.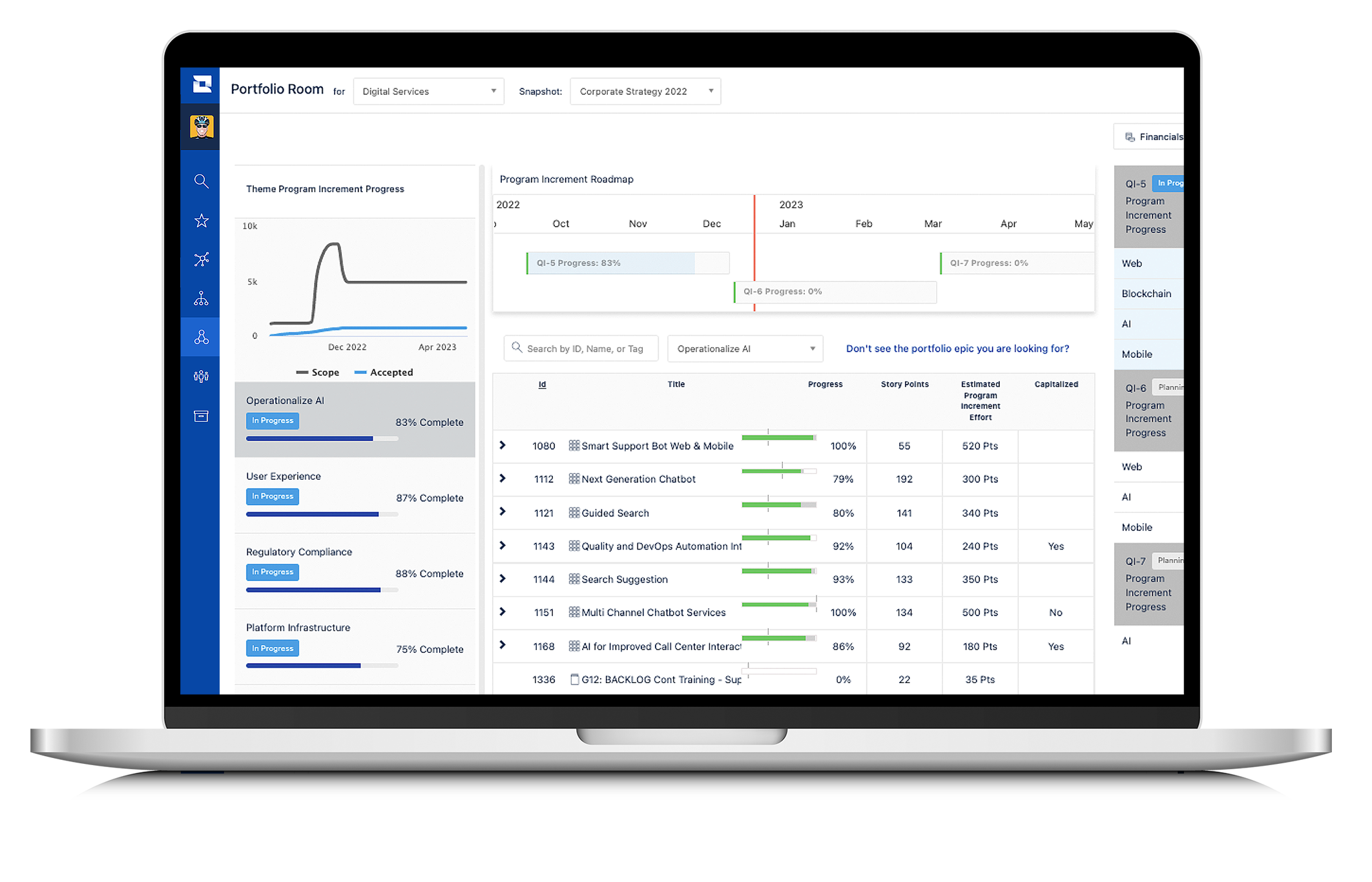 Proven Benefits of Agile at Scale
Being agile takes an investment of time, training, coaching, and technology. The return on that investment, though, can be huge in terms of everything from employee engagement to customer satisfaction.

Respondents to the 2022 State of Agile Report cited the following agile benefits: increased collaboration (69%), better alignment to business needs (54%), better work environment (39%), and increased visibility into the development application lifecycle (37%).

These benefits are consistent with those reported in research by both McKinsey and SAFe. At Praecipio, we want to make those benefits a reality for you. Contact us today to learn more about how our agile experts can connect your people, process, technology, and strategy for optimal results.
Expected Benefits of a Successful Agile Implementation
MEASURABLE OUTCOMES. ACHIEVABLE RESULTS.
Perfect Strategy Is Made Perfect by Execution
The gap between execution and strategy generally comes down to one (or more) of these three pain points in people, process, and technology: lack of visibility, lack of coordination, and inability to quickly adapt.
of Organizations Fail to Deliver on Their Strategy
Praecipio puts your strategy to work
You can spend millions of dollars on a strategy created in a vacuum, only to find your people and processes are not organized to support it. To succeed, you don't need the perfect strategy. You need a strategy that is achievable and executable.

Bring us to your next strategy session. Our implementation experts have the strategy background to uncover the variables, complexity, and assumptions hiding behind the neatly packaged slideware. We will ensure your ideas are put into motion - in a highly visible and connected way.
PUT OUR EXPERTISE TO WORK FOR YOU
Praecipio Makes Enterprise Agility a Reality
But don't just take our word for it. Our customers trust us to give them the best-in-class experience.
Agile Process
Agile Process Assessment for Leading Providers of Tech-Enabled Healthcare Services
Jira Software
Gaming Company "Stays in the Game" by Improving Usage of Atlassian Products
WHITEPAPER
The Connected Enterprise: Close the Gap Between Business Strategy & Execution
Improve visibility, coordination, and adaptation across your agile organization with the power of Jira Align. Learn more about the research and trends that are driving companies to automate and connect work to strategy.
WE ARE ON A MISSION TO
Build Connected Enterprises, One Organization at a Time.
Through a combination of Atlassian, Software, DevOps, and Agile capabilities, Praecipio delivers proven value that goes beyond product expertise. By leveraging the Atlassian platform and our suite of enterprise-level solutions, we create a seamless connection between your people, process, and technology.