FOR IMMEDIATE RELEASE
Austin, TX
11/15/2019
Praecipio Consulting, a process and technology consulting firm focused on helping businesses advance through the Digital Transformation with leading technologies and best practices, has been named by the Austin Business Journal as one of Central Texas' fastest-growing companies in 2019 ranked #19 in the over $10M category. Praecipio Consulting first made the exclusive list in 2017 with recognition as the #8 fastest growing company in the $10M+ category.
"We are honored for the recognition by the Austin Business Journal and inclusion in the FAST 50 list for the second time," said Praecipio Consulting's Founding Partner, Christian Lane. "I firmly believe our continued, extraordinary growth is a direct result of our steadfast commitment to our clients' success and our tried and tested methodologies. Throughout the client engagement process with our sales and our consulting teams, the client relationship and our clients' success remain paramount. Another key factor," Mr. Lane continued, "is our long-standing relationship with Atlassian, our flagship technology partner. Atlassian continues to lead with software technologies like Jira, Confluence, and Bitbucket that help unleash the potential in all teams."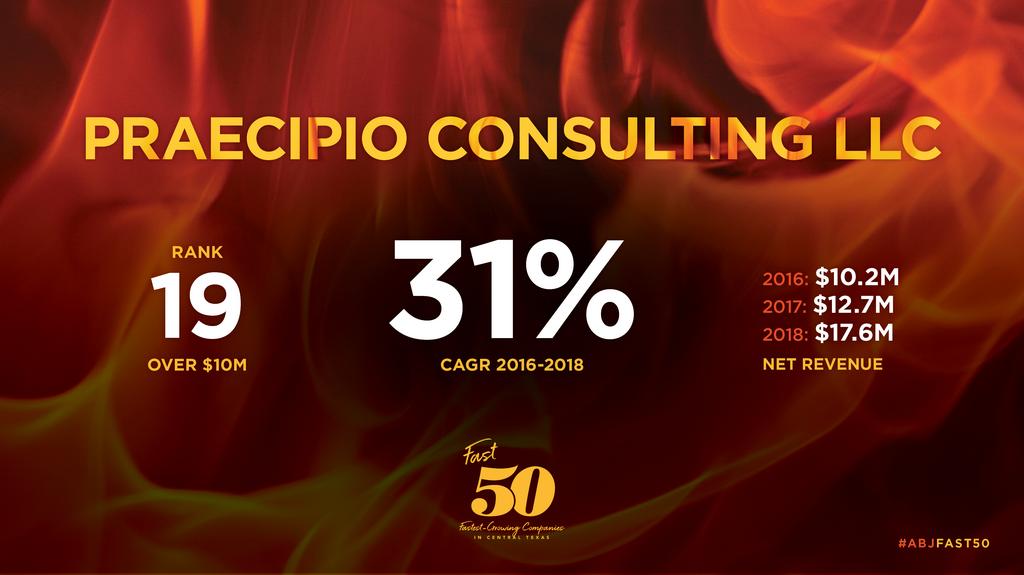 The Austin Business Journal states that in order to qualify for the FAST 50 awards, "… companies must have experienced dramatic revenue growth during the past three years. Financial data is submitted by the companies, verified by a third party, and then the top 50 are ranked according to compounded revenue growth." The ranking order of the 50 fastest growing companies was announced on Thursday, October 24, 2019 during the Austin Business Journal's FAST 50 Cocktail Reception & Awards at the JW Marriott in Austin.
For a complete list of the awards, categories, and company lists, please visit Austin Business Journal's article, Austin's Fast 50: Quick-growing companies to watch.
About Praecipio Consulting
Praecipio Consulting is a leading interdisciplinary process framework and technology consulting firm. Specializing itself in ITSM, Scaled Agile, and DevOps amongst other frameworks, Praecipio Consulting has helped industry leaders in aerospace, automotive, banking and FinTech, beverage, durable goods, electronics, film and entertainment, healthcare, insurance, life sciences, retail, technology to name a handful. As an Atlassian Solution Partner, Praecipio Consulting leverages the Atlassian suite of products and Atlassian Marketplace apps to build, implement, and activate best-in-class solutions. A portfolio of services help Praecipio Consulting customers maximize their benefit and utilization of these products with best practices, training, hosting and managed services, migration, upgrades and consolidations, and custom development. For more information, visit praecipio.com