What's new in FishEye?
Commit Graph
FishEye 2.6 introduces a new way to visualize your repositories and commits with a graphical representation of the source – the Commit Graph. FishEye keeps you up-to-date on current activity in your source through Activity Streams and RSS – now you can use the Commit Graph to understand more about your source.
How is a particular feature advancing? Are bugs being fixed? Is that bug fix release ready to be shipped to customers yet? Is there a lot of code that hasn't been reviewed yet, and does it requires more attention? Have all the bug fixes been merged to the master branch?
The Graph
At a glance, the Commit Graph shows
Changesets in their respective branches using configurable "swimlanes"
A changeset list with commit information such as date, committer, commit message, Jira issues and more
Key information such as branching and merging. Git or Mercurial will be able to see anonymous branches.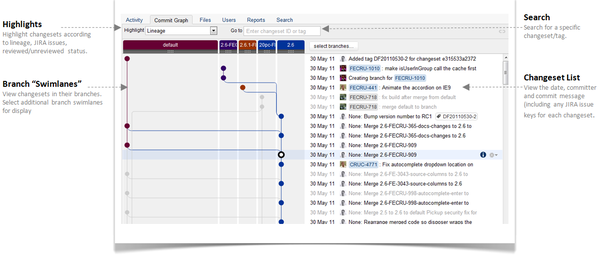 Highlighters
Using the highlighter functionality will provide further context into
Lineage: where changesets come from and where they ended up
Jira Issues: view changesets with associated Jira issues
(Un)reviewed commits: see what commits have been reviewed, are undergoing a review or are unreviewed
If you want to dig deeper to find out more information simply click a changeset with a corresponding highlight and see related changesets with the same lineage, the same Jira issue(s) or the same Crucible code review(s). For example, by selecting the Jira issues highlight and clicking a changeset you will see the source code that has been involved with a given Jira issue and what Jira issues are addressed by the piece of code.

Fast(er) Search
FishEye 2.5 focused heavily on improving the search experience for FishEye users. We are continuing those improvements in 2.6 by making search even faster, more accurate and broadening the search options.
Search is now over 30% faster
Search file paths using CamelCase conventions
Access the default branch (trunk, master) of any file path found in the search, even if it was not recently modified on the default branch
Search commit messages and click directly to the Jira issues or Crucible code reviews, as commit messages are now wiki-rendered
If you are using Crucible with FishEye, you can now search reviews and review comments
Improved Jira Integration
FishEye and Crucible administrators can now connect to a single Jira instance for authentication and user management. This is an awesome way for you to centralise user management for FishEye, Crucible and other Atlassian applications.
One login - users only have to remember a single username to log in to all systems.
One password - change your password once in Jira and have all the other systems updated automatically
Just like connecting to LDAP, connecting to Jira will allow users to authenticate against Jira while users and groups in both applications can be managed in one place. Set up your connection to Jira through the FishEye setup wizard or further configure the Jira connections via the FishEye administration screens.
HTMLified Emails
A small, but useful, addition to FishEye is the new and improved HTML emails. Emails are now much easier to read and scan with important information just a link away. A picture (or screenshot) is worth a thousand words.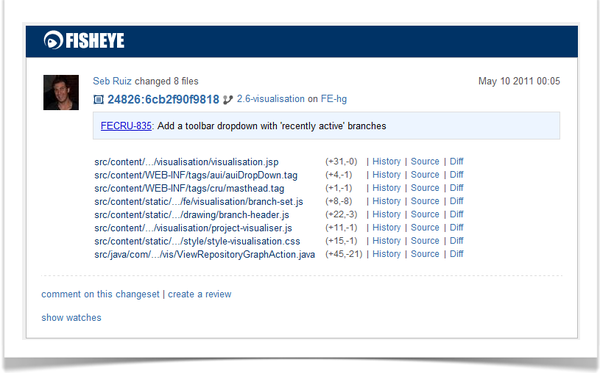 And a whole lot more
Dashboard and Navigation improvements
Improved Git support for Git branches and activity streams
Mercurial indexing performance improvements (up to 3 times faster while scanning changes)
Git Commit Authors include email addresses
Check out the FishEye 2.6 release notes for a complete list.
Download Fisheye 2.6 to get started with a 30-day FREE trial or upgrade your current instance.
What's new in Crucible?
Fast Code Review Search
Searching for reviews can be just as important as searching source code. Crucible now supports searching reviews and review comments through the QuickNav bar:
See results categorized by reviews and comments
Search review summaries, authors, objectives, titles, comments, review keys and Jira issue keys in one click
Click linked issues and reviews in any result, including review objectives/summary/comments
View wiki-rendered commit messages, reviews and comments
Enterprise Datasbase Support – Oracle & SQL Server
Satisfying two of Crucible's highest voted feature requests, Crucible now has official support for the Oracle DBMS and Microsoft SQL Server.
Digestible HTML Emails
In Crucible 2.5, we focused on making sure Crucible users got "less" emails with smarter batch email notifications. We've continued making the email (notification) experience better with the new Crucible HTML emails.
The emails have been designed to make it easier to scan and locate important review information (new comments, reviewer), reduce non-relevant review information and make the information easily digestible. Also, while scanning your emails there is now rich linking and rendering of comments and metadata.
Review Creation without Metadata Information
Crucible now reduces the clutter in code reviews by excluding metadata-only changes. No more pesky svn mergeinfo properties cluttering your review screens anymore! We've also prevented changesets that are entirely svnprops changes (i.e. don't have any non-metadata changes) from being added to reviews.
And there's more
User management via Jira
Improved patch anchoring: support for anchoring Perforce, Mercurial and CVS patches
Dashboard and Navigation improvements
You can check out the Crucible 2.6 release notes for the complete list.
Download Crucible 2.6 to get started with a 30-day FREE trial or upgrade your current instance.