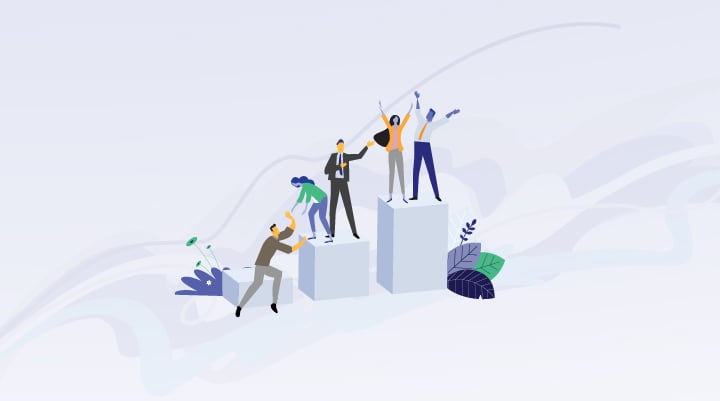 Make this next project the one that gets you noticed.
Kate Cornell was in a tough spot. Her fast company growth exposed a weakness. Her project management tools were a collection of cobbled-together solutions that were never purposely developed for case management or tracking complex projects. As a result, the team was fragmented and communications were inefficient, making work difficult to track.
There had to be a better way. When the problem was presented to the management team, she was tasked with figuring it out.
Smartly, she knew that she needed some specialized help in not only choosing a platform but configuring it to meet the present and future needs of the company. After vetting multiple vendors, she chose Praecipio Consulting, a Platinum Atlassian Partner known for their strategic approach and ease to do business with, not to mention their expertise around the Atlassian platform.
In her role as the Director of IT Project Management for ACI Worldwide, it's her responsibility to make sure projects like these are executed well. The company depends on it - careers depend on it.
Thankfully, this project was an enormous success. In a double win, the company was able to save significant costs and the Atlassian technology stack is exactly what they needed.
Now that the project is complete, we asked her to reflect on the process and what she would recommend to others faced with a similar challenge.
Tell us about the vendor and how they performed for you.
"I knew from the get-go that this is a project we needed help with. We used our previous CRM-based system for 10+ years, and there was an incredible amount of data that needed to be migrated over. But what impressed me most was their ability to ask questions and gather requirements. You can tell they had lots of experience. They led us in directions we didn't know we needed to explore."
What did success look like?
"I'm calling the project a huge success - first, because the solution works well. The data moved over, and we finally have everyone on the same tool. It's nice to have a framework that is purpose-built for what we need. We're able to move faster and with more efficiency than ever before. What I'm most proud of though is the broad adoption among our team. It's hard to break out of your routine and use something new. Going through a necessary learning curve is difficult and cumbersome, but our team bought into the long-term vision and saw the value immediately.
What advice would you give project managers that want to fast forward their careers with a project like this?
Don't operate in a silo. Design an escalation process so that when you get stuck, you can bring in other stakeholders to work toward a solution. Transparency is key. Managers don't like surprises. They understand challenges will arise and usually, they are willing to help. But make sure you have a plan to execute and not just a problem with no solution.
Set realistic expectations. I want my managers to commit to running at a rate of speed they feel is appropriate considering they have multiple projects. If we are managing the business correctly, everything is not an emergency. I can wait an extra two weeks if it means the project is done right the first time.
Clearly define done. Ambiguity is a productivity killer and it can ruin relationships. The best managers we have err on the side of over-communication versus under. Making sure all relevant team members are aware of progress milestones, have an opportunity to provide input, and understand how this project fits within our overall mission is how it should be done.
Be predictable and reliable. Successfully handling projects that deliver on time and within budget earns you a reputation as someone who delivers results. Our best managers are the ones that use company resources wisely and think one step ahead of the task at hand. This strategic mindset gives managers comfort knowing that they don't have to worry about micromanaging.
Praecipio Consulting's take on how to leverage a successful project:
In our experience, we have seen how production-based project managers have climbed the ladder of success. One common theme? They make others around them better. Getting the most from your team and developing the talent of tomorrow has far-reaching implications for any company. At Praecipio Consulting, we are in the business of making our clients more competitive while helping them realize cost savings through better processes and better technology. IT project managers that have an upward career trajectory tend to not get caught up in technical jargon and can talk to the C-suite in terms of ROI and how the project fits into the strategic plan.
One thing all experts agree on is that communication between management, engineers, vendors, and even other third parties will mitigate the risk of a project losing momentum or failing. If your communication skills can match your ability to motivate teams and deliver technical projects, you'll be asked to take on more and more important projects and be rewarded accordingly.
If you're interested in the game-changing solutions that Atlassian products can bring to your business, let's chat!