According to IDC's 2015 report, The Document Disconnect, 76% of executives and managers in sales, HR, procurement, legal, and other departments estimate that fixing the "document disconnect" can lead to document process issues impact revenue recognition or create auditor issues. As process improvement experts, we at Praecipio Consulting love saving our clients money by mitigating wasted time and helping them do work faster. With that in mind, we've compiled our top 4 tips to get faster approvals leveraging DocuSign for Confluence to integrate your mission critical document tools.
1. Maximize Your Macros
Confluence macros add significant value to your document drafting process with their features and functionality. Just select from your macro options and voìla - your desired information appears! By utilizing the out-of-the-box DocuSign for Confluence macros, you can simply drop the macro for your DocuSign tabs (ex. signature, initials, date, title, and more!) into your document right inside of Confluence. Adding this functionality to your document drafting allows you to save time otherwise spent selecting and adding these approval actions outside of Confluence, and also ensures that your document collaborators can see the macros you're adding and where.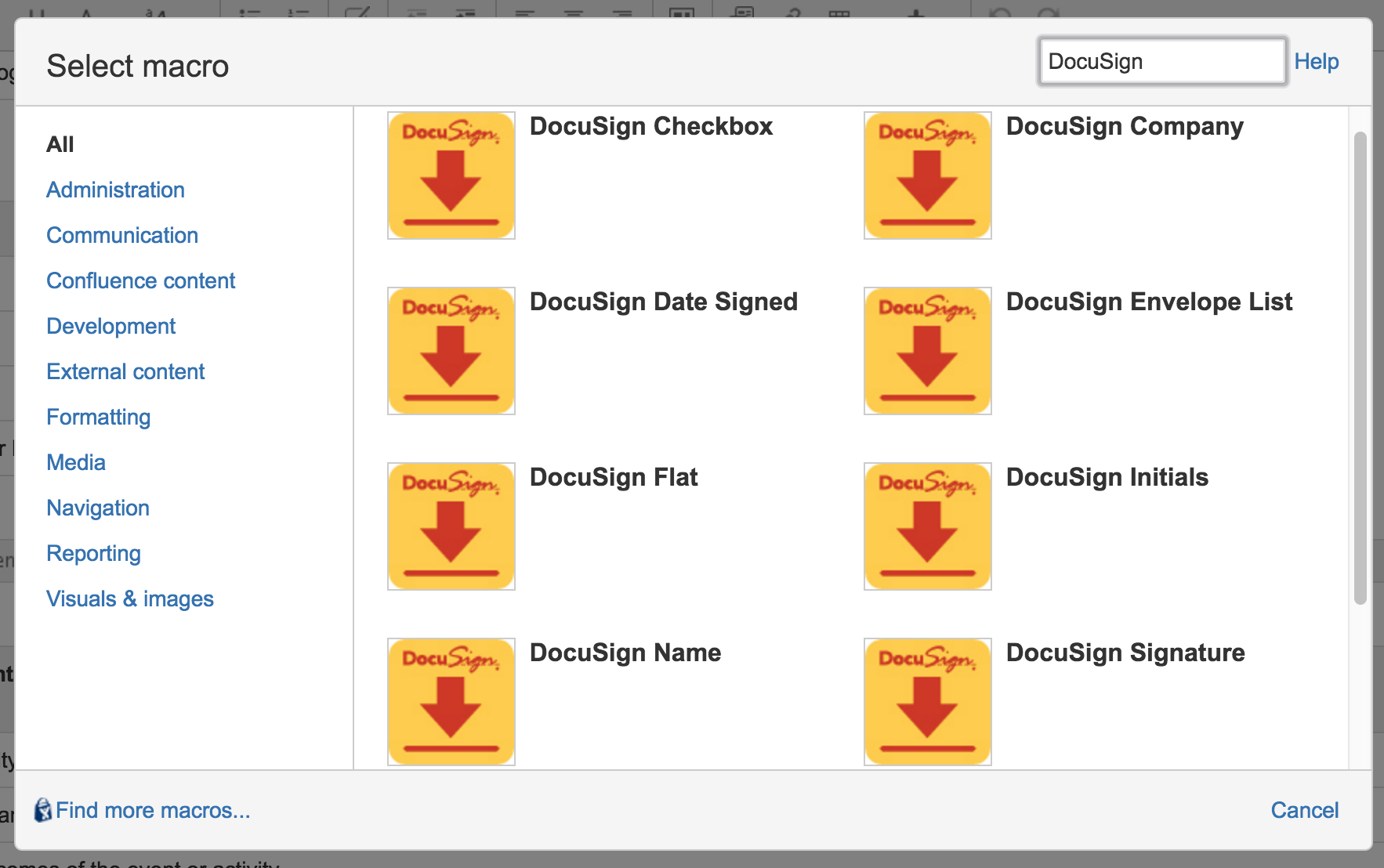 Select from the menu of macros to inform your signee of what do provide.
2. Template-ize It!
Think of the documents you create the most frequently. From sales and marketing to HR and legal, every department has documents that need signatures and approvals on a daily basis (often multiple times a day). Save your team countless hours by creating Confluence templates for these frequently used documents and reduce unnecessarily wasted time. Your Space administrator can add these templates (including the aforementioned DocuSign macros) to your instance, in the spaces you need them, so you can now spin up your next contract with the click of a mouse.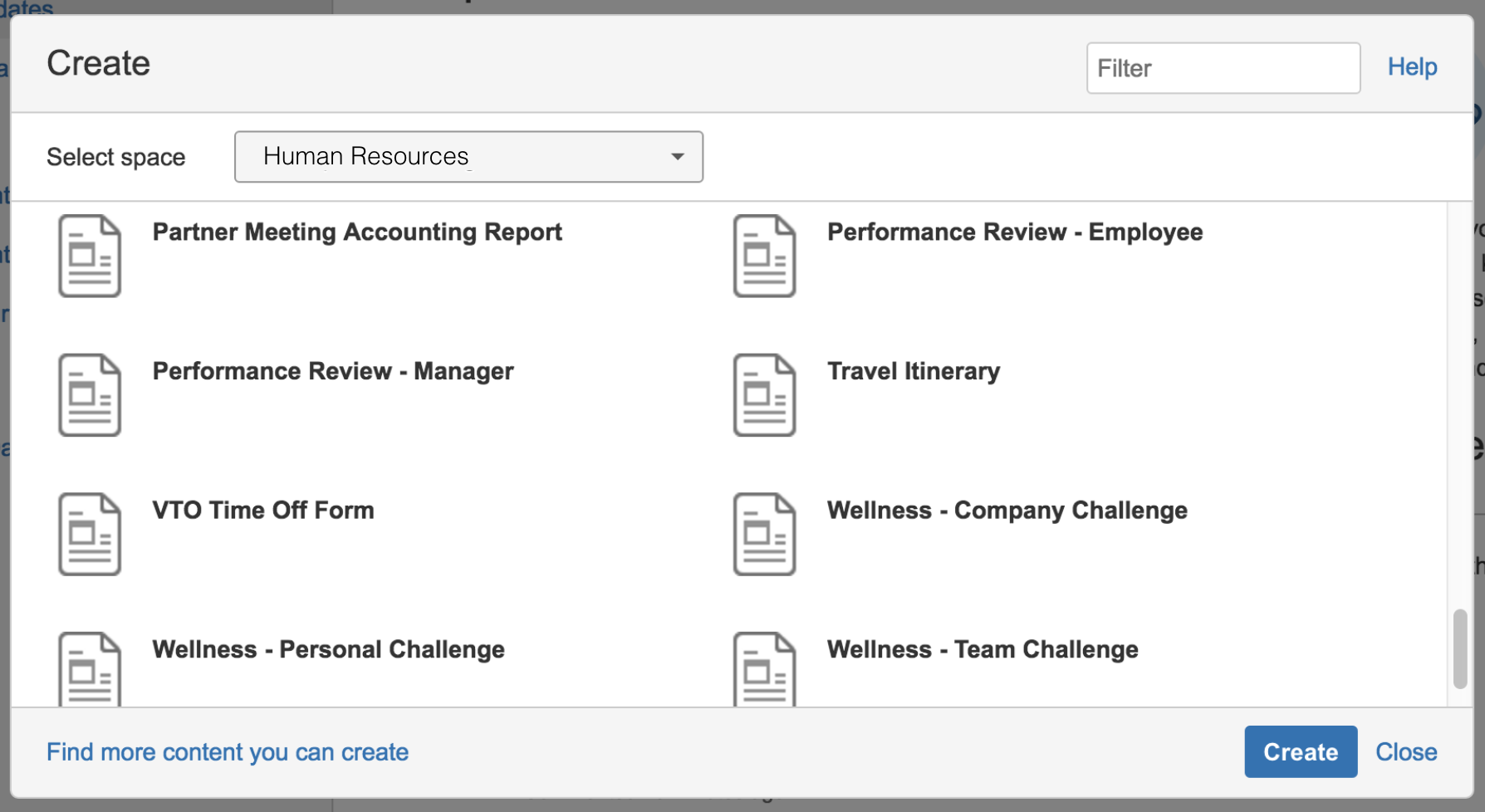 In Confluence, click 'Create' and get prompted with both custom and out-of-the-box templates.
3. Streamline Sending
It's simple logic: the faster you send your document, the faster you can get approvals. However, cumbersome sending processes can keep you from firing off that contract as quickly as you'd like. Leverage DocuSign for Confluence to send documents from Confluence (including all the attachments and pages your heart desires) to not one, not two, but as many recipients as you want! Set action type and order in this same step to determine who needs to sign, who needs to receive a copy, and the sequence in which these actions will occur.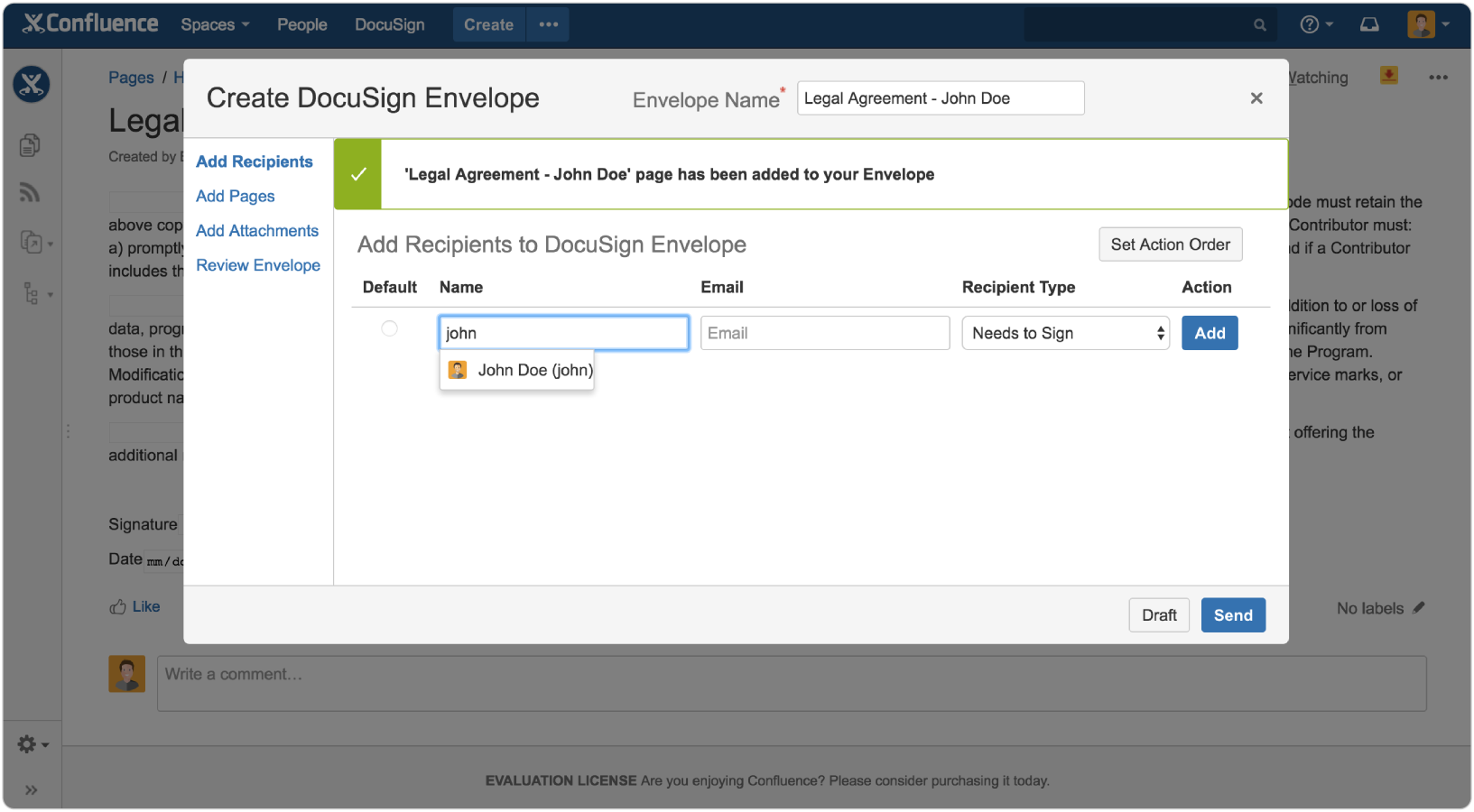 When adding recipients inside your organization, names are pulled from your Confluence user directory so you can send even faster.
4. Track in Real-Time
Being able to see where your document is in the approval process is invaluable when you're waiting for that proverbial ink to dry. DocuSign for Confluence provides real-time status notifications so you can track your documents, from sending to completion. By simply clicking the DocuSign lozenge at the top of your Confluence page, you see what stage your document is in and who has completed what action. Additionally, clicking the status to see approval actions on the document in DocuSign. This level of visibility allows you to see when you're DocuSign envelope has been created, sent, and signed to give you the most accurate document tracking.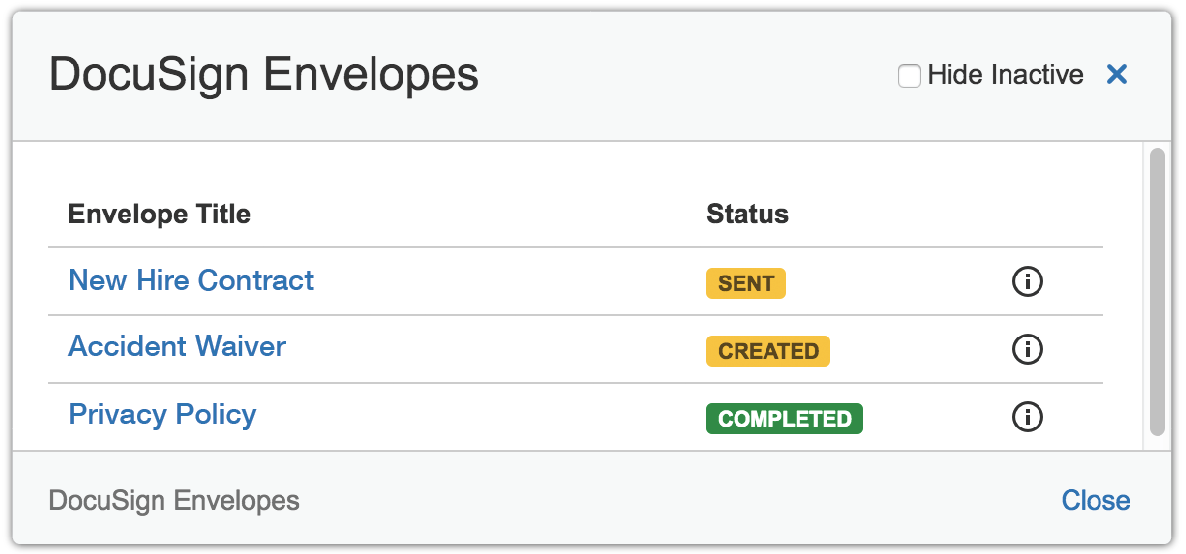 View the status of all your DocuSign Envelopes in one streamlined view.
Improving processes relies heavily on cutting our unnecessary intermediary steps that can become blockers. It's these steps that, unchecked, can cost a company thousands of hours that could otherwise be spent focused on core competencies. As process experts, we recommend to all our clients- from 20 person startups to Fortune 5 enterprises- to ask themselves the following questions regarding their processes:
Can it be repeated?

Can we automate it?

Can we eliminate unnecessary steps?
By optimizing your repeatable e-signature processes with DocuSign for Confluence, your organization not only saves time, but also reduces document processing issues that cut into profit or jeopardize compliance with auditing agencies.
Ready to expedite your e-signatures? Get DocuSign for Confluence and start getting your fastest approvals.