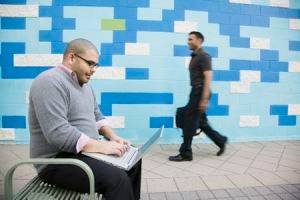 In a business world clouded with buzzwords, it's easy to lose track of the actual meanings of terms relevant to the IT industry.
Take cloud computing, for example – one of the tech industry's biggest buzzwords at present. A number of software vendors have been using the phrase "cloud computing" to market their Software-as-a-Service (SaaS) products. Are the two terms different from one another, or the same? Or is cloud computing truly a meaningless buzzword?
In truth, the two terms are different. SaaS refers to software that's owned, delivered, and managed remotely by a one or more providers. The provider handles all the "heavy-lifting" associated with the service: server maintenance, support, etc. SaaS products are usually out-of-the-box tools that don't require extensive setup. They're accessible by web, and usually paid for on a subscription or pay-per-use basis.
Cloud computing refers to the broader concept of allowing people to access scalable, technology-enabled services via the internet. The term has become virally fashionable in the tech industry – much like the word "organic" in the food industry. Cloud computing – more commonly referred to as "the cloud" – is an on-demand way of providing services. It's usually touted as an intelligent approach to computing in today's fragile economy.
SaaS is essentially a subservice of cloud computing. Not all cloud applications are SaaS applications, but nearly all SaaS applications are in the cloud, which provides the computing power to run those applications. SaaS applications, therefore, are offered on the cloud platform. The folks at Common Craft do a good job explaining these differences in their video "Cloud Computing Plain and Simple."
Cloud computing and SaaS refer to different things. While SaaS refers to out-of-the-box applications offered on the cloud platform, cloud computing refers to the bigger picture of how software can be provided more efficiently through the internet.
That bigger picture includes the transition of the software industry toward a Software-as-a-Service model, where customers make decisions based on the value of the service. Daryl Plummer – Chief Fellow at Gartner, a US-based IT research and advisory firm – said in a 2008 podcast that this economical change in the software market is the power of cloud computing: "The way we actually charge for cloud-based SaaS services won't be based on how many servers we're running, how much maintenance costs we're taking on, or which software products we bought," Plummer said. "It's going to be based on the value of the service to the customer, and when you start getting into that consumer-provider relationship, the customer ends up setting the value."
Two years later, Plummer was right.
Thirsty for more? Contact us here.
Image courtesy of Patrick Lane Photography.