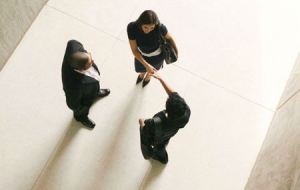 Who ultimately determines the success of a technology consulting project? The consultant? The client's primary contact? The client's employees? One might say the consultant is ultimately responsible for their improvement's success or failure, since he or she designed it. Another could contest this, saying the primary contact is equally responsible since they usually approve or disapprove of the design and ensures the adoption of the technology in their firm. But what about the employees? They're usually the ones using the technology, so don't they determine whether the consulting venture bears fruit for the client?
This illustration proves that all three parties determine the success or failure of a consulting project.
The consultant provides a successful set of solutions, best practices, and frameworks to the firm
The primary contact acts as a liaison between the consultant and the firm
The employees, after training, apply and execute the solution and make it successful
Consulting should involve a positive, collaborative relationship between these three parties. Within this relationship, success is won or lost by how effective and organized the three parties communicate with each other. We believe communication in this context should be clear, concise, and supportive. Since the client's employees are the ones who make our solutions worthwhile to our client, their engagement and well-being are important to us.
Here are some ways we promote effective communication in our service:
Marketing our service or product to our client's employees early
As soon as the consultant and primary contact agree to begin working together, employees should know. Let them know change is coming early so they won't be surprised when it does come—without making any promises you can't keep. Telling employees when and why the change is needed, and how the change will happen early will ideally squash any false rumors and make employees valuable.
It may be useful in this early phase to gather feedback from employees on the desired change, to better engage employees in the consulting process and make them feel like they had a hand in deciding what the solution would look like, since they're the ones who will use it. As consultants, we're pleased when our client's employees are engaged in our process.
We engage our client's employees in our 5-step integrated delivery methodology, guiding our client through the Discovery, Design, Development, Activation, and Transfer of their solution. For example, during the Discovery step, we work with employees to map out our client's business processes. Employees often help us pinpoint process problem areas like bottlenecks, capacity issues, delays, or waste. We then work with employees to create a solid base for developing process solutions. In the Design and Development steps, we work with employees to identify a process' input and output sources (data points), allowing us to tailor our solution to fit our client's processes.
Let employees get their hands on it
This too helps employees engage in the consulting process. Playing with the technology a firm is preparing to implement will help them learn to use it ahead of time, and will theoretically speed up their performance once they officially start using the solution in their business processes.
Spend time educating employees
While the employees can play with the technology ahead of time, they probably won't have the time or ambition to "read the manual." A training session(s) not only teaches employees how to use the technology, but helps reinforce the purpose of the change and answer any questions employees may have about the technology. Ensuring employees know how and why to use new solution to improve business process is essential to its success, no matter the cost of company time.
Celebrate and communicate success before, during, and after the project
A consultancy is a major business venture. A firm hires a consultant to give them a solution that will improve their performance and financial efficiency so much that it will not only offset the cost of the consultancy, but will yield a significant return long-term. Client management and employees each understand the risks and returns involved in such a venture; success is the only outcome that ensures the client's are met by the consultant.
Project ROI's aren't always visible right away. Even if they are, not all employees involved in the consulting process will encounter them. There's usually a lot of sensitivity around consulting projects, since the firm is paying a third party to implement an important solution for them. During and after the project, everyone involved will be carrying around binoculars looking for a sign that validates the money they're spending.
With this in mind, communicating success to everyone involved in the project is essential. The client rightfully wants to know they're getting what they're paying for—something that will make them more efficient and profitable. Success not only boosts morale. It qualifies and legitimizes the project, and solidifies the client's expectation of success.
Pay attention to how employees use the service or product
Remember, a client's employees ultimately determine the success of a consultant's solution. The amount of energy they put into adopting a solution, learning how it works, and integrating it into their daily operations determines whether the solution will improve a client's business processes—and in turn their profitability.
We value our relationships with our clients. Practicing these values ensures our clients' success and ability to accomplish their business goals on the shoulders of their employees.
Thirsty for more? Contact us here.
Image courtesy of Patrick Lane Photography.