Seven weeks ago the world met Stash – a centralized solution to manage Git repositories behind the firewall. Stash 1.0 was a huge launch! Atlassian's been deluged with great feedback and already have small agile teams and large enterprises adopting Stash for their Git development.
Atlassian's just getting started, and today Stash's future begins! Stash 1.1 is here with more features focused on making your behind the firewall Git development simple, secure and fast.
SSH Support
Developed from the ground up with enterprise level security as a #1 priority, Stash now supports SSH in addition to HTTPS. Use standard HTTPS authentication or set up your public keys and connect to Stash via SSH, it's your choice. This resolves Stash's #1 feature request focused on adding security options to support SSH.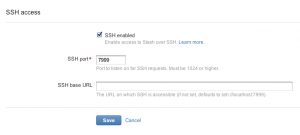 For those of you who chose to go the SSH route there can be some benefits for your team (depending on your setup):
Increased security
Ease of configuring automated systems, such as build and deployment servers (e.g. Bamboo)
Restricted access to pushing and pulling from Stash without compromising passwords
Developers are able to manage their own SSH keys. For those using multiple machines to work with their Git repositories or several automated systems pushing and pulling from Stash they can add as many keys as they see fit. And, have no fear Stash admins, you still have full control over SSH keys with the ability to grant or revoke the SSH keys of any user.


Do you understand your Git error messages? No matter what flavor of authentication you choose, Stash makes sure you know what's going on when things go wrong. Unlike standard Git error messages, which can be confusing and contribute to the steep learning curve, Stash will provide you with user-friendly messages.
Standard Git error message when a repository does not exist
Stash Git error message when a repository does not exist
fatal: https://stash.atlassian.com/scm/STASH/nosuchrepo.git: Repository does not exist
The requested repository does not exist, or you do not have permission to access it.
Fast-er Browsing
Time = money, and who doesn't like to save a few bucks? Stash 1.1 vastly improves productivity by providing a faster experience for you and your team to work with Git repositories. Development delivered fast and efficient!
Diff Power
Atlassian's development teams consist of back-end coders, front-end coders, QA, performance testing, product management and even designers. They're all part of the development process.
The designers on Atlassian's team were looking for a way to utilize Stash to compare images. They posed questions like "Have you ever tried to find the subtle difference between two images? That difference may be small like a text change or as large as a page redesign. In many cases it is not obvious." So, from Atlassian's designers to yours, we introduce the interactive image diff viewer (careful, it's hypnotic!).
Maybe not as exciting, but definitely useful is ediffs. When viewing a diff it can sometimes be difficult to distinguish textual changes. Stash solves this with the addition of ediffs to clearly see what textual changes were added or removed when comparing two revisions.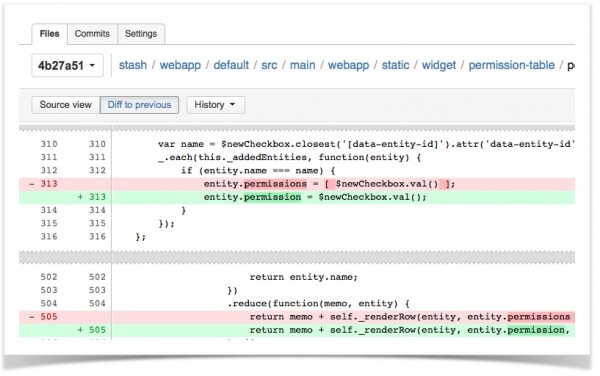 Recent Repositories
There's a new item in the Stash header, Repositories, that shows you the few repositories you usually work with, even though there may be hundreds set up across your company. For those developers who work with several repositories and want to avoid several clicks to get back to those repositories meet Recent Repositories. Quickly navigate to the repositories you recently visited and save a few seconds in your day.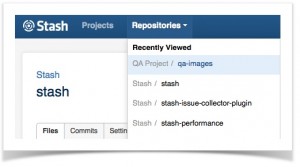 Mouse-less Productivity
Atlassian wanted to make it faster for their development team, and yours, to navigate Stash (Stash was developed with Stash ). When viewing changesets, browsing directories or jumping through your commit list simply press 'J' or 'K' to move from next to previous. Less mouse, more keyboard!
Check out the other time-saving keyboard shortcuts by clicking the image.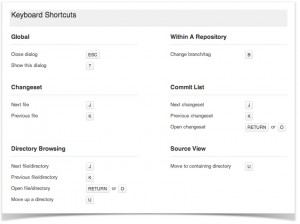 Simple-r Permissions
Git's great, but administering access control to your repositories isn't! For those organizations with complicated user management (especially in a corporate LDAP), Stash simplifies Git administration. Stash keeps you and your developers productive by providing a way to structure your repositories and manage permissions all in a matter of seconds.
Global permissions – delegate administration of projects to developers and provide them the freedom to create and manage repositories; no more requests to IT to create Git repositories.
Projects permissions – use the project structure to grant a simple set of project permissions to users and groups to control access to repositories; you can have confidence that the right developers have access permissions to a project.
The new permission screens provide an at-a-glance overview of who has access to your projects and makes managing permissions even faster. Without further ado – the new permissions screen…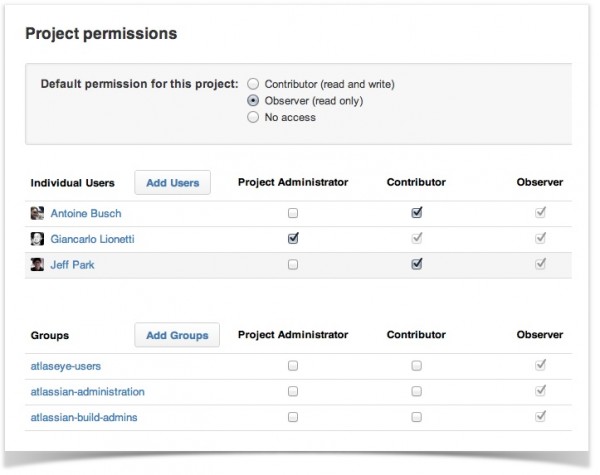 Meet Stash 1.1 – 25% off for 12 more days
If you haven't met Stash yet, now is the time. Be one of the early adopters of Stash and take advantage of the introduction offer of 25% off for new Stash licenses. This long-standing offer will expire in just 12 days (June 30, 2012).
Stash – Git Repository Management for Enterprise Team. Git going!
Questions & Feedback
Have questions or feedback about Stash? Drop us a line or log feedback on Atlassian's public Jira issue tracker.