As Abraham Lincoln famously said, "You can't trust everything you read on the internet." Those familiar with this anachronistic meme appreciate the sentiment behind it, as does anyone who has ever reported erroneous facts found while combing the interwebs. In today's fast paced world, you need reliable answers to your questions on demand.
Confluence Questions delivers search engine capability and collaborative communication across organizations that allows your entire team to demonstrate their expertise. Whether you want to know how to insert a macro into a template or where to get a speedy oil change during lunch, your queries are answered in real-time with the same collaboration and transparency you know and love from Confluence. Confluence Questions allows you to connect with experts in your organization by posting questions and up-voting the best answers for quick search-ability.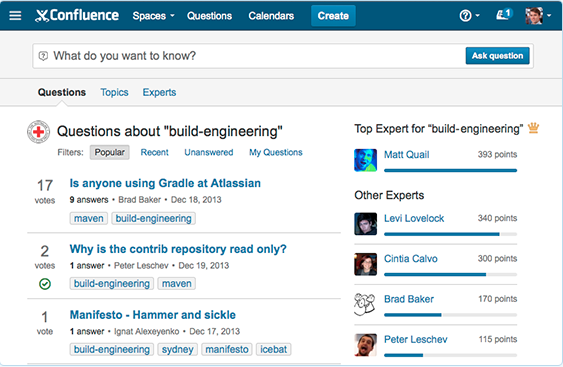 LEARN MORE
Leverages your company's brain trust to provide the best answers, easily located, through the collaborative ability of Confluence. At Praecipio Consulting, our team are Atlassian Experts- when bringing clients best in breed practices and in competition. In conjunction with the release of Confluence Questions, Atlassian hosted Tour de Confluence Questions, an international competition to find the top exerts in the world- of which our own Charles Wells is among the top ranked! Interested in learning more about how to leverage Confluence Questions to find experts in your organization? Check out Charles in Praecipio Consulting's webinar, The Experts Among Us: Finding Expertise via Confluence Questions.