[important note, as of 4 Sept 2010: Google Wave will not be available as an end-user application after 31 December 2010.]
People have the tendency to judge a software by its user interface (UI).
Think about it. Most users probably don't care about your network protocols or what your server topology is. Those users will, however, think it's awesome to drag and drop documents and pictures from location to location. Most folks are used to this since most of them interact with Facebook, Twitter, and all the like. They'll probably think it's cool.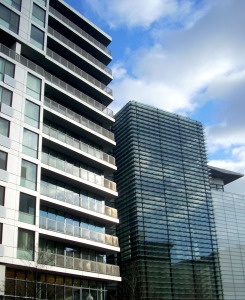 Since we use SharePoint to execute most of our services, it has been brought to our attention many times that the current version of SharePoint lags heavily in UI from this perspective, unless you do a load of custom development work for the sole purpose of aesthetic improvement. SharePoint 2010 is promising a well-crafted UI improvement, in addition to a handful of Outlook revisions– but for now, SharePoint users may still gripe about the lack of 2.0 usability. They may venture to ask "how will SharePoint fare once Google Wave is released?"
Google Wave is not a competitor of SharePoint. It is not comparable to enterprise collaboration software. Wave will, as an open source development platform, bring great innovations that may be integrated into the SharePoint– but doesn't have the scope of capabilities (process automation, workflow execution, data repository) SharePoint has to improve enterprise collaboration. Perhaps the employees griping about SharePoint's "Windows 98-like interface" need to learn a bit more about what their software actually does.
If Wave should be compared to anything, it should be compared to Microsoft Outlook. It's a collaborative space to exchange messages and files, and functions chiefly as an evolution of what we know as email.
Some of Wave's key promises:
Open source: Wave code will be open source, to, in Google's words, "foster innovation and adoption amongst developers."
Wiki functionality: Anything written in a wave can be edited by an authorized person. You can correct information or add your own commentary within a developing conversation.
"Embeddability:" Waves can be embedded into any blog or website.
Applications and Extensions: Just like a Facebook application, developers can build their own apps within "waves."
"On-the-fly" translation: Google Wave can translate sentences into other languages as you type them. It can also correct your spelling as you write.
Drag-and-drop file sharing: No attachments; just drag your file and drop it inside Google Wave and everyone will have access.
Wave's integration of feeds and UI capabilities are without a doubt impressive. Their innovative HTML 5 capabilities may very well be integrated into software like SharePoint down the road. But the purpose of Wave is not to compete in the enterprise collaboration market. Their purpose is to revolutionize the way people collaborate online through real-time, open-source technology.
But what about Basecamp? It's an undeniably effective project management tool that we endorse for pure project management purposes. But how does it fare against Wave and SharePoint?
It doesn't. At least not in the way most think it does. All three of these tools can facilitate project management. All three, however, are ultimately very different.
Basecamp is a superb project management tool if you're looking for an easy-to-use tool that integrates well with social networking and mobile phones, offers online storage of documents for collaboration, and connects those working on a project in an organized way. These capabilities are remarkably value for project efficiency; Basecamp's built a great tool. If you're looking for anything outside of these capabilities, though, you're looking in the wrong place.
Wave, as we've said, is an evolution of email. It's open-source nature and real-time abilities offer superb capabilities that can be used inside Wave or dropped into other sites. Wave isn't as project management-focused as Basecamp, however, and doesn't compare to SharePoint either.
SharePoint, borrowing Microsoft's words, "helps improve organizational effectiveness by providing comprehensive content management and enterprise search, accelerating shared business processes, and facilitating information-sharing across boundaries for better business insight." SharePoint is a content management server that allows for the custom development of workflows for process automation. It's an enterprise collaboration and IT platform. It's not Basecamp or Google Wave.
So: Wave, Basecamp, or SharePoint? Our answer is… yes.
Thirsty for more? Contact us here.
Photo by Brian Nunnery, Praecipio Consulting.