As we mentioned in SharePoint in Safari Mobile, we neglected to review SharePlus – another popular SharePoint for iPhone (and in this case, iPad) app. SharePlus takes the cake from the four apps we reviewed in Comparing SharePoint iPhone Apps.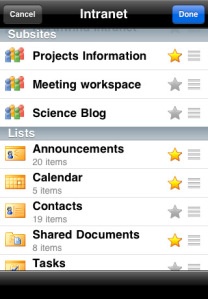 SharePlus, by SouthLabs, $14.99
SharePlus offers a more extensive user capabilities, as you see below.
SharePoint 2007: YES
SharePoint 2010: YES
SSL: YES
Search capability: YES
View list and document libraries: YES
Add list items: YES
Edit list items: YES
View documents: YES
Edit documents: YES (via Documents To Go)
Upload documents: YES
Email documents: YES
A key advantage SharePlus has over other apps is its ability to add pages as "Favorites." All of the apps we've reviewed, including SharePlus, organize a SharePoint site's lists, libraries, etc into one alphabetical list – very counter-intuitive in comparison to how you're used to navigating SharePoint from a browser. With Favorites, however, you can at least choose which lists and libraries you access most frequently to prevent having to scroll through a huge list. Then, when you open the app, simply click on the Favorites page to have your frequented pages ready to go.
Other perks include an email and refresh button on every page, so you don't have to restart the app to speed things up. Page load times are decent in areas with good cell or wireless coverage, depending on the size of your site. Be aware ahead of time that the initial loading of your site to the app will take a few minutes.
The $14.99 price is by far more than any of the apps we've reviewed. We see both sides of the coin here. The ability to edit documents, email documents, cut down on search time with Favorites, and operate via iPad are legitimate advantages. But you'll have to weigh the cost of those extra capabilities against the basic functionality of other apps.
Our take: if you need to edit and send documents frequently from your mobile phone, SharePlus is worth your investment. If you hardly use that functionality and just need to view documents on-the-go, you may need to consider your decision more thoroughly.