With 2020 just weeks away, expectations are high. It's the beginning of a new decade, with many foreseeing it to be a monumental year. Japan is expected to build a robotic moon base, the U.S. military pledged to get half of its energy from renewable resources, and Costa Rica will near the finish line of becoming a carbon-neutral country.
2020 also marks the 50th Anniversary for Earth Day, a global initiative commemorated on April 22 that seeks to bring awareness to issues surrounding the environment and to encourage citizens of the globe to take action towards protecting our planet. According to EarthDay.org, Earth Day is the world's largest environmental movement, and there are hopes that "Earth Day 2020 can be a catalyst that galvanizes an unparalleled global collaboration."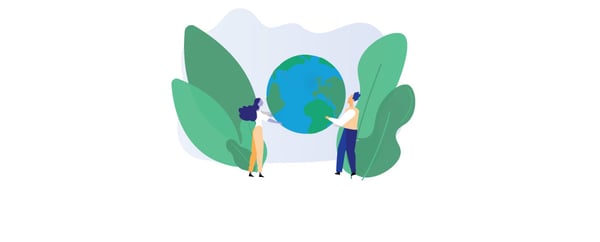 Another important milestone happening next year: Praecipio Consulting pledged to be a carbon neutral business by the end of 2020. This commitment is part of Praecipio Consulting's Global Climate Response Plan, our initiative to make a positive impact in the world by supporting charitable organizations and by reducing our carbon footprint through our commitment to cut back on company travel by 25%, expanding our work-from-home policy, our involvement with Pledge 1%, and by working with local organizations, such as Tree Folks.
And we're not stopping there. Our CTO, Christopher Pepe, is passionate about raising awareness for a movement called Green Up Day, a statewide initiative in Vermont that invites volunteers to clean up roadside trash on the first Saturday of May each year. Pepe has been involved with Green Up Day his entire life, and after recently learning that it's not celebrated everywhere, he said: "I am committed to changing this. Green Up Day is a tradition that builds pride in our communities and promotes the natural beauty of the places we live."
Each year, Praecipio Consulting joins more than one billion people in 192 countries to stand united in an effort to mobilize change for our planet and our future. With Earth Day's 50th Anniversary approaching in April, we are more motivated than ever to achieve our goal of becoming a carbon neutral business. Stay tuned to our blog and social channels to see how we will get ready for Earth Day, and in the meantime, we encourage you to make donations to Tree Folks, a local organization that is near and dear to us.