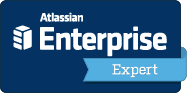 Along with Atlassian's new offering of Enterprise level Jira and Confluence comes the Atlassian Enterprise Expert Certification. It's designed to help Enterprise level clients find Atlassian Experts best suited to provide solutions to enterprise level problems. It's hard to believe that it has been 6 years since our first enterprise deployment, and we are honored to announce that we are officially, Atlassian Enterprise Expert Certified!
As an Atlassian Enterprise Expert, we have expert-level knowledge and success in the following:
Configuration, analysis, development, and integration of large scale Atlassian installations
Diverse product experience with the entire Atlassian product suite
Hybrid tool chain experience with both Atlassian and non-Atlassian tools and their integration
Git, Mercurial and Subversion
Over the last 6 years, Praecipio Consulting has provided Expert Services to small, 5 person companies to large fortune 100 and 500 companies across several industries including the automotive, pharmaceutical, aerospace engineering, retail, gaming, and financial sectors.