Last year, companies spent a third of their budget on IT assets and related costs. Each piece of hardware and software equates to dollars, time, and resources. This can become costly when not well managed. Much like keeping a maintenance log for a vehicle, thorough documentation from purchase to hand-off is required for every asset in your organization. Technology is central to your organization's operations and if not well managed it becomes a source of profit loss, unnecessary expenditure and endless frustration. Leveraging Jira, Atlassian's product and issue tracking software, you gain the documentation and visibility you need for best practices in ITAM (information technology asset management).
A large portion of ITAM involves tracking your assets from purchase to re-distribution. It is paramount to keep documentation of the details of your asset, as doing so facilitates informed decisions around your IT needs. There are multiple data points to collect with each new asset addition in order to implement best ITAM practices. Begin by gathering the following information:
Where is the asset being deployed?
How is the asset configured?
Who is using the asset?
Does the asset have a warranty?
What are the asset's requirements?
What are the asset's supporting applications?
What is the asset's maintenance history (if not new)?
Once these data points are determined, simply create a ticket in Jira including all information and attach documentation you have for the asset. Depending on the workflow of your organization, you may consider utilizing an automated asset inventory discovery tool to trigger Jira to fill in the details of the asset. This mitigates errors made when entering the information manually and ensures that, even if an asset is not spotted by a team member for logging, Jira will still capture it. Again, the more thorough your documentation, the more story points you have for your best ITAM. After creating a ticket for the asset in Jira, you immediately begin increasing your ROI with every action in the asset's lifecycle.
Tickets for Total Traceability
With Jira's customizable issue types, workflows, and schemes, each asset is managed with fine granularity to ensure that at each phase of it's life cycle, informed and accurate decisions can be made regarding maintenance and overall value versus cost.
Issue Types and Components- What kind of asset is it?
Create issue types to manage the lifecycle of a set of assets and components in your Jira Project to reflect the exact type of asset you're documenting. From hardware, software, and servers down to keyboards and mice, organize your assets according to type for at-a-glance reporting on asset lifecycle.
System Fields- Who is responsible for the asset?
In addition to the ability to document what kind of asset you're managing with custom issue types, you can also add to the system fields:
Summary- What is the asset name (ex. 22" Monitor)?
Assignee- Who is responsible for the asset? (This is typically the end-user, but will change throughout the asset lifecycle as maintenance is performed, the asset is re-distributed, etc.)
Reporter- Who is the asset manager (from procurement to end-user delivery)?
Labels- Describe assets (ex. brand name, asset type, new or used, etc.)
Custom Fields
Jira allows the creation of custom fields to capture the most pertinent information related to your assets. As seen in the screenshot to the right, you can track multiple variables associated with the asset, including CPU model, RAM speed and warranty period. Using query filters in Jira, you can easily search assets according to date acquired, current value and other data collected in the asset ticket.
Security Schemes
Certain asset information needs to remain private. By leveraging Jira's security schemes, you can determine who can view and edit issue tickets for ultimate security. Schemes can be changed at any time so administrators can set security according to specific asset managers and team leads.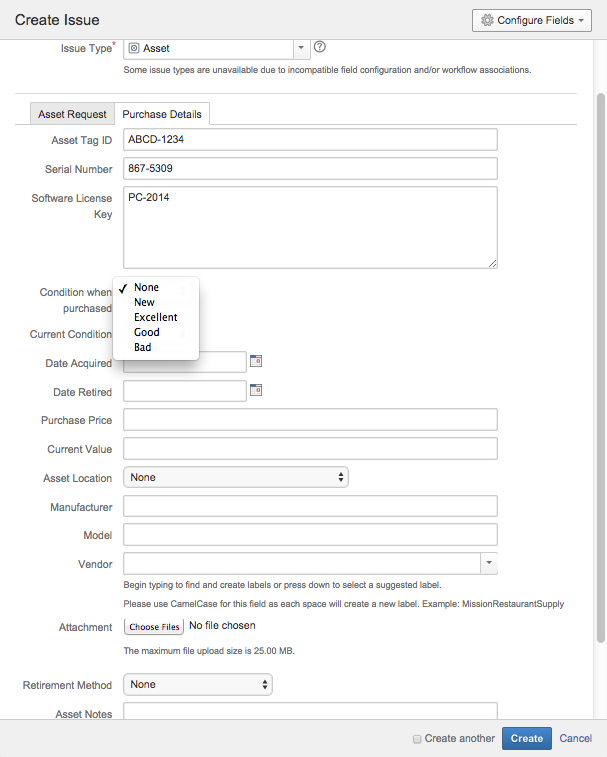 Maximizing Your ROI
One of the biggest points of superfluous expenditure for companies is unnecessary costs associated with misappropriated or untracked assets. Caused by incomplete documentation, assets are needlessly purchased while others devalue as they sit unused and unmaintained. Consequences of poor asset management can be as steep as fees for violating licensing terms, which are critical for documentation and active tracking. According to a 2013 survey by KPMG, 86% of those polled were found to have inadequate and incomplete documentation on their assets, preventing them from achieving maximum ROI. Documentation on your assets informs your organization's decisions on budget forecasting and IT strategic planning. With Jira, you have a method of easily accessible, customizable reporting to make the best call.
Jira helps eliminate these oversights and redundancies with custom workflows to ensure your assets are always accounted for. By using the Assignee field, a member of your organization becomes responsible for the asset during that phase of its lifecycle. Beginning with the person who procures the asset, to all the team members who will interact with it- from the end-user to the IT manager to Finance- your assets are always traceable through Jira. With Jira custom workflows, you can determine the specific lifecycle of your asset, setting a standardized sequence of action types your asset moves through.
Best Practices in ITAM
Avoid spending more than your asset is worth on costly, unnecessary expenditures related to poor ITAM. With Jira, you gain a robust, highly functional tool to track all your assets with maximum traceability. Leveraging best practices in ITAM with the powerful Atlassian products, you benefit from:
Avoiding unnecessary maintenance costs
Knowledge of your assets when working with vendors
Preventing costly compliance penalties
Strong cross-team communication at all stages of your asset lifecycle
Enhanced tracking of asset activity with assigned users and reporters
At-a-glance reporting for informed decision-making for stakeholders
Thorough documentation for

Audits
Re-Distribution
Budget Forecasting
IT Strategic Planning Decisions
85 Fortune 500 companies worldwide, including Pfizer and Boeing and Cisco use Jira for their high-level enterprise asset management needs. With Jira, you gain robust functionality, ultimate transparency across teams, and efficient reporting. A scalable software that grows with your organization, Jira provides a powerful asset management tool that gets you the highest return on your investment. More than just a tool for development teams, Jira offers asset management capabilities to streamline your business practices and lower your cost of ownership. Accounting for each asset in your organization, Jira allows you to track the life of your technology to ensure their value is retained and no unnecessary costs are added. Learn more about how Jira can increase your ROI and bring best ITAM practices to your organization by contacting Praecipio Consulting.