2011 was an epic year for the Jira Family including two massive releases, the launch of a new product – Atlassian Bonfire – and the introduction of Atlassian OnDemand just to name a few things. Atlassian's Ken Olofsen had a tough time whittling this list down to just 11 things, but "did his best" to use a "traditional 4-4-2 formation" (see primer on jersey number relevance) to highlight his "Jira Best XI" for 2011. So, here's Ken:
The Keeper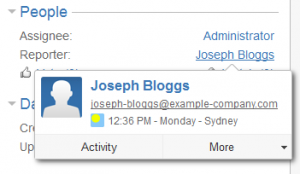 For anyone who's played the game, you'll know that goalkeepers are a special breed and sometimes a bit looney – no offense to Michael Knighten or any other 'keeps out there.
Keepers are typically the older veteran who is wildly popular with both the team and the fans, and for our team this is no exception:
No. 1 – User Timezones
JRA-9 was not only the oldest, but also the most voted feature (454 votes), we added to Jira in 2011. And we didn't just add timezones support, we took timezones to the next level by making it clear for distributed teams to see when other teammates are either sleeping or on the job.
The Defense
A solid foundation is the key for any winning team, so it was important for the Jira team to bolster the back line and build a platform for success:
No. 3 – New Installers / Upgraders
At the heart of the back four we have the new installers for Windows and Linux. Not only did we add simple way for administrators to setup and configure Jira, we inculded an unattended installer and automated upgrader for pain-free Jira deployments going forward. On top of that, we even provided a self-updating plugin manager, database config tools and enhanced importers.
No. 5 – Application Links
The other anchor in defense, Application Links are the glue holding all your Atlassian tools together providing aggregated activity streams and key integration capabilities.
For example, connecting Jira to Confluence allows quick issue creation and linking of Jira issues from Confluence. In fact, with the recent release of Confluence 4.1 Jira issue links will instantly autoconvert in the Confluence editor:
No. 2 – Admin Overhaul
In addition to adding LDAP & Active Directory support, centralized user management, and a new visual workflow designer; we revamped the Jira Administration interface to make it easier than ever to manager your instance. A new project-centric administration screen makes it simple to see how each project is setup, so you can make changes quickly.
No. 4 – Jira on the Bookshelves
Four new books hit the shelves this year providing an excellent array of resources for Jira admins and plugin developers:
The Midfield
As the engine room of the team, the midfield is where the heavy lifting happens. We added a number of key features and enhancements to make Jira even more powerful than ever.
No. 6 – Visual Workflow Designer
Jira's versatility is rooted in it's powerful workflow. That's why I was personally very excited to see the acquisition and integration of the Visual Workflow Designer making it easier than every to create and modify workflows on the fly: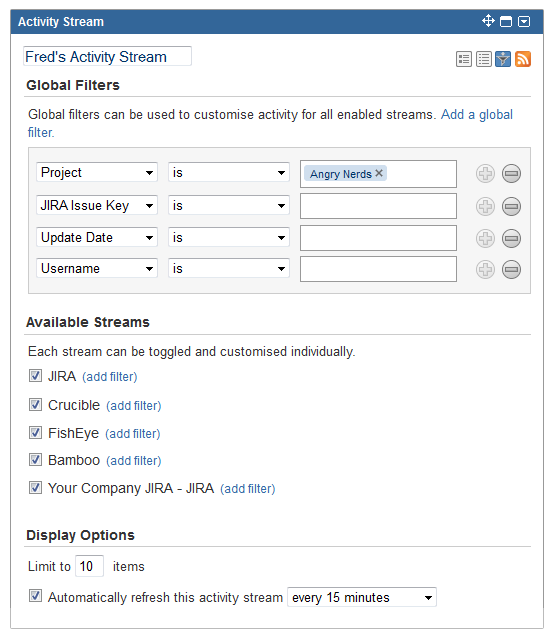 No. 7 – Activity Streams
No one can quite "bend it like Beckham", but Jira Activity Streams are incredibly flexible and configurable.
Each team member can dial in their personal activity streams to keep tabs on the specific systems, people and activities that are important to them. They can also vote, watch and comment directly from their dashboard, or drop custom streams into their favorite RSS reader.
No. 8 – JQL Search Change History
Jira Query Language set the gold standard for advance search within issue trackers. In 2011, JQL blossomed into the prototypical "two-way player" by adding historical search capabilities. Use the "WAS" operator on everything from status to assignee and uncover changes made "BY" certain people anytime in the past. Great for building killer dashboards, ad hoc reporting or just sleuthing around Jira.
No. 10 – Issue Creators
The spark at the center of midfield is the "creator" who gets it all going. Jira has no shortage of ways to create issues – the web, your browser, your IDE, email, remote APIs, applications like Confluence, and more. In 2011, we introduced Jira Mobile Connect for collecting user feedback and crash reports from your mobile apps and the Jira Issue Collector for creating issues from your website:
And just wait, 2012 promises even more!
The Forwards
Leading the attack, the forward line is always part of the action and usually the ones making the real difference. In our team, the strikers come from our popular add-ons, GreenHopper and Bonfire:
No. 11 – Rapid Board
After spending a few months in the "GreenHopper Labs", we finally unveiled the Rapid Board. Based completely on JQL, Rapid Views introduce a new way for agile teams to view issues in Jira and work through their daily tasks.
No. 9 – Session-Based Testing
Atlassian Bonfire is the newest member of the team and is already blazing a trail for exploratory testing. We all rely heavily on automated testing, but with the growing emphasis on usability and user experience, many software teams are spending more time manually testing applications.
Bonfire's session-based testing evolved out of our own need for better tool for managing our agile testing efforts.
Off the bench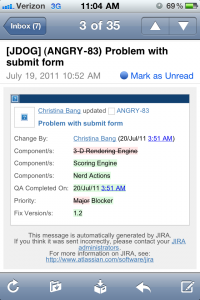 Every strong team needs the support of a deep bench, and ours knows no limits:
No. 12 – The Jira Ecosystem
This year the Jira ecosystem exploded, bringing the list of Jira add-ons – plugins, applications and integrations – to over 400!
No. 14 – Slick New Emails
Email notifications got a nice refresher ensuring we find out exactly what happens, as it happens, on any device.
2012 and beyond
The Jira team has been working very hard to make all of our customers, new and old, as happy and successful as possible. And with Jira 5 on the horizon, 2012 promises to be even more exciting for the Jira Family.
On behalf of the entire Jira Team, I'd like to thank you for being part of our success. Happy New Year!!

PS. Don't forget to check out the Confluence Starting XI for 2011. While no match for this Jira team, it's quite impressive as well..