Jira 5 is a brilliant platform for collaboration, connecting the people, activity and applications you work with every day.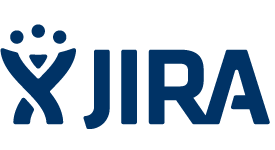 Software development involves your entire organization, and good software becomes great when you bring everyone into your development process. Atlassian Jira 5′s here, connecting the dots between the development process and the rest of your business.
Your Platform for Collaboration
Software's the center of much of our world today: it's in your car, on the phone in your pocket, and it shapes how you work with teams, projects, and organizations.
Jira sits at the center of your software development, from initial feature planning and assigning work, to tracking development work and testing, to managing project status and the final release. Jira 5 takes collaboration to new levels by connecting people, activity, and applications around software development.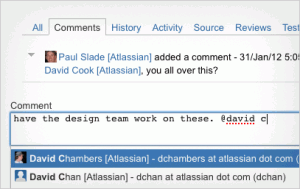 People & Teams
Jira 5 has two powerful new ways to bring people into the conversation: '@mentions' and sharing.
While Jira's email notifications are great for keeping everyone up-to-date with the issues they're working on, sometimes you need to bring others into the conversation who might not be actively participating in an issue already.
With Jira 5, simply @mention any user in a comment or description and they'll receive an email indicating they have been mentioned. Autocomplete lets you select usernames on the fly and Jira makes it easy to track who is involved in the comment stream.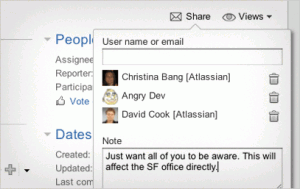 The Share button lets you quickly send out a broadcast-style 'FYI' to people and teams you are working with.
Similar to sharing in Confluence 4, you can now share issues and saved searches by simply adding a user's name or email address and typing a quick note with some details.
Activity & Applications
With new improvements to activity streams and issue linking, Jira 5 is the central place to stay up-to-date with what's happening on your projects.
Remote issue links allow you to connect Jira issues to any website URL or application. This is great for connecting Jira issues to pages in Confluence or issues in other instances of Jira. External applications can also link to Jira issues directly to any Jira issue using the new Jira REST API.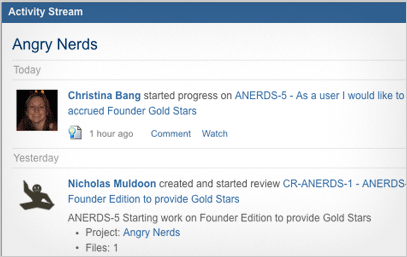 Activity streams now show remote activity as well. In addition to real-time updates from Jira, all other Atlassian products connected via Application Links will automatically show up in your feeds. This includes changes to Confluence pages, Bamboo build status, and source activity from FishEye, and more.
Remote applications and plugins can also add events their own to Jira activity streams.
Connecting the Dots
Atlassian tools aren't the only applications you use alongside Jira… so Atlassian's excited to share some killer integrations to connect the tools and teams you work with every day. Here are a few examples of how development teams are connecting with the teams around them.
Development to QA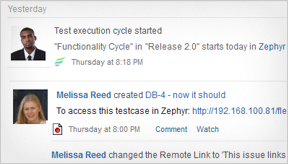 QA teams spend their time writing tests, planning execution cycles, running manual tests, kicking off automation scripts, and providing status updates in a test management tool like Zephyr. Developers spend time in Jira, managing and tracking their own daily work, or planning work with their team.
Jira 5 Activity Streams bridge the gap between tools like these, providing real-time updates between Zephyr and Jira whenever major activity happens, such as:
beginning testing on a particular project or version/sprint/iteration
a particular test execution cycle starting
a brand new bug being filed or modified
Developers and anyone working in Jira get a running feed on testing activities in Zephyr, as they occur, without having to reach out to those team members to chase up status updates.
Development to Product Management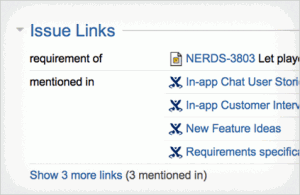 Confluence is a great tool for product managers to work on unstructured content, like requirements or specification docs. These are often directly related to one or more issues in Jira.
With Jira 5, it is easy to create a two-way link between Jira issues and Confluence pages. Simply paste the URL to an issue into any Confluence page and the Jira issue will automatically be updated with a link that page.
Development to Customer Support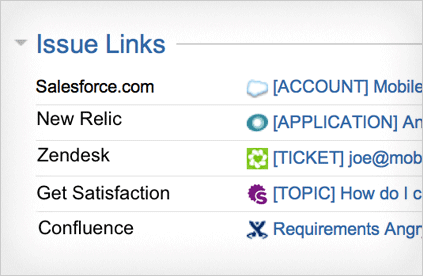 It doesn't stop with Confluence. Remote issue links in Jira 5 connects Jira issues to other items the teams you work with use:
a document in Box
a customer record from Salesforce
a support ticket in Zendesk
a discussion topic from Get Satisfaction
and more..
Your Platform for Integration
Jira 5 makes it easier for everyone to consume and develop plugins with two huge announcements around APIs: a stable Java API and a brand new REST API.
The stable Java API means every Jira customer can rest assured that all Jira 5.0 compatible plugins will be forwards compatible with Jira 5.x releases. Atlassian wants the best possible experience for all Jira users, so Atlassian is committed to investing in this set of stable APIs to support developers integrating with our tools. You won't need to wait on a plugin when the next Jira 5.x release comes out – you can upgrade right away, knowing all plugins built using this new stable API will be forwards compatible!
The Jira 5 REST API gives you a new way to work with issues remotely – including the ability to search, create and link issues, and add remote events into the Jira activity stream.
Get Connected with Jira 5
Jira 5 integrates with the tools developers and other teams use to help software development stay connected to the rest of the organization. Sharing and mentions make it easy to bring others into the conversation. Remote issue links keep dynamic, relevant information in a central place. Activity streams keep you updated on what's happening in and outside of Jira in real-time.
Jira 5 is the center of software development, connecting people, activity and applications you work with every day, helping you make great software.