So, what's new in Bamboo 3.1? Check it out this update from Atlassian:
1. Tasks replace Builders
We've replaced Builders with a more flexible and extensible concept called Tasks. Multiple Tasks can run inside the same Job sequentially with access to the same build directory. Previously, a Job was limited to one Builder – Ant, Maven, MSBuild etc. For anything more than just running a Maven Goal or executing an Ant Target, you were stuck with creating a script that performs a number of actions…until Tasks.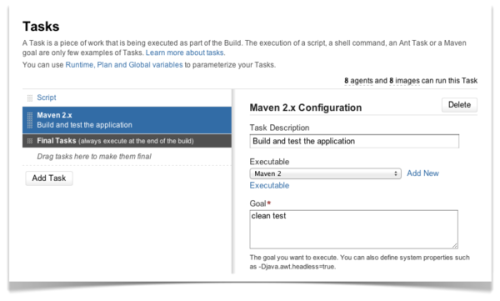 Package up your software and upload it to your website, continuously deploy new version on a QA server or even into a production environment. What you do with Tasks is completely up to you because Tasks are implemented as Plugins (and easy to write). Discover available Tasks and install them in your instance of Bamboo on the Atlassian Plugin Exchange.
All existing Builders have been converted to Tasks and tested (we recommend that you upgrade any custom Builders you may have).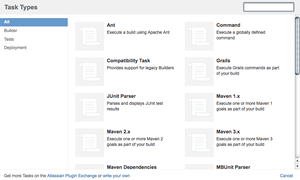 2. Plan Variables and Parameterized Builds
You've always been able to specify global variables for use in your build configuration. However, all Plans shared these variables and only Administrators were able to create them, making it hard for individual projects to truly utilise this feature. To help maintain your builds with ease we've introduced Plan Variables. You can now specify variables that can be used in your build scripts and Tasks across Jobs in a single Plan.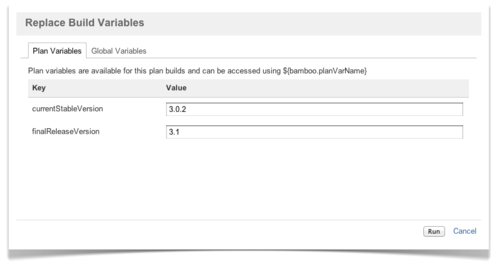 Taking this a step further, we realized that during the development process there are times when you may want to run a build with customized parameters. These "special builds" can play an important part in the release and deployment process. Bamboo 3.1 allows you to parameterize your build when you manually trigger it and overwrite any Plan or Global variables that you've used in your build configuration.
3. .NET Support
With the re-work of Builders into Tasks we had the opportunity to improve upon Bamboo's .Net Support, and we took it. We thank you for your feedback which helped us implement the following new features:
:: Visual Studio – Build Visual Studio projects devenv.exe.
:: Supports different architectures – x86, AMD64, IA32, IA64
:: MSBuild – Run MSBuild as part of your build
:: NAnt – Execute NAnt targets to build your project
:: MSTest Parser – Parses and displays MSTest test results
:: MBUnit Parser – Parses and displays MBUnit test results
:: NUnit Parser – Parses and displays NUnit test results
We'd love to know what you think about these new features and please tell us if there are any other improvements or .Net features you need.
4. Improved Bitbucket and GitHub Support
Bamboo 3.1 improves on the integration with Bitbucket and GitHub. When configuring your Bitbucket or GitHub repo simply enter your username and password and Bamboo will load the available repositories in a convenient dropdown from Bitbucket or GitHub.
5. Universal Plugin Manager (UPM)
Managing plugins and performing Bamboo upgrades are now much easier. The Universal Plugin Manager (UPM), already bundled with Jira and Confluence, is now bundled with Bamboo. The UPM allows you to:
:: Perform a plugin compatibility check before upgrading Bamboo.
:: Install new plugins from the Atlassian Plugin Exchange – like Community Tasks.
:: Manage existing plugins.
:: With just one click, upgrade all plugins that have updates available.
:: View and track updates via the audit log.