October 12, 2017
This is a guest blog written on behalf of Jack Harding, IT Consultant at Praecipio Consulting and Larry Brock, IT Chief of Staff at Samsung Austin R&D Center and Austin AUG Leader. Based on their presentation "The Power of Process: How Samsung Implemented ITIL" at Summit San Jose 2017.
---
The IT team at Samsung's Austin R&D Center had the talent to be successful. Yet, there were bottlenecks getting in the way of their efficiency and productivity. Poor communication, lack of visibility, bad process, and unorganized tools were hampering their ability to support the rest of the organization and realize their full potential. Sound familiar?

As an IT organization within a very successful processor design business unit, they realized they needed to do better or they could potentially cost their business unit speed and design quality – the things their reputation was built upon.
Samsung's Austin R&D Center, with the help of Praecipio Consulting, decided to go lean and set up a simple ITIL® implementation of Jira Service Desk for Incident, Problem, and Change Management processes. Over the course of only 3 weeks, they were able to mitigate those pitfalls and ultimately increase productivity across their IT organization.
What exactly is ITIL and how should my team use it?
ITIL® (Information Technology Infrastructure Library) is the most widely-used IT service management framework in the world. It's essential for organizations to align the assets and functions of IT to the overall business. As the de-facto standard for ITSM, ITIL places your organization on the path to deliver the best, customer-centric service management.
The ITIL framework has been developed over the course of 25+ years and the entire library consists of numerous volumes containing thousands of pages of prescriptive process definition. While there is much to be gained from the specification as a whole, sometimes a lighter touch is needed – maybe even necessary. In Samsung's case, they needed core ITIL processes but also needed to prove ROI quickly.
Before you even decide to implement a framework like ITIL, you should identify your team's pain points and think about what processes are critical for your IT team. Most teams start with the four key ITIL disciplines, Incident Management, Problem Management, Change Management, Service Request Management, and decide which are the highest priority.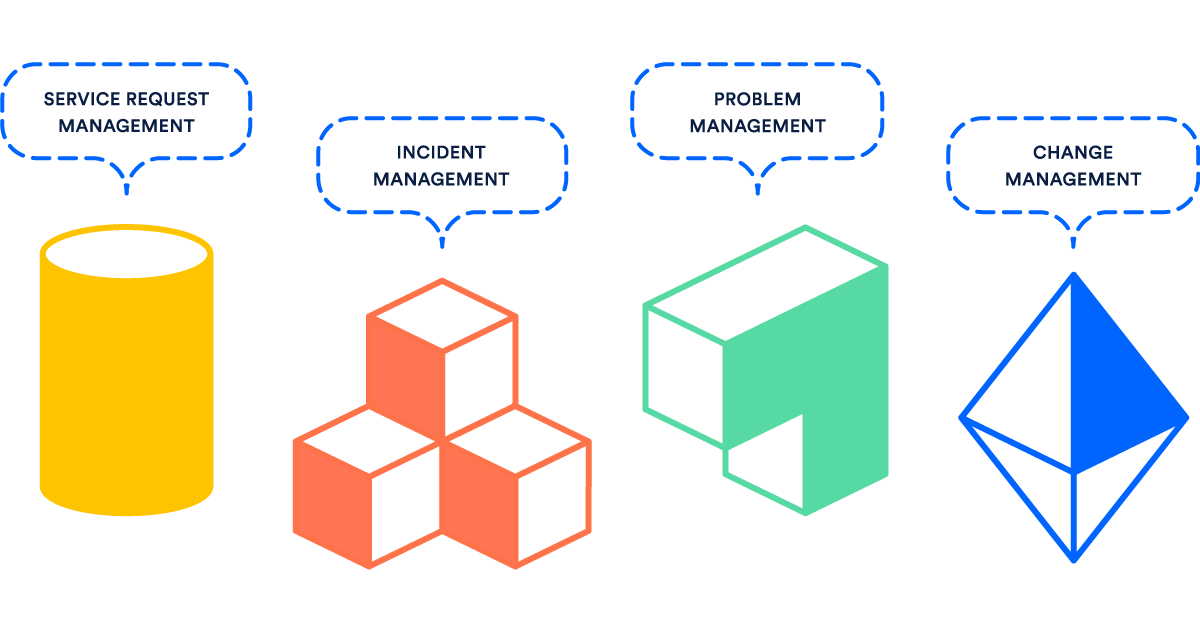 Find your pain points
Start by assessing your team. How do they communicate with each other, customers and other teams? Do they have the right processes? Are those processes being followed? Do customers have visibility into their request status? Some of the most common ITSM pain points that IT teams experience are:
Process: Processes are often poorly defined or not implemented properly within the tools

Communication: Teams work independently of one another and don't focus on communication outside of their silo

Transparency: Customer or partner teams are often unable to see into pertinent processes and work items
Identifying these pain points will help you prioritize which ITIL processes to implement first and how to structure them for your team.
Samsung's lean ITIL processes
Samsung's Austin R&D Center had similar challenges. They didn't have a process for incident, problem or change management, no single source of truth, disjointed communication and a total lack of transparency.
We realized, we have got to do this better than what we're doing now. – Larry Brock, IT Chief of Staff, Samsung Austin R&D
They already had a clear process in Jira Service Desk for service request management, but none of the other core ITIL processes. They knew they needed structure for incident, problem and change management but needed help to implement them in a lean way. So, Praecipio Consulting helped them take these processes from just theory, to practice in order to see ROI quickly.
Process
The team began to define, publish and follow processes built from their own experience in addition to input and feedback from customers. They also built a multi-faceted workflow allowing for easy escalation of an event into an incident, while automatically generating and linking problem and change issues.
Communication
Praecipio Consulting helped the team create notification templates in order to build comprehensive and consistent messaging into their process. Using queues, they built an attractive change review dashboard with automated removal of stale and abandoned requests. Now, change issues have become the single source of truth regarding what IT has planned, in progress, and completed regarding infrastructure or computing environment.
Transparency
Because changes are now all documented, customers are finding creative ways to access and use this information, including in their own dashboards. The IT change calendar now shows when changes are scheduled and they've even seen it layered into Team and Department calendars outside of the IT team.
Evaluating their pain points and creating lean processes to improve productivity has helped them be more transparent within the team, with customers and key business stakeholders and has allowed them to provide better and more timely reporting. The ITIL framework is just that: a framework. It's up to your team to determine what matters most and how robust or lean you want your processes to be.