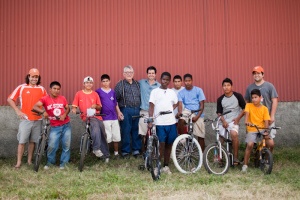 At Praecipio Consulting, we care about promoting sustainability. By reducing organizational waste and making businesses more efficient, we can make a company more profitable while lessening its environmental footprint.
Promoting sustainability is a key component of our mission. Giving back to our local and global community is a product of this. We're all responsible for maintaining healthy communities – businesses and individuals alike. We've chosen to spend a portion of our time developing communities at home and abroad, including our latest service trip to Nicaragua and soccer camp in Chattanooga. Through our parent company, we're also partnered with Durham, North Carolina-based Glean Organics to gather food waste from businesses in the Research Triangle to divert landfill-bound waste and compost it for re-use.
We do our best to work on projects that align with our mission. We helped the Electric Power Board (EPB) of Chattanooga prepare and activate for their fiber-optic SmartGrid implementation – the first fully-functional fiber-optic SmartGrid in the US – which now serves as a testing ground for future SmartGrid and sustainable energy initiatives.
In the same vein, we're now involved with Envision Charlotte – a project that ropes in talent from Cisco, Duke Energy, and our client Intelligent Buildings to create the nation's most environmentally sustainable urban core. We really enjoy being involved with these types of projects. Lessening our dependency on energy and the environment is critical to ensuring the health of our communities in the future.
There are indeed plenty of places you can spend your money. Many firms offer the services we offer. We're proud to say the money you spend on us, however, is going to good places – be it a soccer camp, an orphanage, a local non-profit, or the time we spend helping develop sustainable solutions that enable businesses and their local communities to succeed.