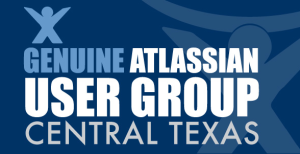 We've talked a lot on this blog about what Atlassian Jira and Confluence are and how they can be used. We're big fans. But some of you are already benefiting from them, and are big fans too. That's why the Praecipio Consulting team has launched the Central Texas Atlassian User Group (@ctxaug), the first Atlassian user group in the Austin metro.
This user group is open to all current and prospective Atlassian product users in the Central Texas Area interested in knowledge sharing and mingling with fellow users – over happy hour, of course. Quarterly group meetings will last 2-3 hours, and will give attendees the chance to:
Share and learn Atlassian product knowledge, best practices, and case studies with fellow current and prospective users.
Address the needs of both Atlassian product system administrators as well as novice and experienced product users.
Network and socialize with fellow Atlassian product users.
Meet four times a year on Wednesday or Thursday evenings in locations throughout the Austin area.
When possible, we'll have an actual Atlassian team member on hand to answer any product questions or discuss how to solve California budget-scale problems.
For more info, follow us on Twitter (@ctxaug) or visit our Meetup page to RSVP for our 2011 Q1 meetup. We look forward to seeing you!