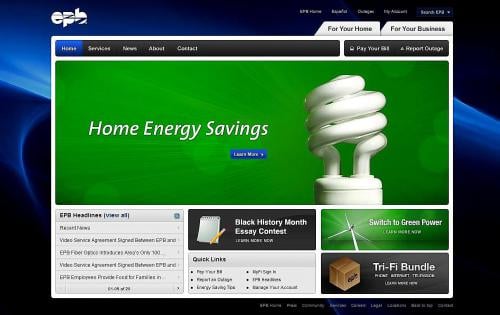 With the help of our project management, Microsoft SharePoint, and Business Process Management services, the Electric Power Board of Chattanooga (EPB) debuts its new site: EPB.net. EPB is actively building a 100 percent fiber-optic Smart Grid. Their new site will serve as an innovative communication platform for their 160,000+ customers.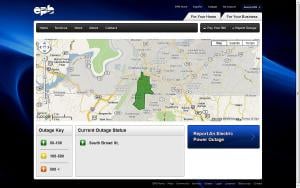 EPB.net, designed and developed by Chattanooga-based Medium, follows the August 2009 release of EPBFI.com– designed to engage EPB customers with the company's upcoming fiber optic service packages. EPB.net features a handful of new customer-focused tools, including a real-time power outage map developed by Medium—an outstanding partner in the project.
We helped because we understand Enterprise-level environments and the way they operate as well as the critical nature of their services. We helped vendors and the client because we know how to navigate the corporate setting.
We were able exercise our flexibility by marrying our project management methodologies with the Medium Information Architecture methodology. That flexibility, in addition to our leverage of SharePoint as a project management tool, ensured accurate communication and scheduling between Medium and EPB during the EPB.net project. We understand how enterprise-level environments operate and the critical nature of their services. Our team's knowledge of how to effectively navigate the corporate setting guided Medium and EPB toward organized progress, and made sure EPB's goals were accomplished on the new site.
"The Praecipio Consulting team served as an advocate to vendors for what I saw this project being," EPB Vice President of Corporate Communications Danna Bailey said. "They greatly improved the efficiency of the project; we couldn't have done it without them."
We facilitated EPB's success by ensuring all parties involved in the project had what they needed to succeed. We're happy to announce the launch of another Praecipio Consulting project management success: EPB.net.
Would you like more from us? Contact us here.