Editor's note: Please note the total coolness of these Confluence 4.1 features, *in addition to what's listed below*: pimping your images, autoconvert of content from the likes of YouTube, Google Maps, Vimeo, Flickr (paste a URL, Confluence will turn into content automagically), and find and replace. This is awesome stuff – so make sure you're sitting down and holding onto something!
Who doesn't like a big Christmas stocking packed with goodies? It's the season of giving and, this week, you'll be able to rip open Confluence 4.1 and get your paws on all the new features packed into this big release. Atlassian's Ryan already peeled back the covers on Image Effects – in this post Atlassian gives you a sneak peek at 5 more improvements coming your way in Confluence 4.1. Like every Confluence release, there's something for everyone.
1. Use Any Character in Page Titles
Satisfying many of your votes, Confluence 4.1 removes the restrictions on characters in page and blog titles. This allows more descriptive page names and generally removes restrictions when creating page titles and naming your content.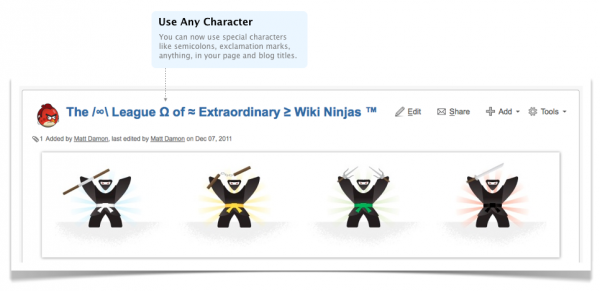 2. Set a Global PDF Stylesheet
Fulfilling 90 more of your votes, Confluence 4.1 let's you set a custom PDF stylesheet at the global level, just like custom layouts. When a PDF Space export is requested, it will fall back to this global stylesheet if there is no specific individual Space stylesheet defined. This means users won't have to re-apply the same stylesheet to all their individual spaces, if they primarily want one look and feel – perfect for enforcing company-wide styling guidelines.
3. Follow Your Network On the Dashboard
Think about how you work – usually you work closely with a handful of people everyday – people in your immediate team, direct reports, and stakeholders in other teams. Just like Twitter, you can follow these people in Confluence to build you own 'Network'. In Confluence 4.1 it's easy to stay-up-to-date on what your Network's been up to with a new tab on the Dashboard.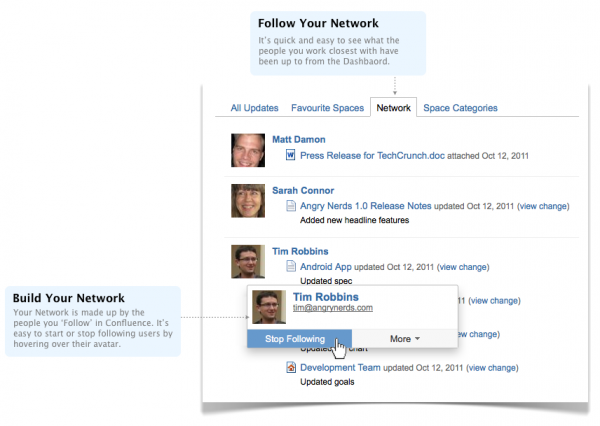 4. View and Filter Attached Files in a Space
When you want to display all the attachments of a Page on a Page, you can use the regular Attachments macro. A new Space Attachments macro in Confluence 4.1 lets you display all of the files attached to the Pages in a Space, in a table view and filter them by file type. Perhaps you have a bunch of training files attached to Pages in a Space. No you can list them all on one Page to aid discovery.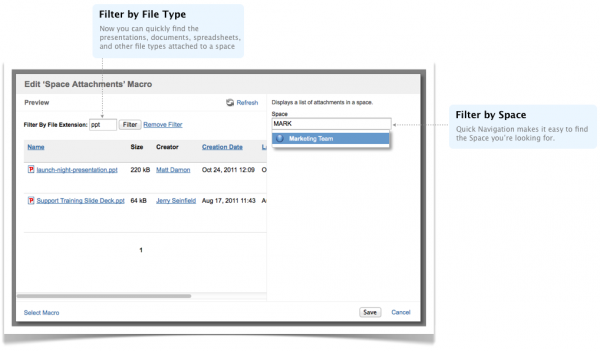 5. Translations Made Easier
For those customers working on translating the user interface, Confluence 4.1 has a new feature to make your job easier. After visiting the Confluence Dashboard, just add this text to the end of your Confluence URL and press 'Enter'.
This will then cause each element of the user interface to display its special key name while Confluence is still in an interactive mode. This makes it easier to find the essential context for each key, which can then be searched on http://translations.atlassian.com where you can enter an appropriate translation for your custom language pack.
The key names are displayed with a "lightning bolt" graphic between elements of the names. For example, the Browse button will show up like so:

The key system.space.menu can be found on http://translations.atlassian.com, allowing you to write a better translation for the term Browse, being able to see the full context of where the UI element belongs and what it means to the user.
When you're finished translating, just add the following text to the end of your Confluence URL and press 'Enter'.
Helping You Transition to the Confluence 4.x Generation
Thinking of upgrading to Confluence 4.x? How could you resist? Atlassian's created a set of resources to help you manage the transition. Tutorial videos, Quick Reference and Upgrade Guides – you can find it all here.