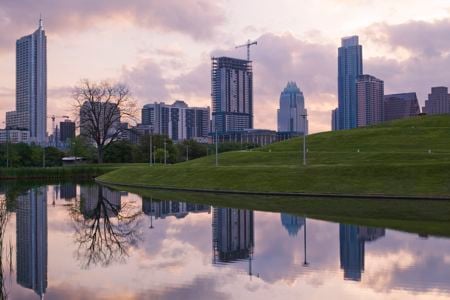 Austin's a progressive, active city that's often compared to cities like Portland, Boulder, and Seattle. The city's diverse economy and relaxed atmosphere make it one of the most desirable US cities to live in.
Austin's business atmosphere includes the high-tech, manufacturing, political, education, film, music, and non-profit industries. The University of Texas, State Capitol, and thriving arts culture offer a wide array of career opportunities.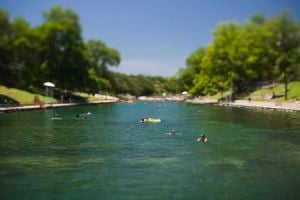 Austinites love the outdoors. You can bike, swim, kayak, rock-climb, or go spelunking within a 3-mile radius of downtown. The picture to the right shows Barton Springs – a spring-fed swimming pool within walking distance of downtown where hundreds of folks cool off each day. Since the weather is usually sunny and warm, outdoor events are common all year round – including the nationally-known Austin City Limits music fest and SXSW film, interactive and music festival.
Central Texas surrounds Austin – a land of rolling hills, cedar trees, and the Highland Lakes. San Antonio's Riverwalk, the nation's largest waterpark, Texas wineries, and scenic drives are all nearby.
You can read more about Austin here: