The latest release of the Confluence SharePoint Connector is loaded with new features that help make the static content you store in SharePoint easier to embed within the dynamic content you create and share in Confluence.
Access Content in SharePoint From Confluence, Fast
Confluence 4.0 delivered a new intuitive editing interface that lets users create rich content with extraordinary speed and simplicity. Combine the content storage benefits of SharePoint with the new content collaboration power of Confluence and you've solved your team's collaboration struggles.
SharePoint is often used to store legacy documents. But there are times when teams need to make these documents accessible in Confluence, where everyone is collaborating around projects and getting their work done. Atlassian has made it even faster for the users that live in Confluence to embed custom SharePoint Lists and link to SharePoint documents in Confluence pages with Macro Autocomplete.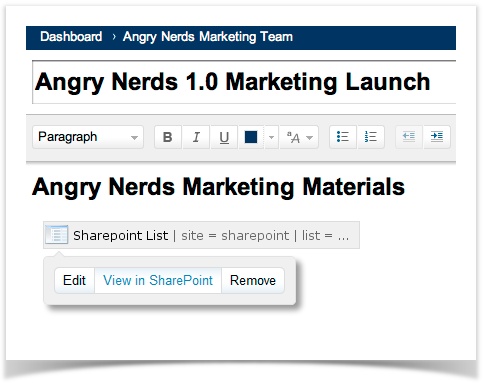 With the new View in SharePoint link accessible from the macro property panel, it's also easier now to jump to SharePoint from the lists embedded in Confluence pages.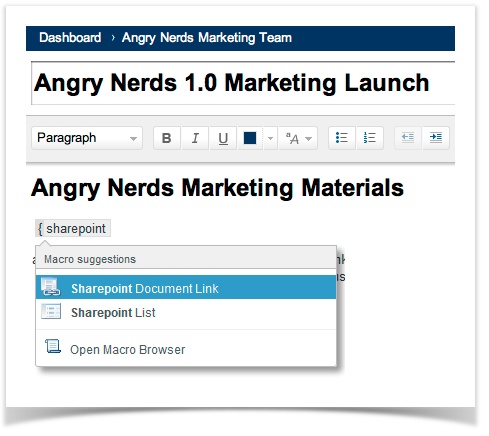 Lastly, Atlassian's made the integration provided by SharePoint Connector more discoverable to Confluence users by including the SharePoint Document Link and List macros in the editor's Insert Menu.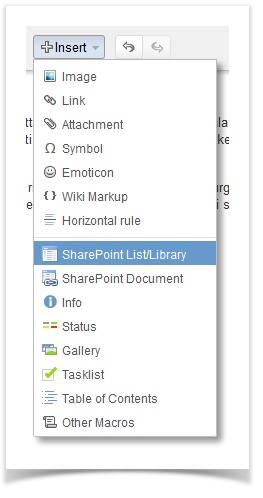 Faster Linking to SharePoint Content
Let's face it, collaborating around the content in SharePoint is a burden. However, pulling content stored in SharePoint into Confluence will not only save you time, but your mental health too!
Improved SharePoint Document Link Macro
Effortlessly create links to your SharePoint server's Office documents while editing Confluence pages. Links inserted using the SharePoint Link macro let users open and edit SharePoint documents directly in the appropriate Office application, such as Excel or Word, without having to load the SharePoint site.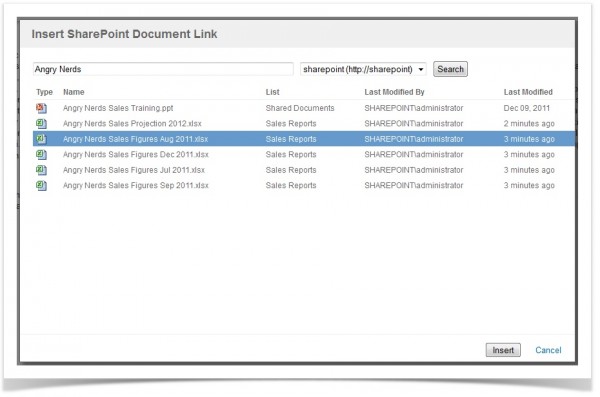 SharePoint List Macro
If you've got a group of related documents – like collateral for an upcoming product launch – that are stored in SharePoint, the SharePoint List macro makes it easy to share those documents with other stakeholders that work in Confluence. The macro can display most SharePoint list types and document libraries, giving you the ability to access and collaborate around all of your SharePoint documents in Confluence.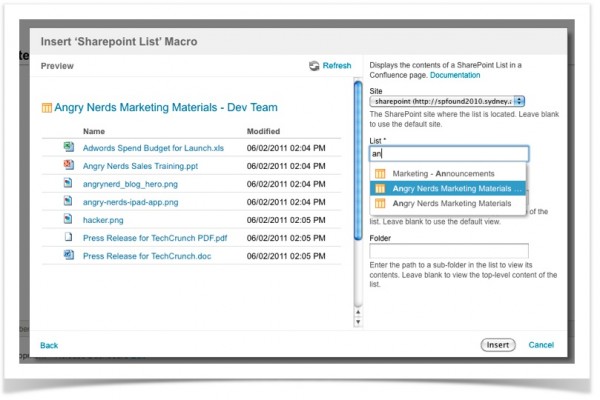 Watch Confluence Content from SharePoint
If you're viewing a Confluence page or blog post within a SharePoint site you can now choose to Watch it to receive email notifications whenever changes are made.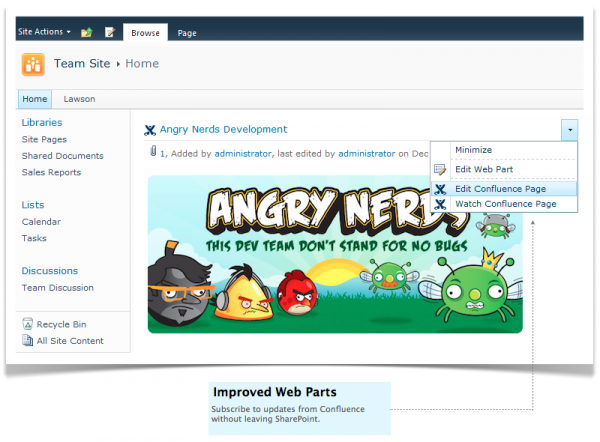 Up-to-date Content, All the Time
Even better, if someone edits the Confluence page or blog post while you are viewing it, the Confluence Web Part in SharePoint will automatically refresh so you're guaranteed to be viewing the most current version. Keeping up-to-date with the dynamic content that lives in Confluence just got easier.
Available Today!
To try Atlassian's SharePoint Connector 1.5, click the link below – and to learn more about SharePoint or Confluence and what they can give you, drop us a line.