Our partners at Puppet and Splunk recently released the State of DevOps Report 2018 which mirrors many of the same observations that we see when working with our customers. DevOps isn't a sprint, it's a journey, depending on the organization's size, that can take organizations months or years to master. Instead of focusing on statistics like in prior years, this year's report introduces the five stages of a successful DevOps evolution and identifies and describes the practices successful, mature organizations have implemented during their journeys. The report has something to offer to organizations no matter where they are in their process. Even if your organization has employed DevOps for some time, you may be missing a critical component of your implementation.

Five stages in a DevOps evolution
The major takeaway from this year's report is that while there is no single path to a DevOps transformation, there are five foundational practices and five distinct stages of a successful DevOps evolution. Each stage is comprised of a set of practices broken down between "defining practices" and "contributors to success" which are identified and described for each stage of the process in the image below.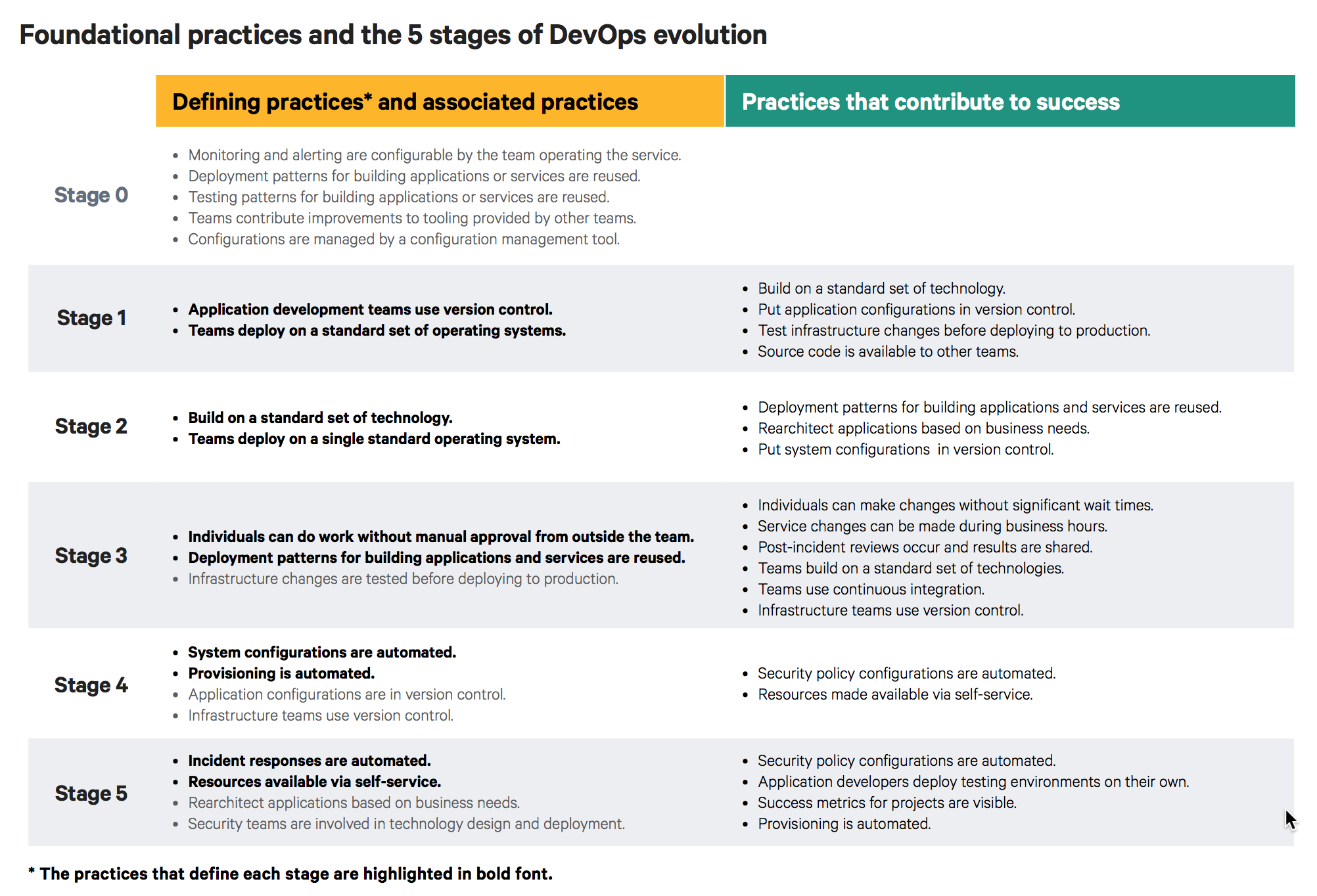 As organizations evolve from stage to stage, they refine and expand on the practices they implemented in prior stages. The report dives deep into the identification and makeup of each practice and describes how establishing practices identified as contributors to success in earlier stages such as "test infrastructure changes before deploying to production" in Stage 1 become mission critical defining or associated practices in later stages. DevOps is not a sprint, but a marathon, and requires organizations to have effectively executed each stage before advancing to the next one. Quite often we see that even the foundational practices such as monitoring, testing, and configuration management described in Stage 0 are missing from our customer's toolchains.
DevOps starts with a ripple
We frequently hear stories from our customers about how they began using Atlassian tools. These stores often begin with when a single team purchased a Cloud account or installed Jira onto a server sitting under someone's desk. Usage evolves and expands over time and eventually, the whole organization is reliant on the application for mission-critical operations. The report found that the DevOps evolution begins in much the same way: starting with a single team who defines their own practices for DevOps and shares them with other teams within the organization.
Where do I start?
The State of DevOps Report 2018 recommends starting with production by choosing an application with an, especially painful deployment process. We often describe DevOps as breaking down the wall between Development and Operations and deployments are where frictions between the two often occur. By automating deployments teams can improve collaboration and communication while reducing the friction caused when things go wrong.
Since 2010 (before DevOps was called 'DevOps), Praecipio Consulting has been fortunate to work with customers at all stages of the DevOps evolution and guide them in using Jira, Confluence, Bitbucket, Bamboo, and other tools like Puppet, Splunk, New Relic, xMatters, qTest, and AWS as part of their technology standard.
To learn more about how Praecipio Consulting can assist you with your DevOps journey, be sure to register for our upcoming webinar "DevOps: An Interpersonal Approach" on October 10!